I've mentioned it before, but my Mother-in-Law is the most amazing cook & baker! She could really have her own restaurant, seriously! Recently she made us some coffee cake and it was so good I immediately asked her for the recipe. Yesterday I decided to make it just because and it turned out so wonderfully, very moist and sweet! This would also be a great treat for Easter Brunch! Sophie loved it and kept saying "cake, cake" while I was taking pictures, and as you can see below she tried to get some for herself! Also, this is a great recipe to use the Homemade Yellow Cake Mix. That's what I used and it turned out great!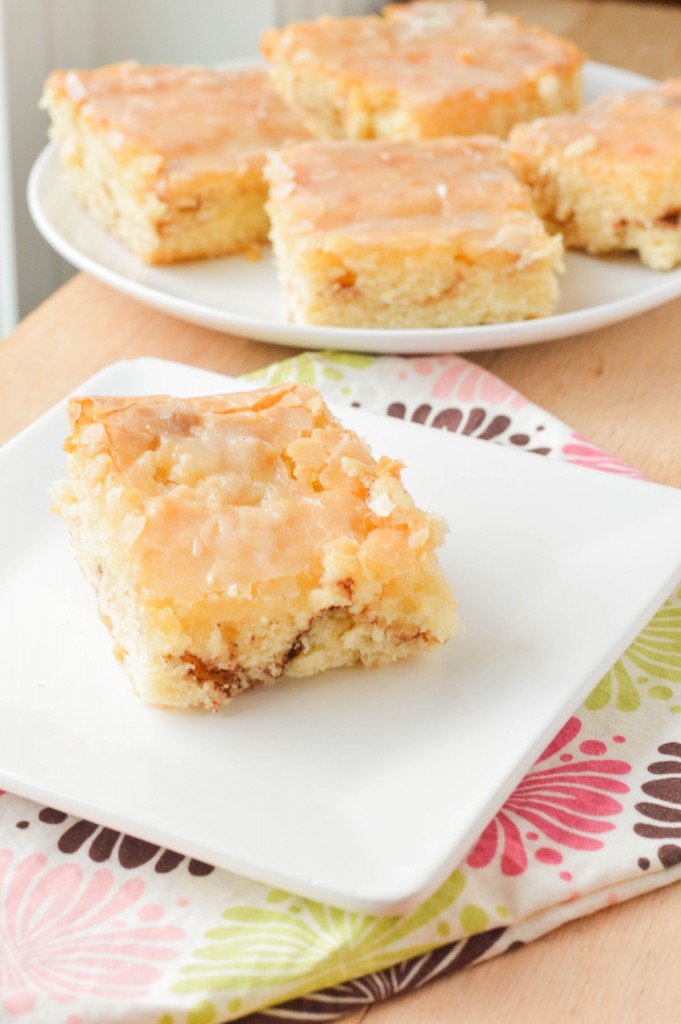 Sour Cream Coffee Cake
Source: My Mother-in-Law
Ingredients:
For the Cake:
1 Box or Recipe Yellow Cake Mix
1/2 cup sugar
2 tsp. vanilla
3 large eggs
1 cup sour cream
2/3 cup oil
1 cup chopped pecans (optional)
2 tbsp. brown sugar
2 tsp. ground cinnamon
For the Glaze:
1 cup confectioner's sugar
3 tbsp. orange juice
Directions:
Preheat oven to 300 degrees, spray a 9 x 13 baking pan with cooking spray, set aside.
In the bowl of a stand mixer, add the cake mix, sugar, vanilla, eggs, sour cream, & oil. Beat on medium speed for approximately 3 minutes. Stir in chopped pecans if using.
Pour half of the batter into the prepared baking pan.
In a separate small bowl, stir together the brown sugar & cinnamon. Sprinkle on top of the cake batter you poured into the pan. Cover evenly with the remaining batter.
Bake for 50 to 55 minutes, until a toothpick inserted comes out clean.
While the cake bakes, whisk together the confectioner's sugar & orange juice. Once cake has baked, pour glaze over top of the cake immediately when you remove from the oven. Let glaze set and the cake cool completely.
Store in an airtight container.