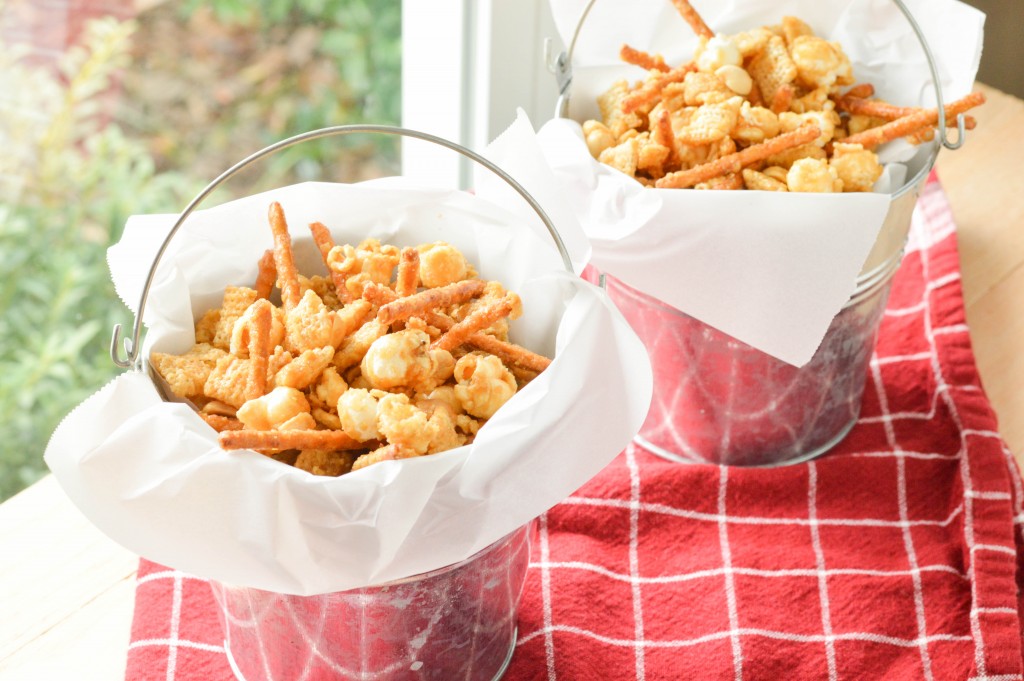 I've had the idea of a "Take me out to the ballgame" chex mix that plays on "peanuts & cracker jacks" for a long time now. I had some leftover chex and decided to make that idea come to fruition! This combines lots of snacks you'd find at the ballpark: peanuts, popcorn, & pretzels with some chex thrown in and coated in delicious caramel! This Caramel Corn Chex Mix makes for an addictive sweet & salty treat that is super hard to stay out of! You can definitely mix this up and throw in some different add-ins, chocolate chips would be great I think. The caramel coating has just the right amount of sweetness and "dries" nicely so it's not sticky either. This would also be great to package up and give away or to take on a trip for munching! Can't wait to make this treat again very soon!
Caramel Corn Chex Mix
Source: adapted from Land O'Lakes
Ingredients:
3 cups corn Chex cereal
1 1/2 cups popped popcorn
1 cup peanuts
1 cup pretzel sticks
1 cup brown sugar
1/2 cup (1 stick) unsalted butter
1/4 cup light corn syrup
1/4 tsp. baking soda
Directions:
Preheat oven to 250 degrees. Spray a large rimmed cookie sheet with cooking spray, set aside.
In a large bowl, add the Chex cereal, popcorn, peanuts, & pretzel sticks. Stir to evenly distribute. Pour out onto the baking sheet in an even layer.
In a medium sized sauce pan, add brown sugar, butter, & corn syrup. Stir frequently and bring the mixture to a boil, once the mixture is just boiling, cook 1 minute more and then remove from heat. Immediately add in the baking soda and stir to incorporate.
Spoon the caramel over the chex mixture and quickly stir to coat the mixture evenly. It will appear that you might not have enough to coat, but it will melt some as it bakes.
Spread evenly and bake for approximately 30 minutes, stirring every 8-10 minutes.
As the mixture bakes, spread a large sheet of wax or parchment paper out on your counter. Once the Chex mix has baked, pour it out onto the wax or parchment paper to cool completely. Store in an airtight container.
Notes:
*If you use stovetop popcorn that you make at home make sure that you butter & salt it.