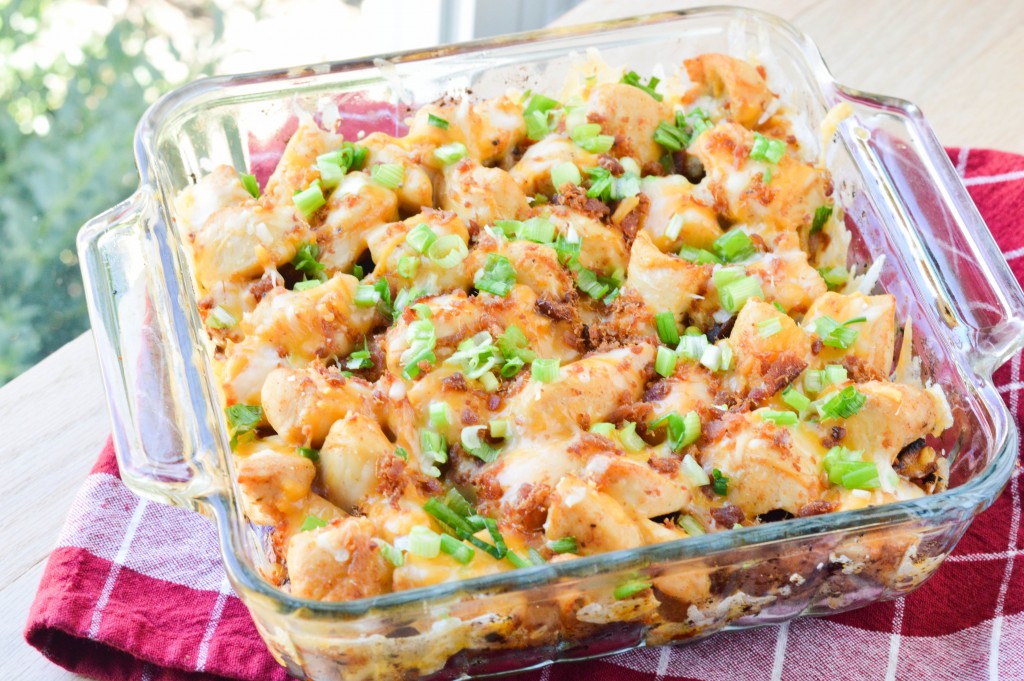 I am always on the lookout for new entree ideas that are flavorful but not overly complicated. This Loaded Potato Chicken Bake definitely fits that bill! This is packed full of flavor and has a nice little kick but not overly hot, plus all the deliciousness of a loaded potato too! The potatoes get perfectly crispy on the outside and creamy on the inside and the chicken is so moist! Plus you can do a lot of the prep ahead of time if you need to (cutting the chicken, making the sauce, & cutting the potatoes-just be sure to put those in water if you cut too much in advance). This does take a little bit to bake (about an hour) but it's definitely worth it! This feeds about 4-6 but is easily doubled for a crowd.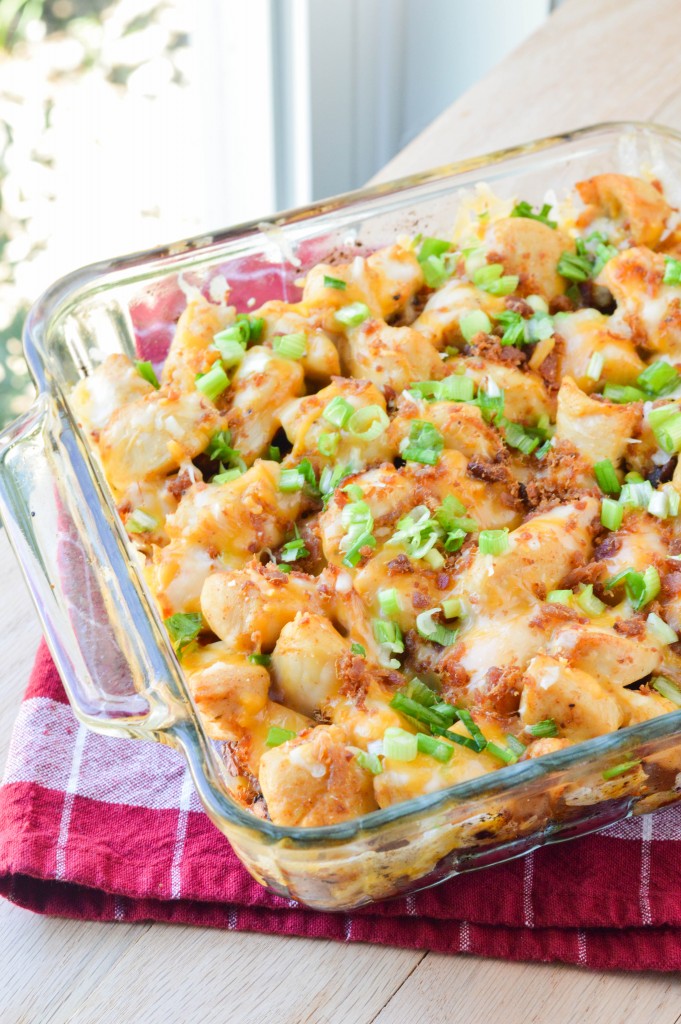 Loaded Potato Chicken Bake
Source: Food.com
Serves approximately 4-6
Ingredients:
2 tbsp. olive oil
3/4 tsp. salt
1/4 tsp. freshly ground black pepper
1/2 tbsp. paprika
1 tbsp. garlic powder
2 tbsp. buffalo wing sauce*
1 tbsp. ranch dressing
3-4 medium red potatoes, diced into 1/2 inch cubes
2 large chicken breasts, cut into 1/2 inch cubes
For Topping:
1 cup shredded cheddar cheese
1 1/2 tbsp. real bacon bits
2 green onions, chopped
Directions:
Preheat oven to 500 degrees (this is not a typo, it is 500 degrees). Spray an 8 x 8 baking dish with cooking spray, set aside.
In a large bowl, add the olive oil, salt, pepper, paprika, garlic powder, buffalo sauce, & ranch dressing. Whisk together to incorporate. Add the diced potatoes and stir to evenly coat.
Scoop potatoes into your prepared dish, ensuring to leave behind any excess dressing in the bowl (you will use this to coat the chicken).
Bake potatoes for approximately 45 minutes, flipping and stirring every 10 minutes, until potatoes are crispy and golden brown.
While the potatoes cook, add the chicken to the bowl with any remaining sauce mixture and stir to coat. Place in the refrigerator to marinate.
At this point you can either pre-cook your chicken or add it straight to the top of the potatoes. I opted to pre-cook, so here are the directions for that:
The last 10 minutes the potatoes are cooking, add the chicken to a large skillet and cook over medium high heat, stirring often, for approximately 7-10 minutes until the chicken is no longer pink. You are just getting a sear on it, not cooking it all the way through.
Once potatoes are done, top evenly with with the chicken.
Reduce oven heat to 400 degrees and bake for 10 minutes.
Remove from oven and top with cheese, bacon, and green onions. Bake for an additional 5 minutes until cheese has melted. Serve warm with ranch dressing on the side.
Notes:
*If you like things hotter, feel free to omit the ranch from the sauce or use regular hot sauce instead of the buffalo wing sauce
*The recipe listed above wasn't hot in the least, just had a nice kick and flavor, but if you don't like things hot at all, feel free to try using 1/2 to 1 tbsp. buffalo sauce and then 2 to 2 1/2 tbsp. ranch
*If you don't pre-cook the chicken, you may need to add 10-15 minutes to the baking time at the end to ensure the chicken is cooked through.