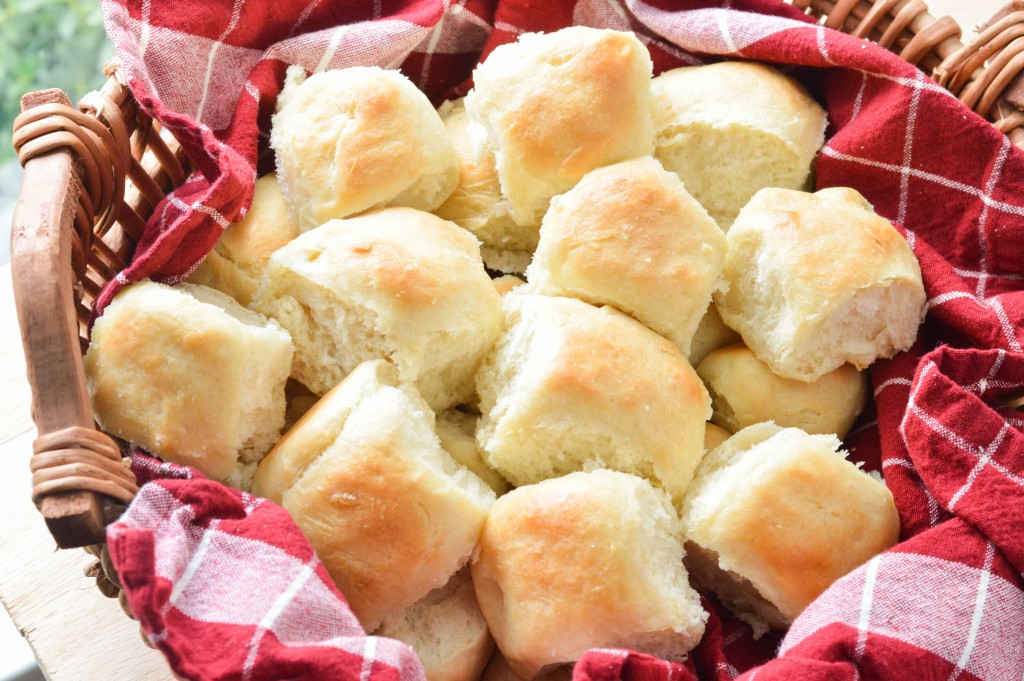 I love warm rolls fresh from the oven, especially homemade ones. The thing is, usually when I make rolls from scratch it takes all day and then they might not rise properly or are too dense. When I saw this recipe I was immediately intrigued. I could have fresh homemade fluffy rolls in about an hour?! Sign me up! I was still nervous about the yeast because it can be temperamental, but this recipe came out perfectly with no trouble at all!! These are buttery and fluffy and taste like they came straight from a bakery. Your family and friends are sure to be impressed! This makes 24, so I put half in the freezer and I'm sure we will be breaking them out very soon! This takes an hour or just a little longer depending on how quickly your dough doubles in size for the rises, it took me about an hour and 15 minutes. Definitely much better than an all day event that it normally takes.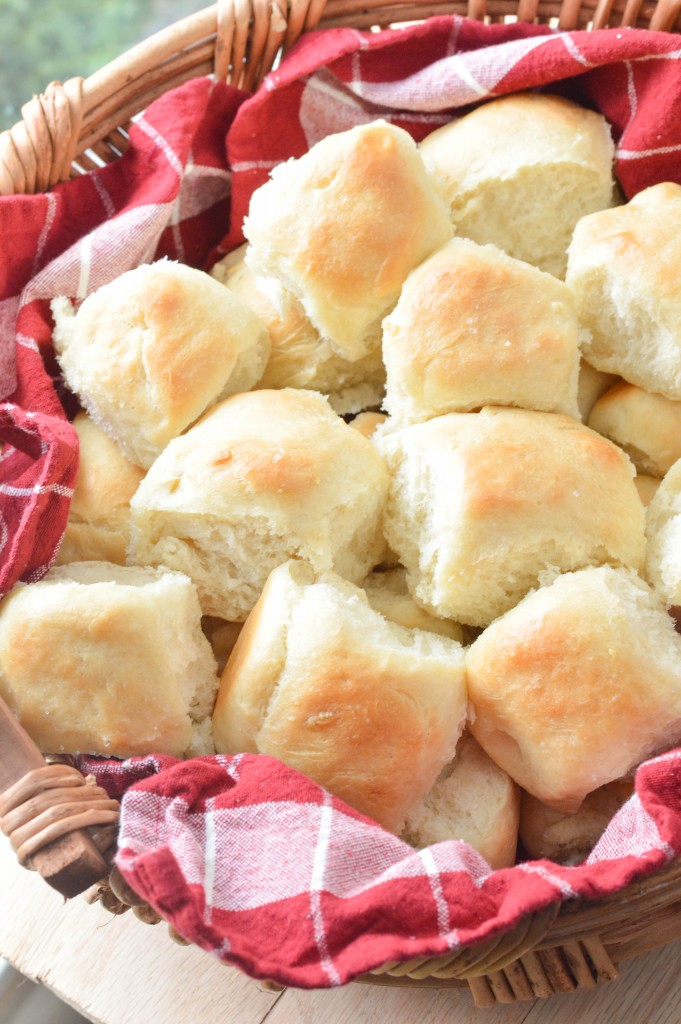 One Hour Fluffy Dinner Rolls
Source: Inquiring Chef
Makes 24 Rolls
Ingredients:
For the Rolls:
1 1/2 cups warm water (110 degrees F)
1 tbsp. Instant Yeast
2 tbsp. sugar
2 tbsp. unsalted butter, softened
1 tsp. salt
4 cups all purpose flour (spooned into measuring cup & leveled)
For Topping:
3 tbsp. unsalted butter, melted
pinch salt
Directions:
In the bowl of a stand mixer using the dough hook attachment, add the warm water, yeast, & sugar. Stir together to incorporate. Let stand approximately 5 minutes, until creamy.
Add the butter, salt, & 2 cups of the flour to the yeast mixture. Mix on low until the ingredients begin to incorporate. Add 1 cup of the remaining flour and mix on low until just incorporated. Add last cup of flour and beat until just incorporated. Increase to medium speed and allow dough to knead for approximately 3-5 minutes, until the dough sticks to the bottom but clears the sides and begins to make a slapping noise as it hits the side.
Lightly grease a large bowl and turn the dough out into the prepared bowl. Cover with a kitchen towel and let rise in a warm place for approximately 20 minutes, until doubled in size.
Lightly spray a 9 x 13 baking dish with cooking spray, set aside.
Lightly flour a clean surface and turn the dough out onto it. Form into a ball and cut dough vertically into 6 equal strips of dough. Cut each strip of dough into four equal pieces. Roll each piece of dough into a ball. Place each ball of dough into the prepared baking sheet in rows of 4 x 6, so that you have a total of 24 balls of dough.
Cover baking dish with a kitchen towel and let rise until doubled in size, approximately 20 minutes.
While the dough rises, preheat oven to 400 degrees. Melt the 3 tbsp. of butter for the topping.
Once dough has risen, brush with half of the butter. Bake for approximately 13-15 minutes, until lightly golden brown. Immediately brush with remaining melted butter and sprinkle lightly with salt.
Turn rolls out onto plate or bread basket. Best served warm, store leftovers in an airtight container.
Notes:
*These take approximately an hour, but might take just a little longer depending on how long it takes your dough to double in size for the 2 rises. It took me around an hour 15 minutes.
*Reheat these in the oven or the microwave. If freezing, thaw to room temperature and then reheat before serving.