You totally need this Peanut Butter Fudge Cake in your life!! Just trust me. Grab a spoon, pour a glass of milk and enjoy this decadent and rich treat! It was all I could do to not just face plant into this cake, seriously! I told Adam, "If you hear anything in the kitchen at 2 am, it's not me sneaking a piece of chocolate cake." I think I may request this cake as my birthday dessert, I loved it that much! But seriously, this cake is so moist and rich (but not too rich where you can't eat much of it). This is a definite crowd pleaser, although it's so good you probably will want to keep it all for yourself! 😉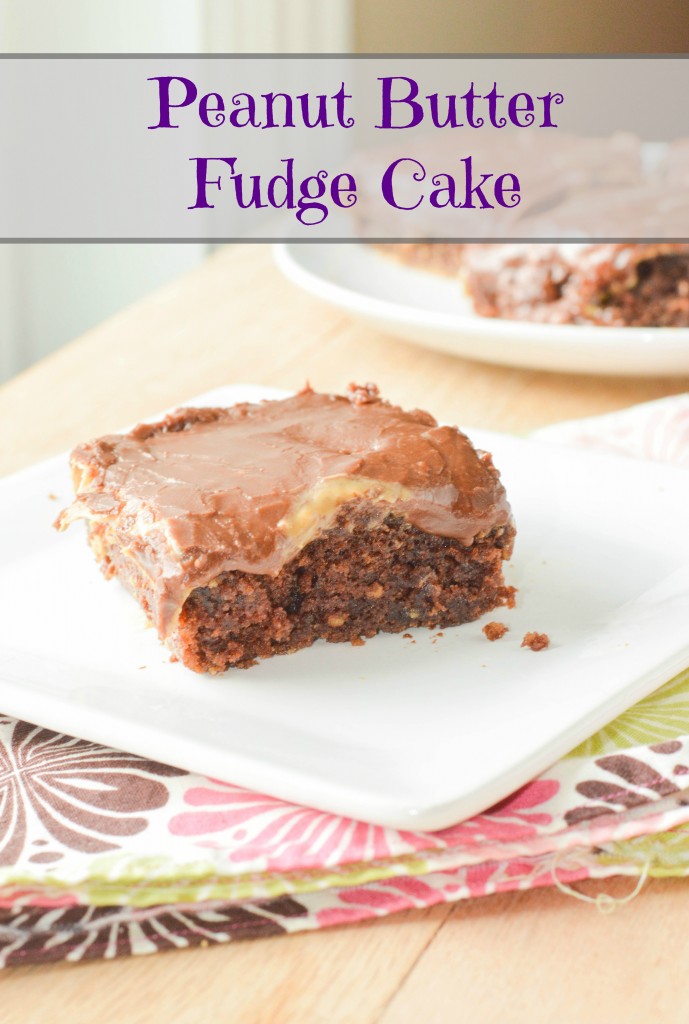 Peanut Butter Fudge Cake
Source: Kusina Master Recipes
Ingredients:
For the Cake:
2 cups all purpose flour
2 cups sugar
1 tsp. baking soda
2 eggs, lightly beaten
1 cup (2 sticks) unsalted butter
1/4 cup unsweetened cocoa powder
1 cup water
1/2 cup buttermilk*
1 tsp. vanilla
1 1/2 cups creamy peanut butter
For the Frosting:
1/2 cup (1 stick) unsalted butter
1/3 cup buttermilk
1/4 cup unsweetened cocoa powder
16 oz. confectioner's sugar
1 tsp. vanilla
Directions:
For the Cake:
Preheat oven to 350 degrees. Grease a 9 x 13 cake pan, set aside.
In a large bowl, add flour, sugar, & baking soda. Whisk together. Add in eggs and stir together, set aside.
In a medium sized pot, add butter and melt over medium heat. Once melted, add in cocoa powder and stir to incorporate. Add in water & buttermilk and stir together. Stirring constantly, bring mixture to just boiling. Remove from heat and gradually add to the flour mixture.
Whisk to incorporate fully and until the mixture is mostly smooth. Add in vanilla and stir to incorporate.
Pour batter into prepared pan and spread evenly. Bake for approximately 20-25 minutes, until a toothpick inserted comes out clean.
Cool cake in the pan on a cooling rack for 10 minutes. Spread peanut butter evenly and gently over the cake. Allow to cool completely.
For the Frosting:
While the cake cools, make the icing.
In a large bowl, add the confectioner's sugar, set aside.
In a small sized pot, add the butter, buttermilk & cocoa and cook over low heat. Stir constantly and cook until the butter has melted and it makes a chocolate "sauce." Immediately pour the chocolate mixture over the confectioner's sugar and stir to incorporate. Add in vanilla and stir until a smooth consistency.
Gently spread frosting over the peanut butter layer on the cake and let set. Store in an airtight container at room temperature.
Notes:
*I halved this recipe and made it in an 8 x 8 baking pan and it worked great! Followed all the same directions.
*For the buttermilk, can add 1/2 tbsp. vinegar to a 1/2 cup measuring cup and fill the rest of the way full with milk. Let stand for 10 minutes then use as directed. (Same procedure using 1/3 tbsp.vinegar & 1/3 cup for the frosting).