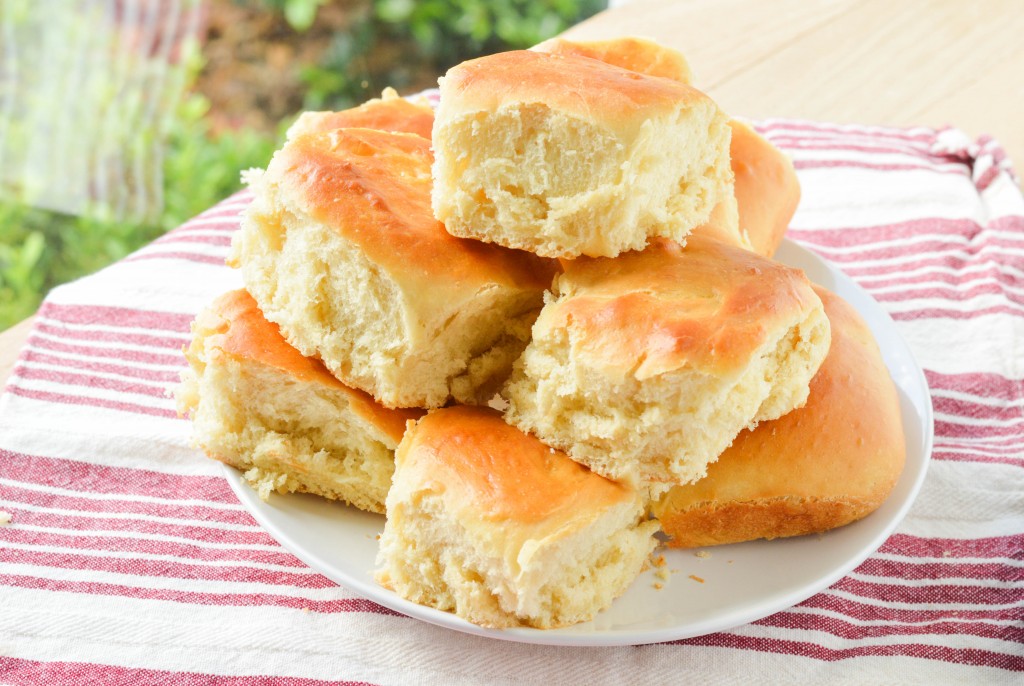 I have always loved Hawaiian Rolls! Lately we've been getting them quite often and using them for sandwiches and also as dinner rolls too. As often as we buy them, I thought I better try my hand at making them at home to save a little bit on our grocery budget. These Homemade Hawaiian Sweet Rolls were just as good as the store bought version! So fluffy and slightly sweet, these are great by themselves or to use with sandwiches or sliders. They would be perfect for Memorial Day! I made these and then put them in the freezer to pull out a few whenever I need them.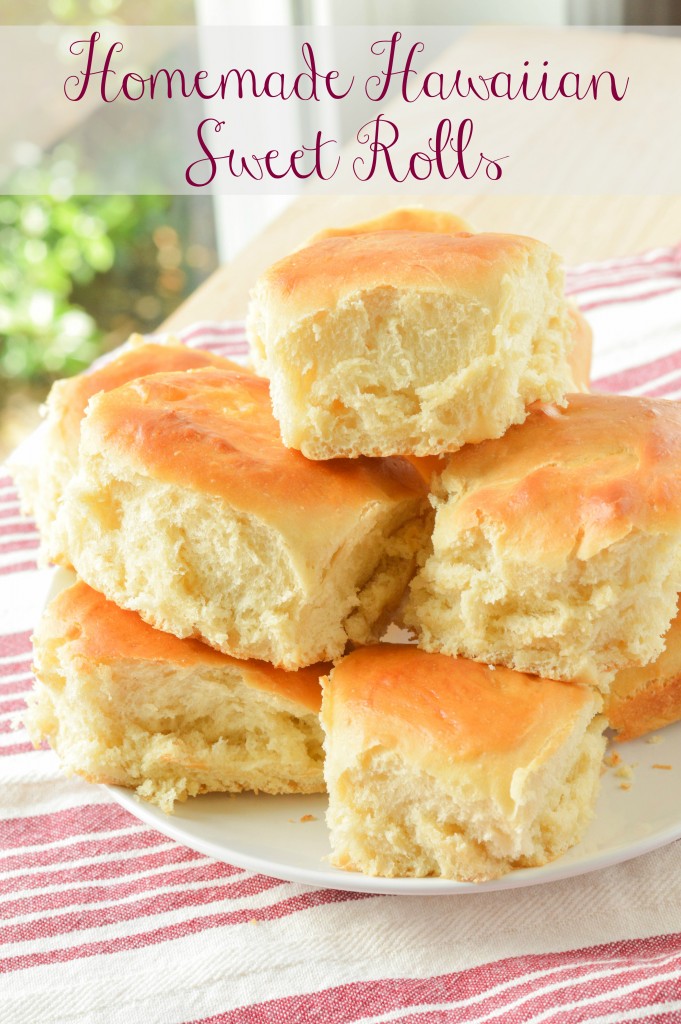 Homemade Hawaiian Sweet Rolls
Source: Adapted from Handle the Heat
Makes 15 rolls
Ingredients:
1 cup pineapple juice
2 1/4 tsp. (1 packet) active dry yeast
1/2 cup plus 1 tsp. sugar, divided
4 tbsp. unsalted butter, melted and cooled slightly
2 large eggs
1 tsp. salt
1 tsp. honey
1 tsp. vanilla
4 1/2 cups all purpose flour
For Egg Wash:
1 large eggs
2 tbsp. water
Directions:
Preheat oven to 200 degrees.
Add pineapple juice to a glass measuring cup or microwave safe bowl. Warm from approx. 10 seconds, or until slightly warm (approx. 110 degrees). Add in the 1 tsp. sugar and stir to dissolve. Sprinkle the yeast over top of the pineapple juice and let stand for 5 minutes, until frothy.
In the bowl of a stand mixer, add the butter, eggs, remaining sugar, salt, honey, & vanilla. Once the yeast has "bloomed" add the yeast mixture to the stand mixer also. Beat on low speed until incorporated. Remove the beater attachment.
Add in 2 cups of the flour and stir with a wooden spoon until the dough starts to form. Attach the dough hook to the stand mixer and gradually add in the rest of the flour, kneading the dough on low speed. Increase speed to medium and knead for approx. 5 minutes until the dough sticks to the bottom but clears the sides. This is a bit of a sticky dough, so don't be alarmed if it sticks to your hands just a tad, but you should still be able to handle it.
Place dough in a large clean bowl and cover with plastic wrap or a kitchen towel. Turn the oven off and place the bowl of dough in the warm oven and let rise until doubled, approximately 1 1/2 hours.
Once dough has risen, remove from oven. Preheat oven to 200 degrees again while you prep the dough for the 2nd rise.
Spray a 9 x 13 baking dish with cooking spray, set aside.
Lightly flour a clean surface and your hands. Punch down the dough and turn it out onto the clean surface. Lightly spread the dough out and divide it into 15 equal pieces. (I cut it into 3 long strips and cut each strip into 5 pieces). Roll each piece into a ball and place in your prepared baking dish. There should be 3 rows of 5 rolls.
For the Egg Wash:
In a small bowl, beat remaining egg together with the water and brush each roll with some of the egg wash.
For Baking:
Cover rolls with plastic wrap or a kitchen towel. Turn the oven off and place baking dish in the warm oven until rolls have risen and doubled in size, approximately 45 minutes.
Remove from oven and uncover the rolls. Preheat oven to 350 degrees. Bake for approximately 20 to 25 minutes, until tops are golden brown. Remove from oven and serve immediately or store in an airtight container.
Notes:
*Can sub instant yeast: don't warm the pineapple juice or let the yeast proof. Just add the pineapple juice and yeast to the butter and other ingredients in the stand mixer. This will reduce the rise times as well (should reduce the 1st rise to 1 hour, and the second to 30 minutes).
*You don't have to let the dough rise in the warm oven, you can cover it and let it rise on the counter or in a warm place but it may take longer to rise.