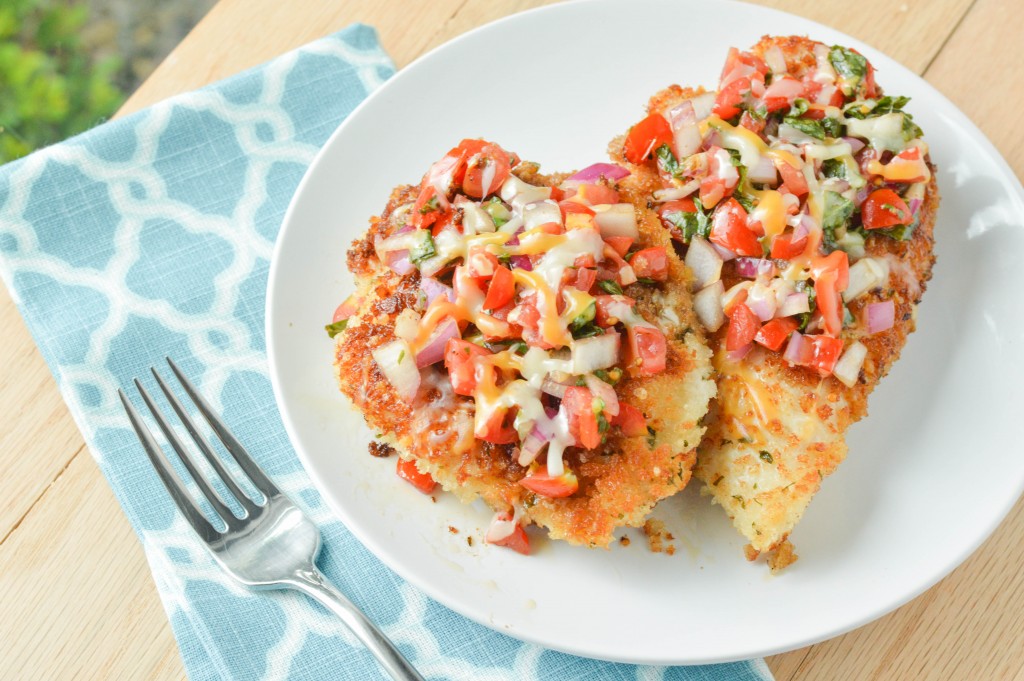 I'm always on the lookout for an easy and healthy meal that doesn't take that long to make. This Bruschetta Chicken definitely fits the bill! So fresh and flavorful and the chicken is perfectly crisp on the outside and nice and juicy on the inside. This meal comes together in no time at all and it's a great way to use up summer tomatoes too! This is great for a weeknight dinner plus it's fancy enough for company!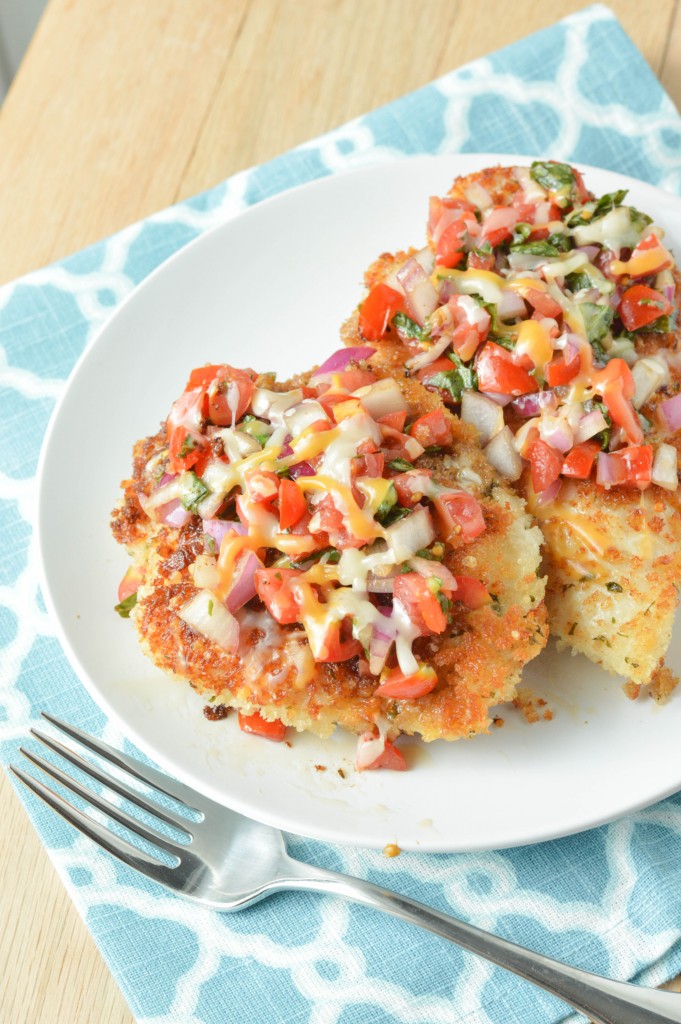 Bruschetta Chicken
Source: Food.com
Serves 4
Ingredients:
For the Bruschetta:
3 tbsp. extra virgin olive oil
2 tsp. balsamic vinegar
1/8 tsp. garlic powder
1/8 tsp. onion powder
1/4 tsp. salt (or more to taste)
1/8 tsp. freshly ground black pepper
1 large tomato, chopped (approx. 1 cup)
1/2 of a medium red onion, chopped (approx. 1/2 cup)
3 tbsp. chopped fresh basil
For the Chicken:
2 large boneless skinless chicken breasts, cut in half vertically*
Salt & Pepper
1/2 cup panko breadcrumbs
1/4 cup grated Parmesan cheese
Cooking Spray
3 tbsp. canola oil
2 tbsp. shredded cheese of your choice for topping
Directions:
For the Bruschetta:
In a medium sized bowl, add the olive oil & vinegar, whisk together. Add in the garlic powder, onion powder, salt & pepper. Whisk to incorporate. Stir in the tomato, red onion, & basil. Let stand for approx. 15 minutes, stirring occasionally, to allow flavors to marry.
For the Chicken:
In a shallow bowl, stir together the breadcrumbs & Parmesan cheese. Set aside.
In a large skillet, add the canola oil and heat over medium heat.
Lightly sprinkle the tops of the chicken with salt & pepper. Spray lightly with cooking spray. Dredge chicken into the breadcrumb mixture coating both sides evenly.
Place chicken in the skillet and cook for approx. 5 minutes on each side, until both sides are golden brown and chicken is cooked through.
Reduce heat to low and spoon the bruschetta mixture over each piece of chicken. Sprinkle lightly with cheese and cover until the cheese has just melted. Remove from skillet and serve.
Notes:
*You want the chicken to be on the thinner side so you may need to pound it down slightly.
*Can also dredge the chicken in a beaten egg before coating with the breadcrumbs if you don't want to do the cooking spray method.