I don't know about where you all live, but here in East Tennessee it is hot as fire right now! So hot that you don't really want to be outside unless you are in the pool. So while I love s'mores, it's just a bit hot for a campfire right now or even turning on the oven for that matter. So here's this S'mores Popcorn to the rescue! All the flavor of s'mores but none of the heat from the fire or the oven! This is so addictive and I had to send it with Adam to work so I would stay out of it. Can't wait to make it again soon! Plus, this seriously couldn't have been easier to make!!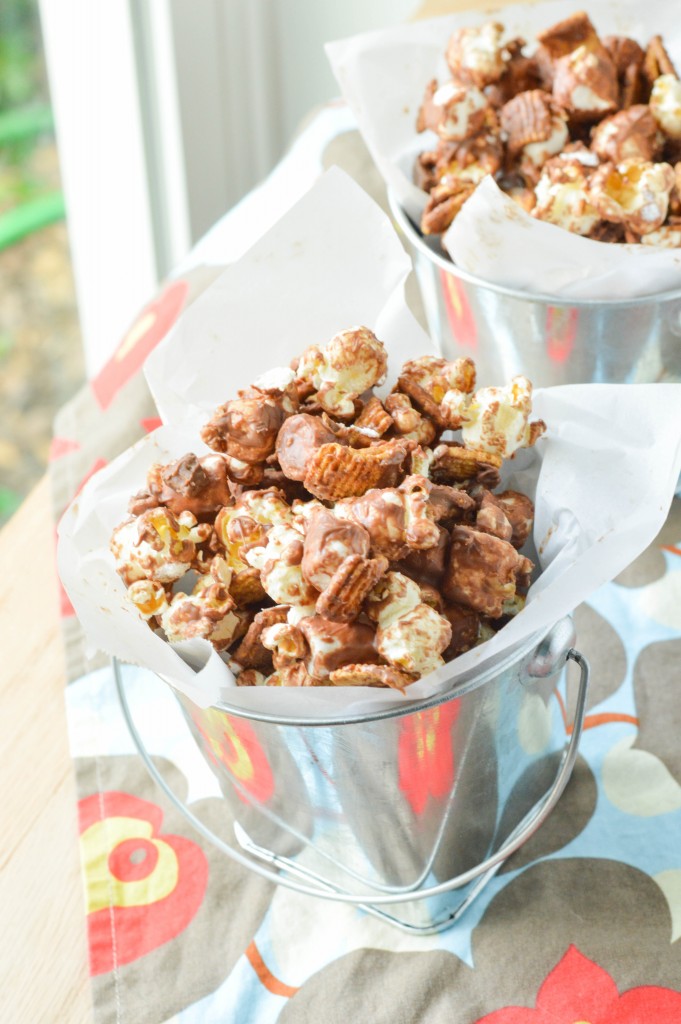 S'mores Popcorn
Source: Adapted from I Wash You Dry
Ingredients:
5 cups popped popcorn (lightly buttered & salted)
2 1/2 cups Golden Grahams Cereal
2 1/2 cups mini marshmallows
1 Hershey Bar, broken into small pieces (optional)
1 3/4 cups milk chocolate chips
2 tsp. canola oil
Directions:
Cover a large rimmed baking sheet with parchment paper. Spread popcorn in an even layer, top with Golden Grahams, mini marshmallows & Hershey bar (if using). Mix together with your hands to evenly distribute.
Add chocolate chips and canola oil to a microwave safe container and microwave in 15-20 second increments, stirring in between each (alternatively can use a double boiler). Once melted and smooth, pour over the popcorn mixture and using a spatula or your hands, stir to coat the popcorn mixture with the chocolate until evenly coated.
Place in the refrigerator to chill until set, then break apart and store in an airtight container at room temperature.
Notes:
*You can pop your own popcorn or to save time I used the bagged popped popcorn (SmartFood or Cape Cod brands are my favorite).