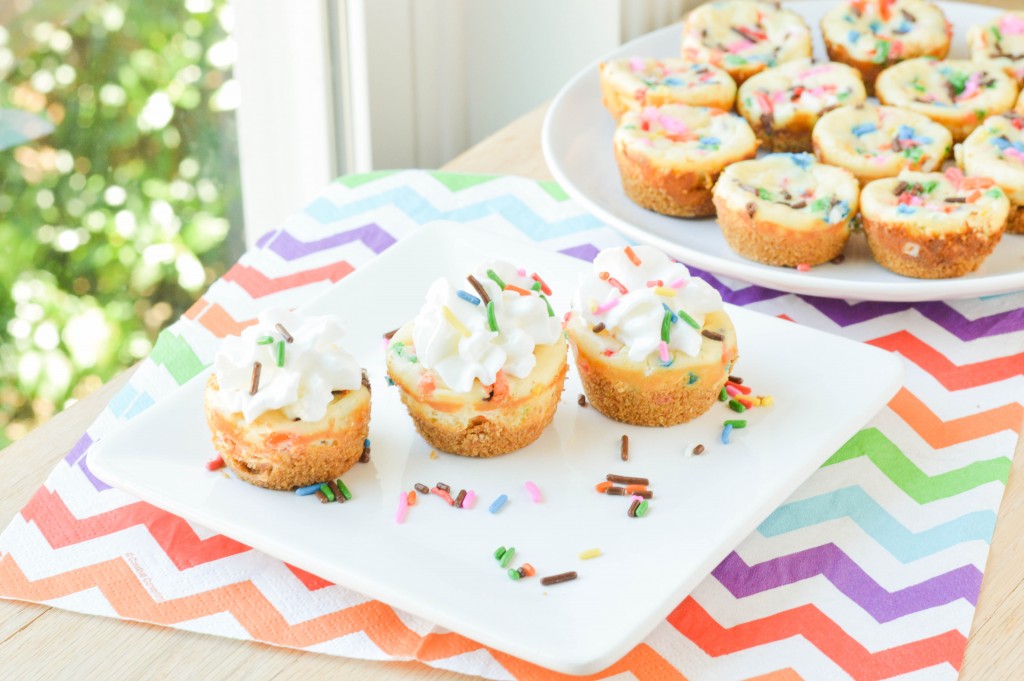 So last Thursday was National Cheesecake Day, so sorry I didn't get this recipe made in time. However, I couldn't let it pass by without acknowledging it since it's in my blog name! We had a Sunday school social last weekend so I took these Funfetti Cheesecake Bites. These were a huge hit and perfect for a party because they were little bites you could just pop in your mouth. You can serve these topped with whipped cream but they are great on their own too. Besides, who doesn't love sprinkles?!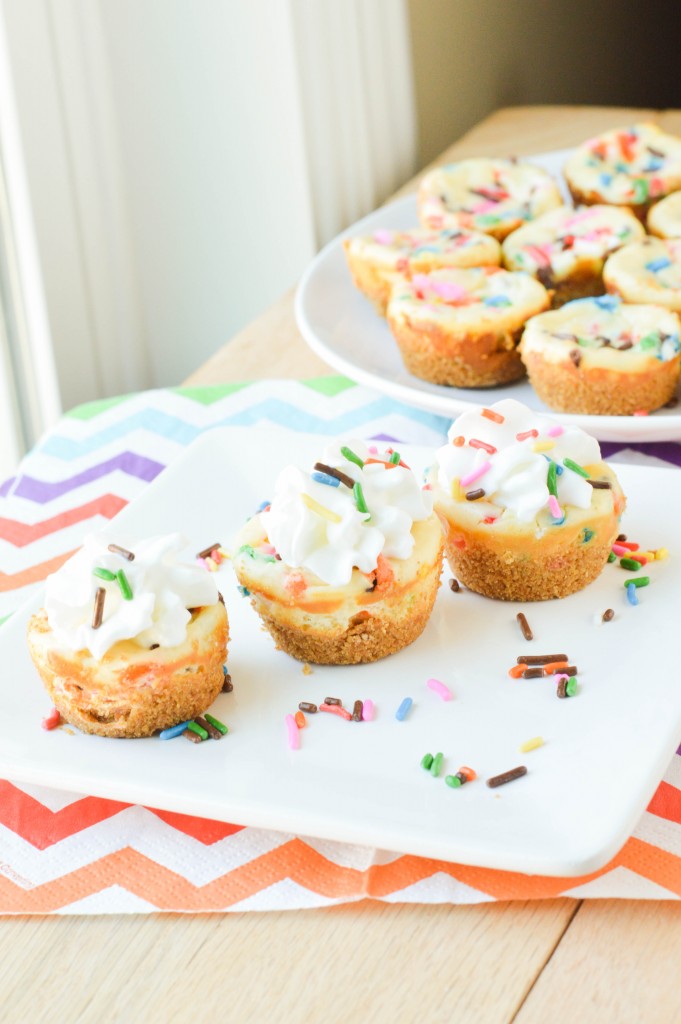 Funfetti Cheesecake Bites
Source: Catch My Party
Makes 24 Bites
Ingredients:
For the Crust:
6 full sheets graham crackers
1/4 cup (1/2 stick) unsalted butter, melted
pinch salt
For the Filling:
1 (8 oz.) pkg. 1/3 less fat cream cheese
3 tbsp. sour cream
1 large egg
1/4 cup granulated sugar
1 tsp. vanilla
1/4 cup yellow cake mix
1/4 cup sprinkles, plus more for topping
Directions:
Preheat the oven to 350 degrees. Spray a mini muffin pan liberally with cooking spray, set aside.
In a food processor or blender, add the graham crackers and pulse until they are crumbs. Pour in melted butter and salt and pulse until mixture resembles wet sand. Spoon approx. 2 tsp. of the graham cracker mixture into each mini muffin tin and press down with the back of a spoon. Bake for approx. 1-2 minutes to set. Remove from oven and set aside.
In the bowl of a stand mixer, add cream cheese, sour cream, and vanilla. Beat until incorporated. Add in egg and beat. Then add in the sugar & cake mix beat in until just incorporated. Remove the bowl from the stand and stir in the sprinkles.
Spoon the batter into the mini muffin tins, approx. 1 1/2 tbsp. for each one. Sprinkle the tops of each with a little more sprinkles. Bake for approximately 15 minutes, until the centers are set. Remove from the oven and let cool slightly. Gently run a knife around each of the tins to make it easier to remove the cakes later, but keep them in the tin. Place the entire pan in the fridge and chill for approximately 2 hours. Once chilled, remove from fridge and run a knife around the edges and pop each cheesecake bite out. Serve topped with whipped cream if desired. Store in an airtight container in the refrigerator.
Notes: 
*You can also bake these in regular sized muffin tins, just extend the baking time a bit. I would think it would make approx. 10 regular sized mini cheesecakes.