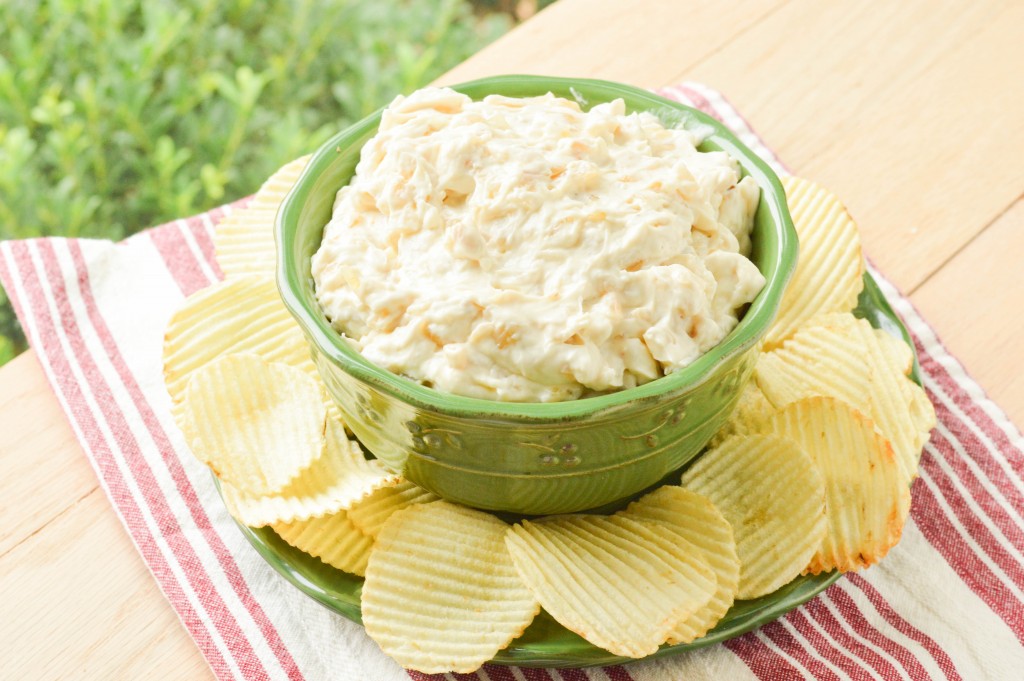 So did your team win this past weekend? It was a great one for football with lots of good games and the NFL starting too! Plus there was even tennis, which is my personal favorite professional sport to watch. I'm sure you've figured out that I'm a dip lover and I remember as a teen, after school whipping up some french onion dip with a seasoning packet & sour cream and sitting down to watch "Saved by the Bell" reruns with a bag of chips. Is it sad that I can still sing the whole theme song, plus some of the special episode songs, like from the Zack Attack & graduation episodes?! Please tell me I'm not the only one!
So back to the dip, I have fond memories of french onion dip obviously and I wanted to try and make a similar version from scratch at home. This Caramelized Onion Dip was so easy and so fabulous!! I made it a day ahead of the meeting I was taking it to and it was even better the next day. I love that you can make it ahead of time, makes it so much easier for the day of the game or party!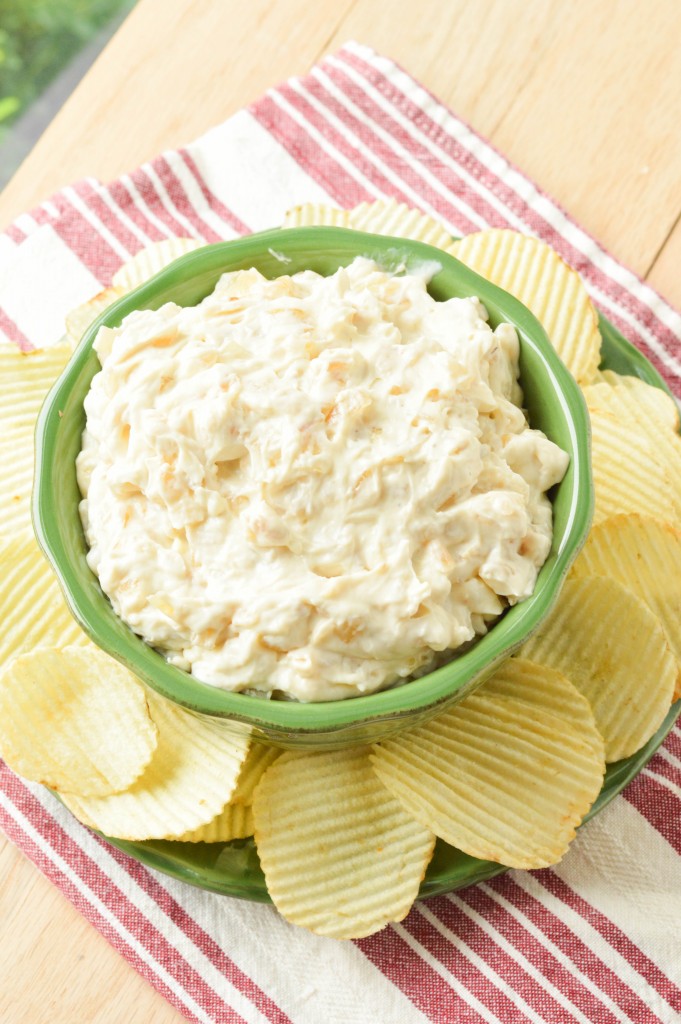 Caramelized Onion Dip
Source: Dinners, Dishes, & Desserts
Ingredients:
3 large sweet onions
3 tbsp. unsalted butter
3 tbsp. extra virgin olive oil
1 tsp. salt
1/2 tsp. freshly ground black pepper
8 oz. 1/3 less fat cream cheese
1 cup light sour cream
1 cup light mayo
Directions:
Peel onions & slice into very thin slices. Heat a large skillet over medium heat. Add butter & oil and heat until butter melts. Add in onions, salt & pepper. Cook for approximately 10 minutes, stirring often. Reduce heat to medium low and cook for 20 minutes, stirring occasionally. Onions should be soft and light brown and caramel in color. Allow to cool slightly.
While the onions cool, in the bowl of a stand mixer, add cream cheese, sour cream & mayo. Beat until incorporated. Remove bowl from stand and stir in the onions (yes all of them, trust me) until evenly distributed. Cover and chill in the refrigerator for at least 30 minutes prior to serving. Serve with potato chips or fritos or crackers.