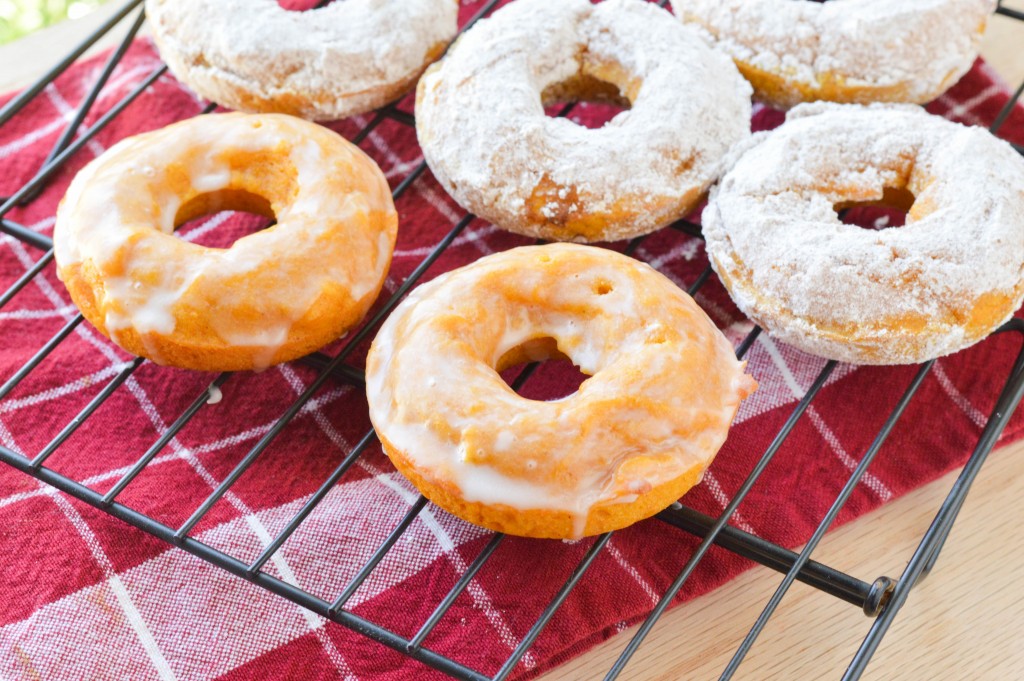 I can't believe I'm just now baking with pumpkin this season! We are big donut fans around here, I mean how can you not be?! So I knew I wanted to try making a pumpkin version! These Pumpkin Donuts turned out great! Light, fluffy and full of pumpkin flavor! These are baked so they are like a cake donut which is one of my favorites! I couldn't decide which topping to make, so I decided to do some glazed and some powdered. Both are equally delectable!!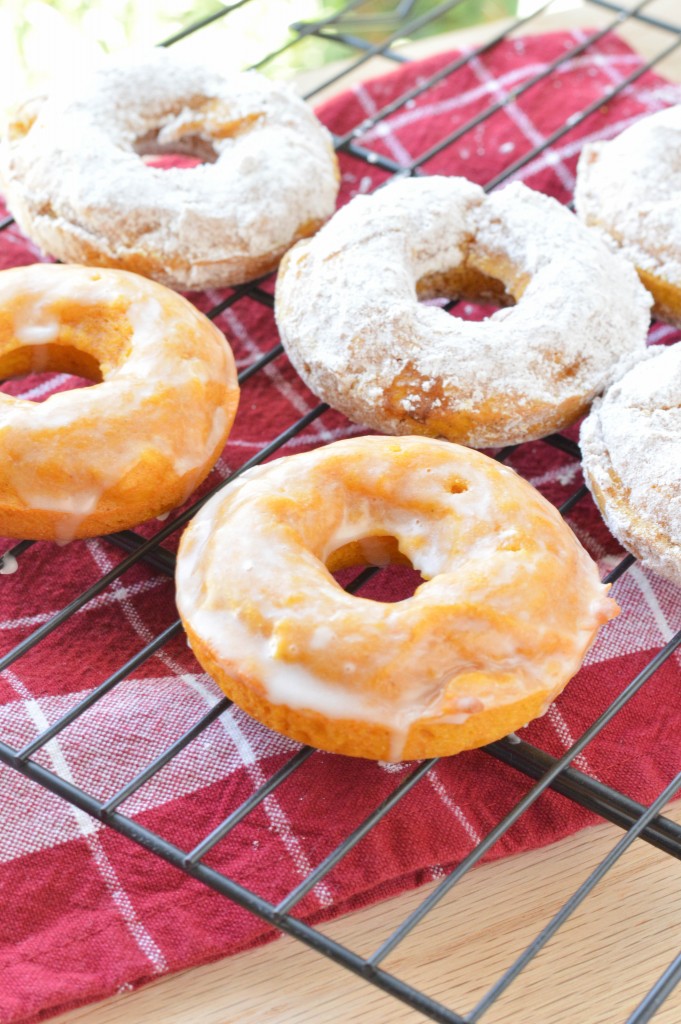 Pumpkin Donuts
Source: King Arthur Flour
Makes 18 donuts
Ingredients:
1/2 cup canola oil
3 large eggs
1 1/2 cups granulated sugar
1 1/2 cups pure pumpkin puree
1 1/2 tsp. pumpkin pie spice
1 1/2 tsp. salt
1 1/2 tsp. baking powder
1 3/4 cups all purpose flour
For the Glaze: 
1 cup confectioner's sugar
1 3/4 tbsp. milk
For the Powdered Sugar Topping:
3/4 cup confectioner's sugar
2 tsp. ground cinnamon
Directions:
Preheat oven to 350 degrees. Spray a donut pan with cooking spray, set aside.
In a medium sized mixing bowl, add the oil, eggs, sugar, pumpkin puree, pumpkin spice, salt, & baking powder. Stir together until fully incorporated.
Add in flour and stir together until just incorporated. Spoon mixture into prepared donut pan, filling each tin 3/4 the way full.
Bake for 15 minutes, until a toothpick inserted comes out clean. Remove from oven and leave in tins for a few minutes. Run a knife around the outside of each donut and pop out and place on a cooling rack. Repeat for all remaining batter.
For the Glazed Topping: Stir together the confectioner's sugar & milk until a glaze forms.
For the Powdered Topping: Stir together the confectioner's sugar & cinnamon until incorporated.
Once donut is cool enough to handle, dip in either the glaze or the powdered topping. Place back on the cooling rack to cool completely.
Serve immediately or if storing, these can get moist quickly so store at room temperature covered loosely.
Notes:
*For the Glaze & Powdered Toppings: The amounts listed are enough to do 1/2 the batch each, so if you want to do all glazed or all powdered simply double the amount of whichever you choose.