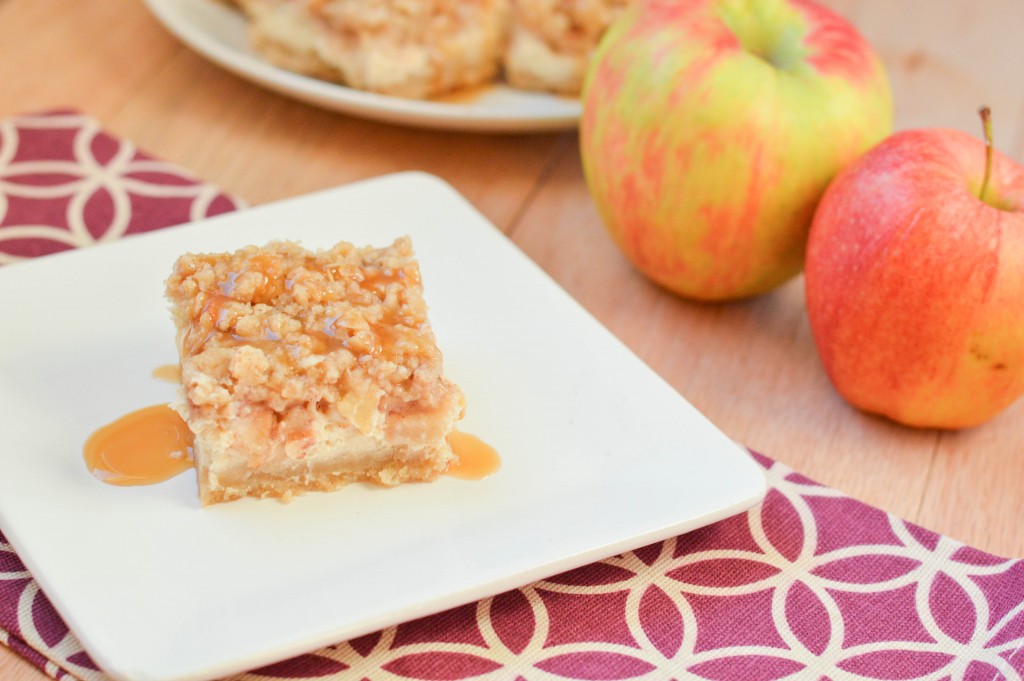 I signed up to take a dessert to my work Thanksgiving potluck luncheon. Then that day before I ended up having a crazy day and a few appointments, so I remembered at 8:30 at night when I got home that I still had to make a dessert. I happened to have cream cheese and apples on hand and all the other ingredients and thought these Caramel Apple Cheesecake Bars would go great with the Thanksgiving meal. Even though this has several steps, it really isn't hard to put together. It is definitely worth the effort and I'm so glad I made it! These were so creamy and the topping and crust gave it a great texture and crunch. This would be a perfect dessert for Thanksgiving or any holiday!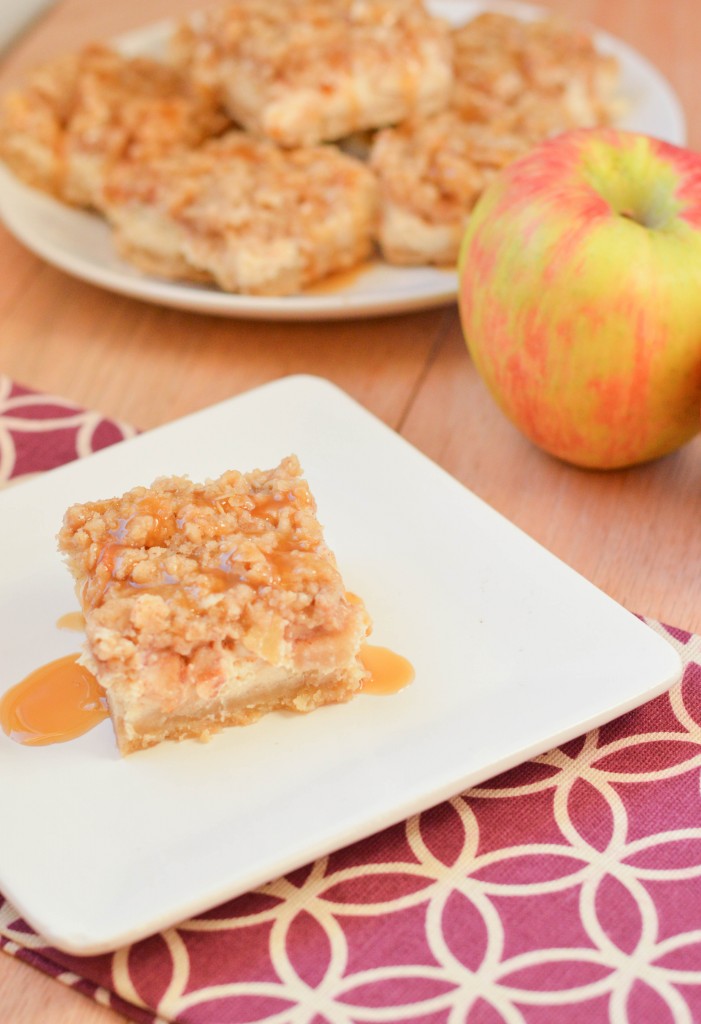 Caramel Apple Cheesecake Bars
Source: The Recipe Critic
Ingredients:
For the Crust:
2 cups all purpose flour
1/2 cup light brown sugar, firmly packed
1 cup (2 sticks) unsalted butter, softened
For the Filling:
2 (8 oz.) pkgs. cream cheese, softened
1/2 cup sugar, plus 2 tbsp. divided
2 large eggs
1 1/2 tsp. vanilla
3 large apples, peeled, cored, & finely chopped
1/2 tsp. cinnamon
1/4 tsp. nutmeg
For the Topping:
1 cup light brown sugar, firmly packed
1 cup all purpose four
1/2 cup quick cooking oats
1/2 cup (1 stick) unsalted butter, softened
Caramel Topping
Directions:
Preheat oven to 350 degrees. Line a 9 x 13 baking pan with aluminum foil. Spray with cooking spray, set aside.
For the Crust:
In a medium bowl, add the flour & brown sugar. Stir to incorporate. Cut the 2 sticks of butter into the flour mixture until crumbly and resembles coarse sand. Press mixture into the bottom of your prepared pan. Bake for 15-17 minutes until set and lightly golden.
For the Filling:
In the bowl of a stand mixer, add cream cheese and 1/2 cup sugar and beat on medium speed until smooth and creamy. Add in the eggs one at a time, beating until fully incorporated. Add in vanilla and mix until incorporated. Pour mixture over warm crust.
In a medium sized bowl, add in the apples, 2 tbsp. sugar, cinnamon & nutmeg and stir to coat. Spoon the apple mixture over top of the cream cheese layer, distributing evenly.
For the Topping:
In a small bowl, add the brown sugar, flour, & oats. Cut the stick of butter into the brown sugar mixture until it resembles coarse sand. Sprinkle evenly over top of the apples.
Bake for 30-35 minutes, until set and golden.
Remove from oven and let cool completely. Cut into squares and store in an airtight container in the refrigerator.
Right before serving drizzle caramel sauce on top.