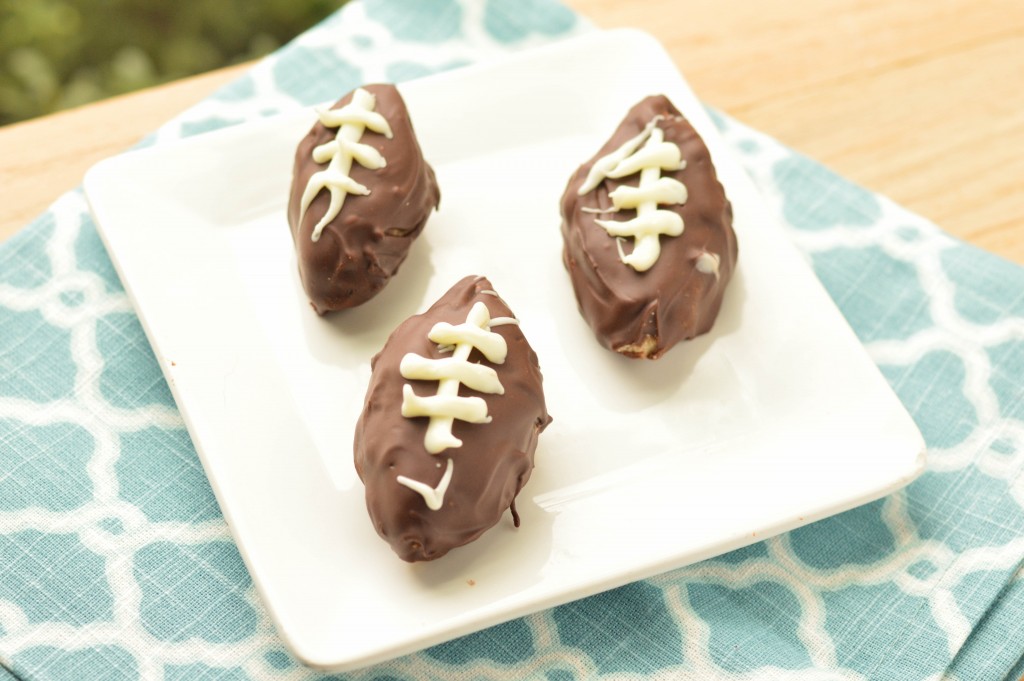 Hope all of you had a very Merry Christmas! We had a great one and I'll post more about that soon. So this week is the start of the major bowls for football and also New Year's of course. I saw these Chocolate Chip Cookie Dough Football Truffles on the Today show last week and thought they were so cute and perfect for watching the college football playoffs this week! I'm not the best chocolatier so I'm sure your footballs will probably look better than mine, haha! I almost didn't post these because mine don't look that good but I still thought you all would still enjoy them and want the recipe to try for yourselves. I also made some of these into regular ball truffles and drizzled white chocolate over top for Christmas. These are a great treat and perfect since there's no egg in them you don't have to worry about eating as many as you want!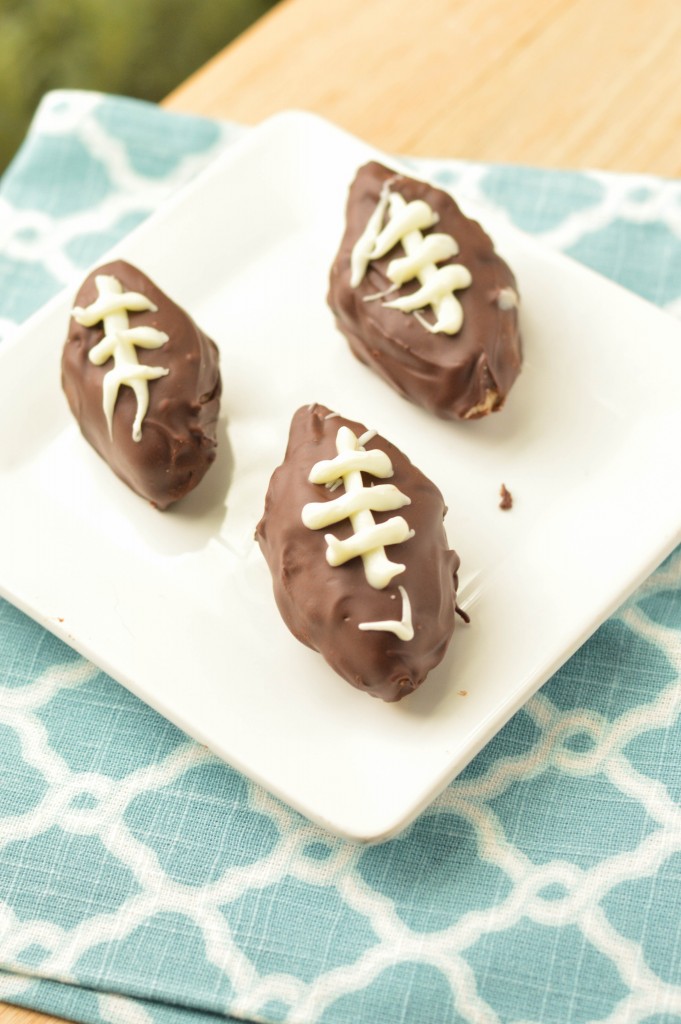 Chocolate Chip Cookie Dough Football Truffles
Source: Life Love and Sugar
Ingredients:
3/4 cup butter, room temperature
3/4 cup light brown sugar, packed
1/4 cup granulated sugar
2 tsp. vanilla
2 cups all purpose flour
1 to 2 tbsp. water
1 1/2 cups mini chocolate chips
16 oz. chocolate candi-quick
3 oz. vanilla candi-quick
Directions:
In the bowl of a stand mixer add butter, brown sugar, & sugar and beat until fully incorporated. Add in vanilla and mix until incorporated. Turn the mixer to low and gradually add in the flour and beat until just incorporated. Add in 1 tbsp. of water and beat well. Add another tbsp. if dough is still too thick. Remove the bowl from the stand and stir in the mini chocolate chips.
Cover a baking sheet with parchment or wax paper.
Shape dough into little football shapes or roll into balls. Place on prepared baking sheet and refrigerate for approximately 30 minutes until slightly firm.
Meanwhile, place chocolate candi-quick in a microwave safe bowl and microwave in 20 second increments, stirring in between each until melted and smooth.
Using a fork lower the dough balls or footballs into the melted chocolate and spoon the chocolate over top and then tap the handle of the fork on the side of the bowl to drip off any excess. Once coated in the chocolate place back on the baking sheet. Repeat for all balls or footballs.
Allow to set until chocolate has hardened. Melt the vanilla candi-quick in a microwave safe bowl into 20 second increments, stirring in between each until melted. Spoon the vanilla candy into a ziplock bag and snip off the end. Pipe the football laces onto the footballs or drizzle it over top of the truffles if not doing footballs. Store in an airtight container.
Notes:
*Instead of candi-quick can use semi-sweet chocolate chips plus 1 tsp. canola oil, melt in the same manner. And can use white chocolate chips with 1 tsp. canola oil in place of the vanilla candi-quick. This is what I did and it tastes great but may not look as smooth on the truffles.