This time of year it's usually super chilly and possibly snowing and you get all bundled up to go outside. Well, this year it's unseasonably warm where I live and was 70 degrees today!! So instead of drinking some hot chocolate how about making some Hot Chocolate Cupcakes?! These are light and fluffy and have just the right amount of sweetness. They are a festive winter treat that tastes just like a mug of hot chocolate.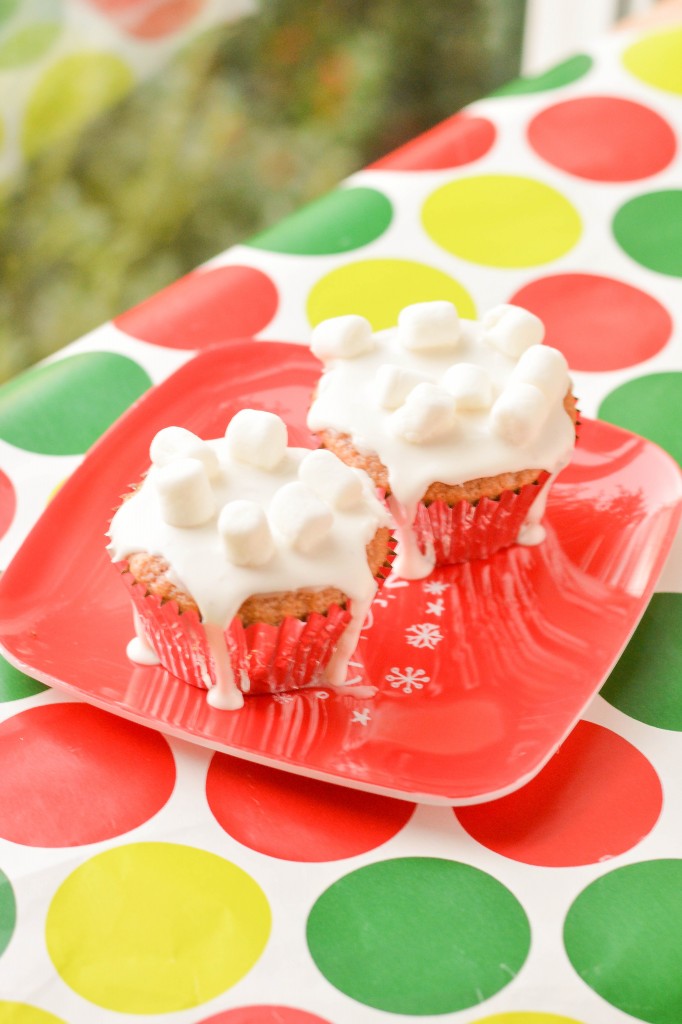 Hot Chocolate Cupcakes
Source: Cupcakes from Babycakes via Love from the Oven; Frosting from Kraft
Makes approximately 15 cupcakes
Ingredients:
For the Cupcakes:
1 1/4 cups all purpose flour
1/2 cup hot chocolate mix
1/2 cup granulated sugar
1 tbsp. baking powder
1 egg
3/4 cup buttermilk*
1/4 cup canola oil
1 tsp. vanilla
For the Frosting:
2 tbsp. unsalted butter, softened
1/2 jar (3 oz.) Marshmallow Creme
1/2 tsp. vanilla
8 oz. confectioner's sugar
1 tbsp. milk
Mini marshmallows for topping
Directions:
For the Cupcakes:
Preheat oven to 325 degrees. Line a cupcake tin with paper liners, set aside.
In a large bowl, add flour, hot chocolate mix, sugar, & baking powder. Whisk together to incorporate.
Add in egg, buttermilk, oil, & vanilla. Stir together until fully incorporated. Using an ice cream scoop, scoop batter into prepared cupcake tins and fill each 2/3 full.
Bake for approximately 15 minutes, until a toothpick inserted comes out clean. Let cool in tins until cool enough to touch. Lift cupcakes out of the tin and transfer to a cooling rack to cool completely.
For the Frosting:
Add the butter & marshmallow creme to a stand mixer and beat until fully incorporated. Add in vanilla and beat until incorporated. Gradually add in confectioner's sugar until well incorporated. Add in milk and beat until desired spreadable consistency.
Once cupcakes have cooled, spread a layer of frosting over top and top with mini marshmallows.
Notes:
*Substitute for buttermilk: add 3/4 tbsp. vinegar to a 3/4 cup measuring cup. Fill the rest of the way full with milk and let stand for 10 minutes. Use as directed in recipe.