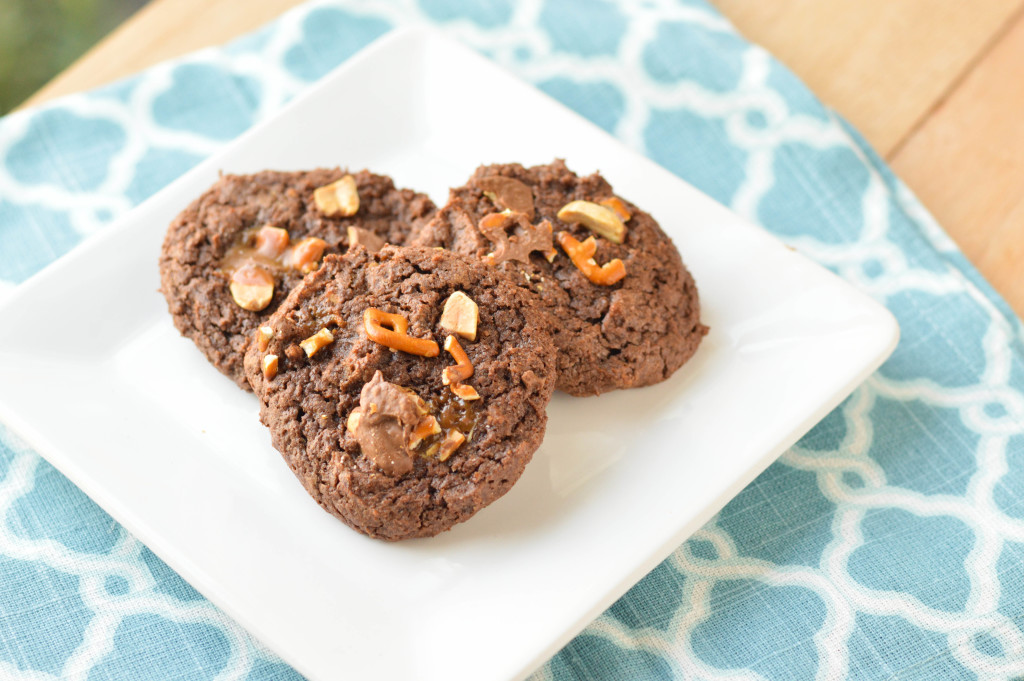 Sorry for all of the sweets I've been posting lately. Ok, well I'm not that sorry because these sweets have been so delicious to taste test! 😉 I have been in a bit of a dinner cooking rut though and have been just making our quick & easy favorites like spaghetti & taquitos. But I can always be motivated to bake, haha! I should have some savory recipes to post soon. If you have anything you'd like to see let me know.
So about these cookies, the people at Snappers contacted me and offered to send me some of their delicious treats to try and bake with (no other compensation was received and all opinions are my own). The treats were the perfect combo of savory & sweet, I could hardly stay out of them! A great snack or treat for sure! They were fabulous in these Devil's Food Caramel Cookies! These cookies are fudgey and sweet and the Snappers add the caramel & crunch! Adam said they tasted like Fudge Rounds meets Snickers. If you can't find the Snappers, use another caramel/nut/chocolate candy.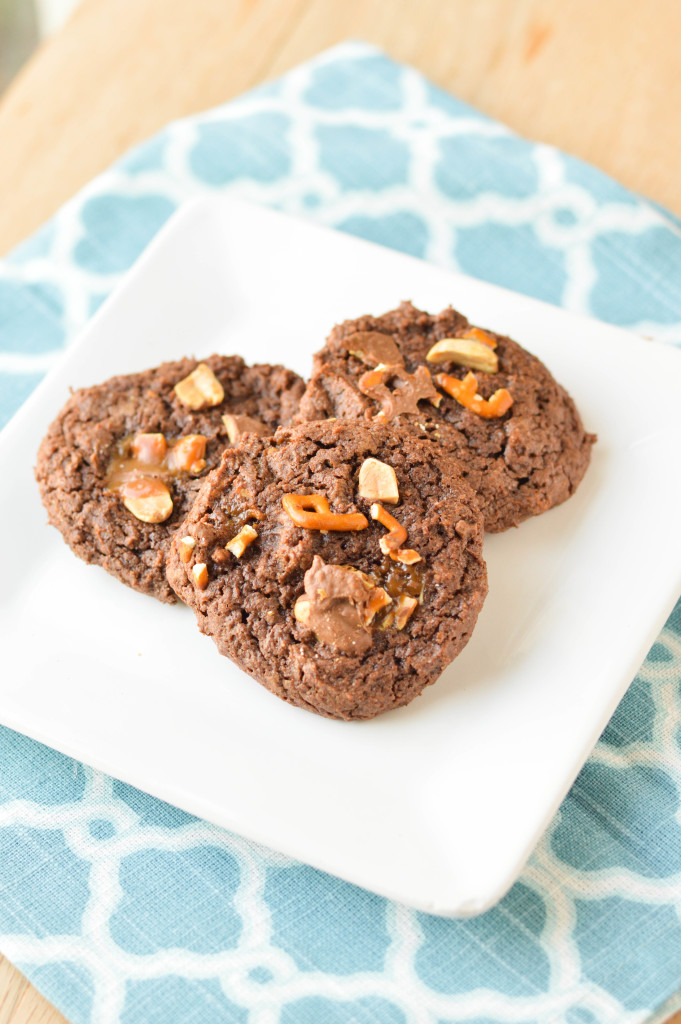 Devil's Food Caramel Cookies
Source: Cake Mix from Food.com, cookies from Snappers
Ingredients:
For the Devil's Food Cake Mix: 
2 cups all purpose flour
1 tsp. salt
1 tsp. baking powder
2 tsp. baking soda
3/4 cup unsweetened cocoa powder
2 cups sugar
For the Cookies:
Devil's Food Cake Mix
2 eggs
1/2 cup canola oil
1/4 cup water (if needed)
1 pkg. snappers snacks, roughly chopped
Directions:
Preheat oven to 350 degrees. Cover a baking sheet with parchment paper, set aside.
In a medium sized bowl, whisk together the flour, salt, baking powder, baking soda, cocoa powder, & sugar. Transfer mixture to the bowl of a stand mixer.
To the cake mix in the stand mixer, add the eggs & oil. Beat until fully incorporated. If mixture seems too thick, can add a little water (no more than 1/4 cup). Add in all but 1/4 cup of the chopped snappers snacks and mix on low until just incorporated.
Using a small cookie scoop, scoop out dough into tablespoon sized balls and place on prepared cookie sheets 2 inches apart. Press additional chopped snappers into the top of each cookie dough ball.
Bake for 8 to 10 minutes. Remove from oven and let cool on cookie sheet for a couple minutes. Transfer to cooling rack to cool completely.
Store in an airtight container.