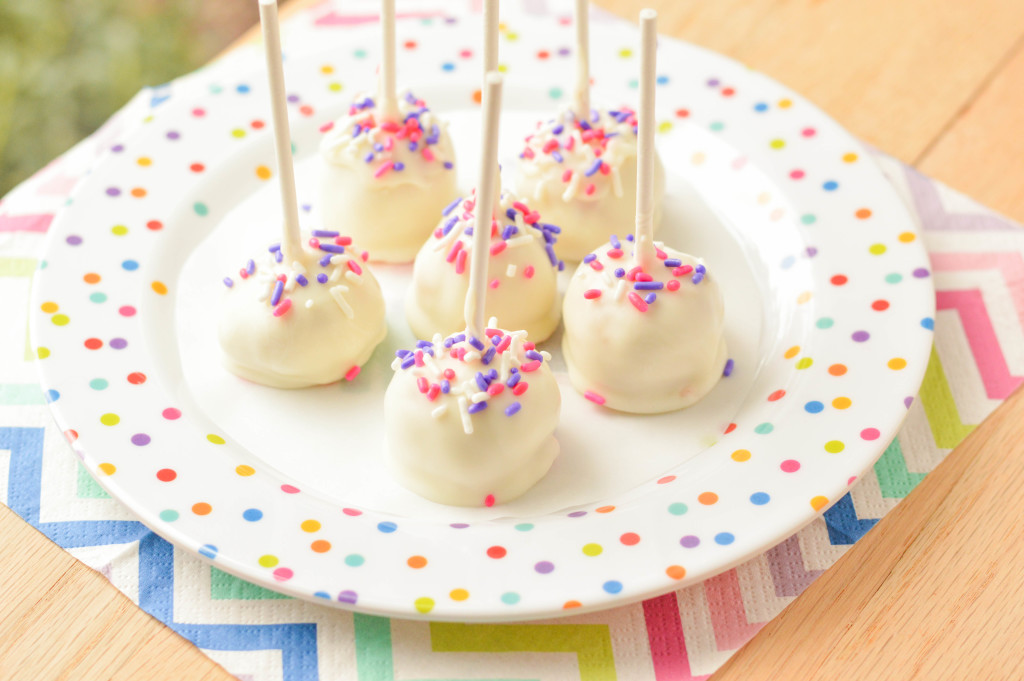 So it's National "Something on a Stick" Day! I was contacted by Shari's Berries and asked if I would like to help celebrate by making something on a stick, and I said of course! They were so generous and sent me some of their cake pops to try and they were so delicious! Rich and decadent, and the perfect little treat! My daughter is cake pop obsessed and she loved them too! My favorite was the vanilla, with the red velvet in a close second and Adam loved the chocolate ones.
I knew I wanted to make some sort of cake pop, but we are getting ready to move and I had already packed away my baking pans, so I wanted something that didn't require any baking. Plus, my husband loves cheesecake so I knew these would be right up his alley. These Strawberry Cheesecake Pops are fabulous, the perfect treat to just pop in your mouth! They are creamy and the strawberries give it great flavor. Don't worry if you don't have sticks, just leave them off and make regular truffles.
Happy Something on a Stick Day! And here is a link to some coupons for Shari's Berries, trust me you won't be disappointed! (Disclaimer: I was only provided with cake pops to try and not compensated any other way, all opinions are my own).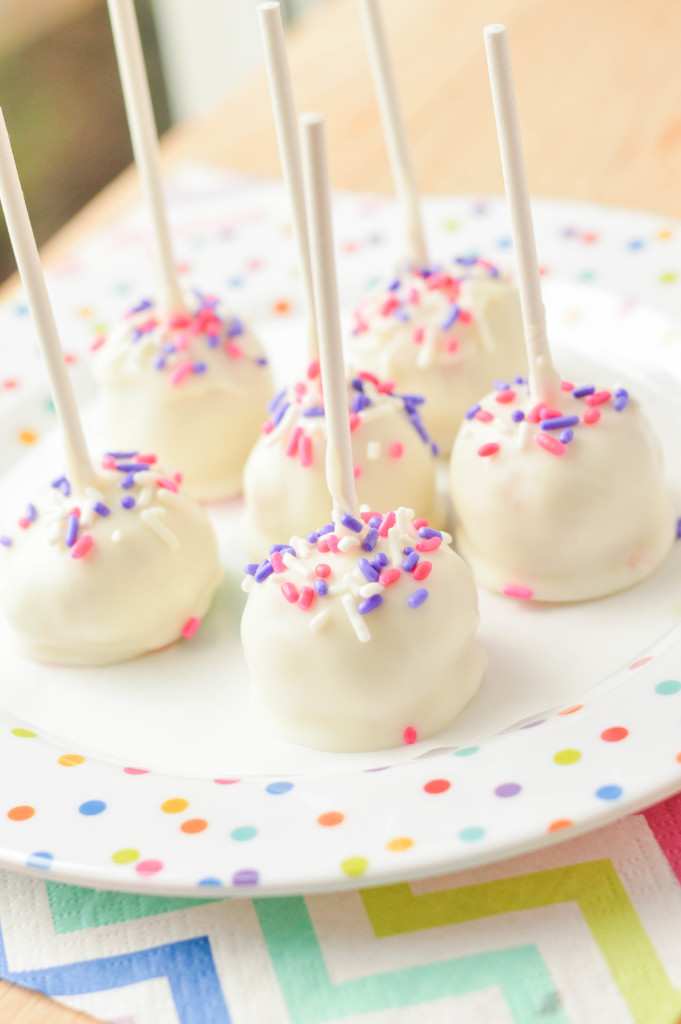 Strawberry Cheesecake Pops
Source: Slightly adapted from Swanky Recipes
Ingredients:
8 oz. 1/3 less fat cream cheese
1 cup graham cracker crumbs
1/2 cup confectioners sugar
1 tsp. vanilla
6 tbsp. finely chopped strawberries
20 oz. almond bark
Sprinkles
Directions:
In the bowl of a stand mixer, add cream cheese, graham cracker crumbs, confectioner's sugar, & vanilla. Beat until smooth & fully incorporated. Gently stir in strawberries until evenly distributed. Chill in refrigerator for approximately 15 minutes, until firm enough to roll into balls.
Cover a baking sheet with parchment paper. Use a small cookie scoop, scoop out tbsp. sized balls of cheesecake and roll in your hands. Place balls on prepared baking sheet. Place a sucker stick into each ball. Place the balls in the refrigerator for approximately 15 to 30 minutes until firm.
In a microwave safe dish, add almond bark and melt in 20 second increments until melted, stirring in between each. Dip each cheesecake pop in the melted almond bark and use a spoon to help coat completely. Hit the stick on the side of the dish to get off any excess drips. Place back on the baking dish and sprinkle the top with sprinkles if desired. Repeat for all the cheesecake pops. Place in refrigerator to chill until set.
Place in a airtight container or ziplock bag in the refrigerator until ready to serve.