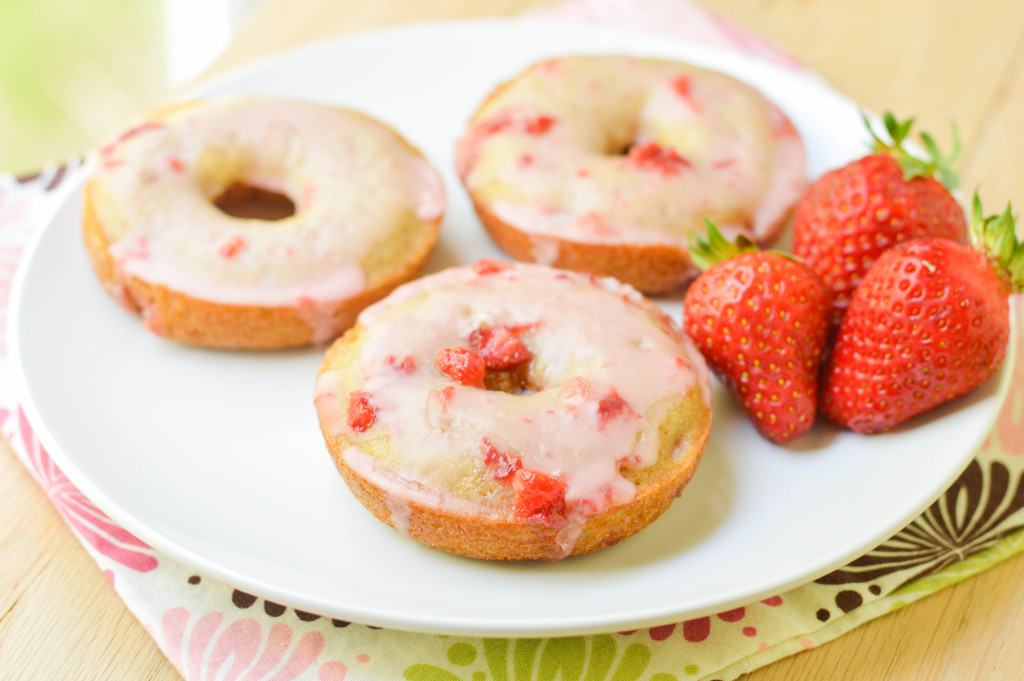 This past weekend we went to the farmer's market and got some fresh picked strawberries, plus I had some other strawberries I needed to use up. I've been wanting to make strawberry donuts for a while now and knew this was the perfect opportunity! So yeah, these Baked Strawberry Buttermilk Donuts were completely amazing!!! If you have strawberries you need to make them stat! And if you don't, run to the grocery and get some! These are so light & fluffy and the perfect amount of sweetness. And the strawberries give them such great flavor!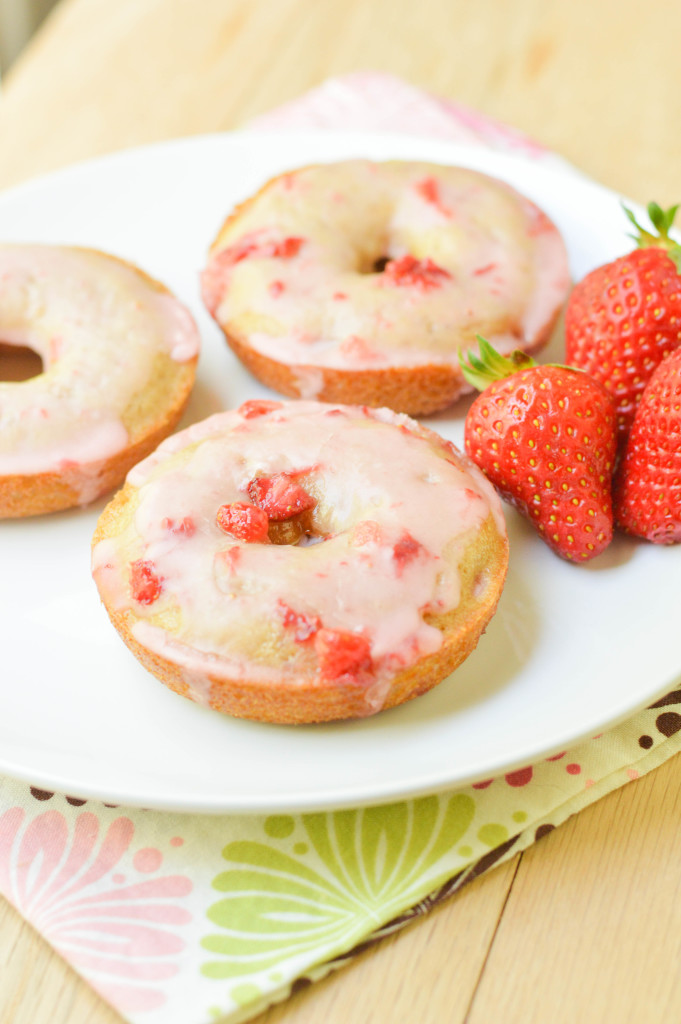 Baked Strawberry Buttermilk Donuts
Source: Oprah.com
Ingredients:
For the Donuts:
2 cups all purpose flour
1 cup granulated sugar
1 tsp. baking soda
1 tsp. salt
1 cup canola oil
3/4 cup buttermilk*
1 tsp. vanilla
2 eggs
1 tsp. vinegar
1/2 cup finely chopped strawberries
For the Glaze:
1/4 cup chopped strawberries
1 cup confectioner's sugar
1 tbsp. water
Directions:
Preheat oven to 375 degrees. Spray a donut pan with cooking spray, set aside.
For the Donuts:
In a medium sized bowl, whisk together the flour, granulated sugar, baking soda, & salt until incorporated, set aside.
In the bowl of a stand mixer, add the oil, buttermilk, eggs, & vanilla. Beat until incorporated. With the mixer on low, gradually add the flour mixture until just incorporated. Add vinegar and beat to incorporate.
Remove bowl from stand and stir in the 1/2 cup of the strawberries.
Scoop batter into prepared donut pan, filling each approximately 3/4 full. Bake for approximately 12 minutes, until golden brown and toothpick inserted comes out clean. Allow donuts to cool in pan for several minutes, then run a knife around the edge and pop each donut out and transfer to a cooling rack to cool completely.
For the Glaze: 
In a small bowl, add the 1/4 cup strawberries, confectioner's sugar, & water. Whisk together until incorporated and a glaze forms. If too thick, add another tsp. of water.
Place parchment paper under cooling rack to catch drips. Once donuts have cooled, spoon glaze over top of donuts. Allow to set. Store in an airtight container until ready to serve.
Notes:
*Sub for buttermilk: place 3/4 tbsp. vinegar in a measuring cup, fill with milk the rest of the way to the 3/4 cup measurement and let stand for 10 minutes, use as directed in recipe.
*Can sub part or all of the oil with applesauce