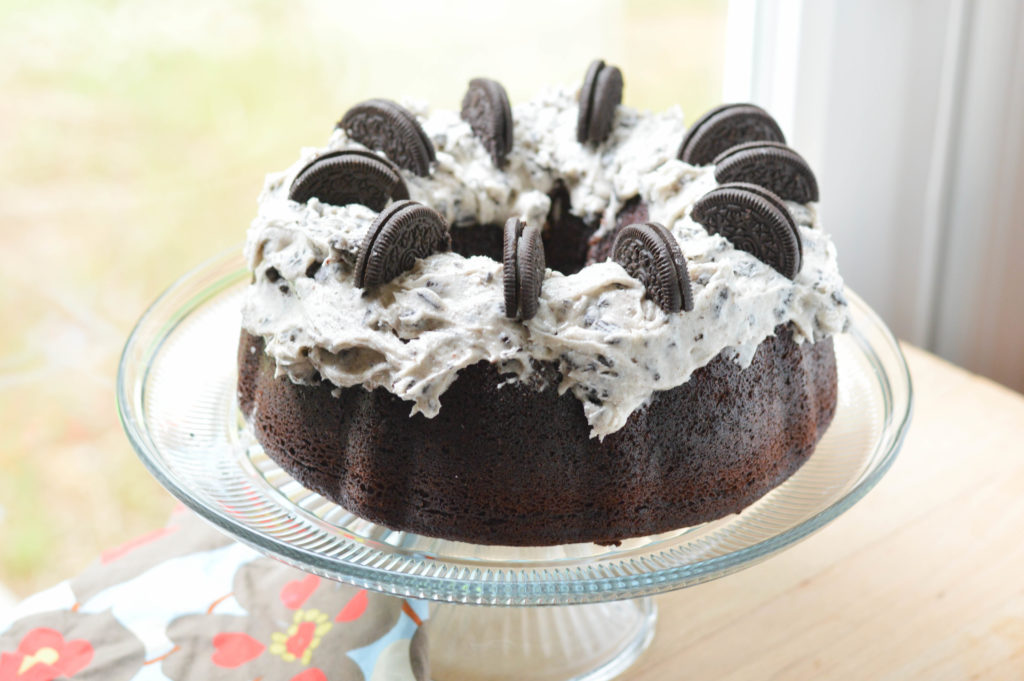 We went to a farmer's market recently and Adam saw an oreo cake and didn't get it, then he went back around and they had sold it already. So, I promised him I would make him some sort of oreo cake. We had some friends over recently so it was the perfect time to try the cake! This Chocolate Oreo Bundt Cake was amazing!! The cake was perfectly chocolatey and moist and the icing was just the right amount of creamy and sweet. Definitely a great dessert for oreo lovers!! And also great for a potluck or party!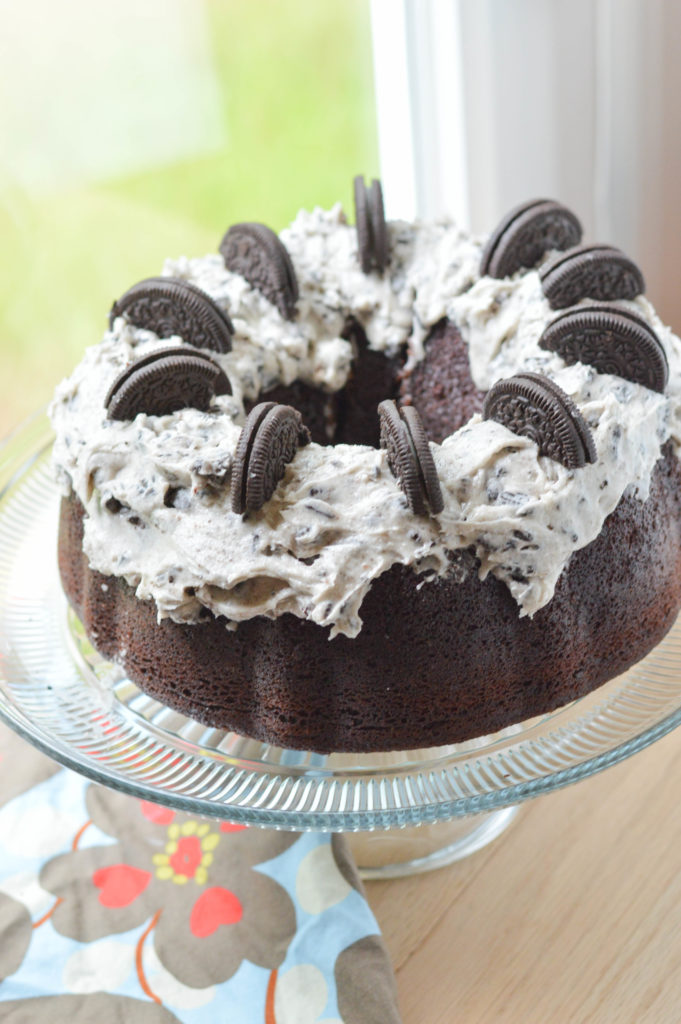 Chocolate Oreo Bundt Cake
Source: The Saptularette
Ingredients:
For the Cake:
1 1/4 cups milk
1 cup unsweetened cocoa powder
2 1/2 cups all purpose flour
1 1/4 tsp. salt
2 1/2 tsp. baking soda
2 cups sugar
3 eggs
1 cup buttermilk*
1 cup plus 2 tbsp. canola oil
For the Frosting:
1 stick unsalted butter, room temperature
2 cups confectioner's sugar
pinch salt
1/2 tsp. vanilla
2 tbsp. milk
6 oreos, chopped
Directions:
Preheat oven to 350 degrees. Spray a bundt pan liberally with cooking spray, set aside.
For the Cake:
In a small bowl, whisk together the 1 1/4 cups milk & cocoa powder until incorporated. Set aside.
In a medium sized bowl, whisk together the flour, salt, & baking soda. Set aside.
In the bowl of a stand mixer, add the eggs and sugar and beat for approximately 2 minutes, until pale yellow and thick. Add in buttermilk & canola oil, beat to incorporate. Add in the flour mixture and beat until just incorporated. Then mix for another 30 seconds until mixture is smooth. Turn the mixer to low and add in the cocoa mixture, beating until evenly distributed and incorporated. Pour batter into prepared pan and spread evenly.
Bake for approximately 50 minutes, until top springs back and a toothpick inserted comes out clean.
Allow cake to cool in the pan for 30 minutes, then run a knife around the edges and invert the cake and transfer cake plate. Let cool completely.
For the frosting:
In the bowl of a stand mixer, beat the butter until creamy, then add the confectioner's sugar, milk, salt, & vanilla. Beat until fully incorporated and light and fluffy and a spreadable consistency. Remove bowl from stand and stir in chopped oreos.
Once cake has cooled, evenly spread the frosting over the top. Can top with oreo halves if desired.
Notes:
*Can sub buttermilk by placing 1 tbsp. vinegar in a 1 cup measuring cup and fill the rest of the way full with milk. Let stand for 10 minutes and use as directed in recipe.