It's back to school time! These Movie Popcorn Bars would be the perfect salty/sweet after school snack! They have all the makings of movie snacks all in one treat! These would be great for parties or movie nights too! These have the feel of rice krispie treats but with popcorn instead for a fun twist. I love that these are like popcorn balls, but so much easier to just press into a pan for bars. Oh and you can sub the m&m's with other favorite chocolate candies. (p.s. pay no attention to the fact that these are spring time m&m's, haha!)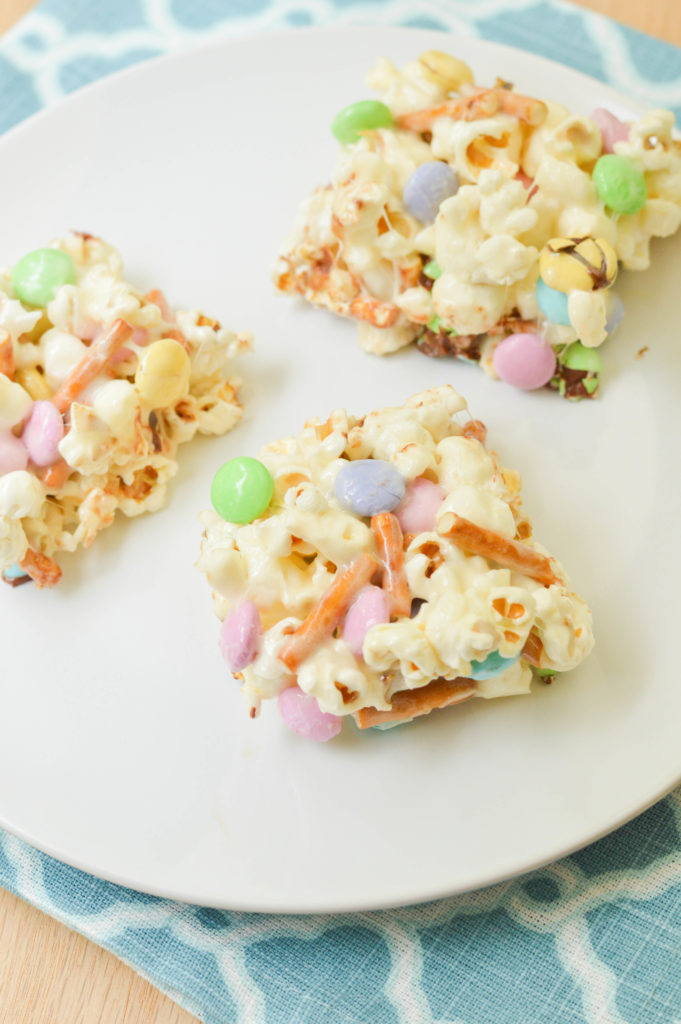 Movie Popcorn Bars
Source: Confessions of a Cookbook Queen
Ingredients:
Approximately 5-6 cups popped popcorn
3/4 cup m&m's
3/4 cup chopped pretzel sticks
1/2 package (8 oz.) mini marshmallows
1/4 cup butter, cubed
1/4 cup canola oil
Directions:
Cover an 8 x 8 baking pan with aluminum foil and spray with cooking spray, set aside.
In a large bowl add the popcorn, m&m's & pretzels. Stir to evenly distribute, set aside.
In a medium sized pan, add butter and heat over low heat until melted. Add in marshmallows and oil and heat over medium heat until marshmallows are completely melted.
Immediately pour marshmallow mixture over top of the popcorn mixture and stir to coat. Press mixture into prepared pan and let set for approximately 1-2 hours.
Lift bars out of pan and peel off foil and cut into squares. Store in an airtight container.