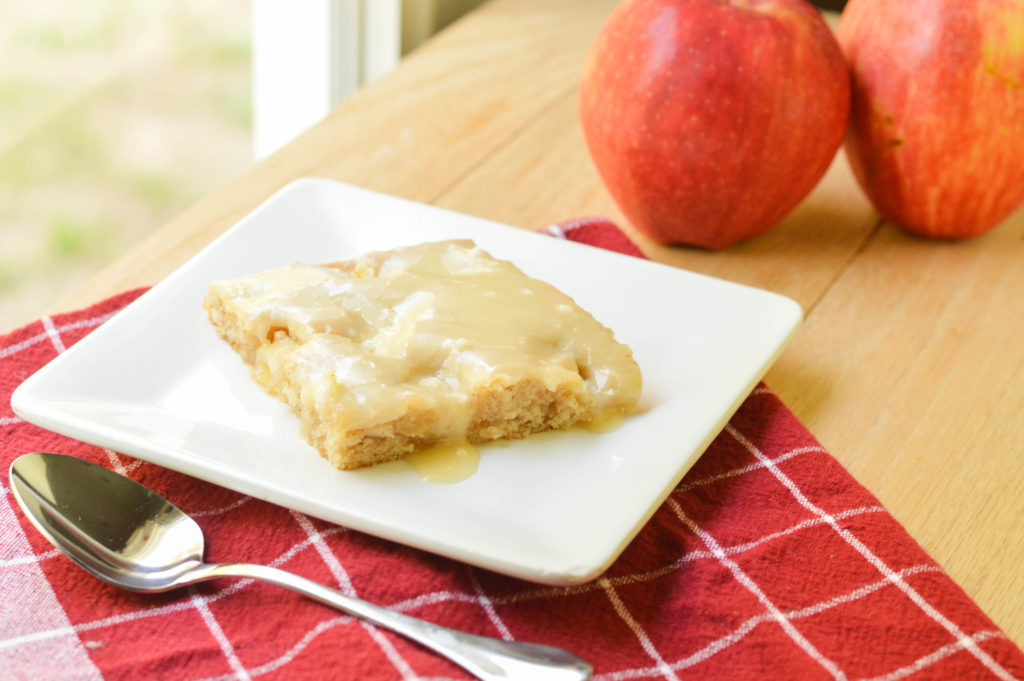 Well according to the calendar it's Fall Y'all!! You wouldn't know it by the blazing hot temperatures in this unseasonably warm weather we are having though. However, that hasn't stopped me from craving apple & pumpkin treats or soups or pumpkin spice everything! I just couldn't help myself and had to make an apple treat to welcome fall and hopefully the cooler crisp weather will follow! This caramel apple sheet cake is the kind where you take one bite, and then one more, and one more…well you get the idea, just hard to stop eating it! It's so super tender and sweet with that perfect apple spice flavor. Plus this cake gets even better the longer it sits so it's perfect for parties because it's better if made ahead of time.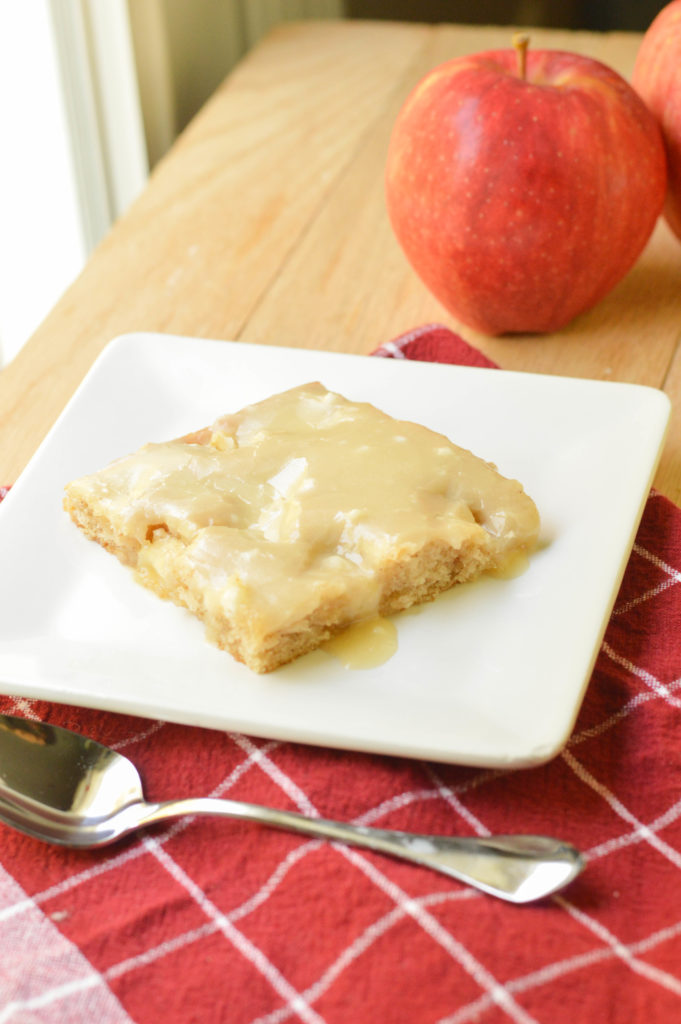 Caramel Apple Sheet Cake
Source: Chef In Training
Ingredients:
For the Cake:
2 cups plus 2 tbsp. all purpose flour
2 cups sugar
1 tsp. cinnamon
1/2 cup (1 stick) unsalted butter
1 cup water
1/2 cup shortening
1/2 cup buttermilk
1/2 tsp. baking soda
2 eggs
1 tsp. vanilla
2 cups apples, peeled & chopped (approx. 2 large apples)
For the Frosting:
1/2 cup (1 stick) unsalted butter
6 tbsp. milk
3 1/2 cups confectioner's sugar
1/2 tsp. vanilla
1/8 cup caramel sauce (or caramel ice cream topping)
Directions:
Preheat oven to 400 degrees, spray a 15″ x 13″ sheet pan with cooking spray, set aside.
In a medium sized bowl, whisk together the flour, sugar, & cinnamon until incorporated.
In a medium pot, add butter, water & shortening. Bring mixture to a boil, once boiling and butter has melted pour into the prepared flour mixture and stir until fully incorporated. Next, add the buttermilk, baking soda, eggs & vanilla, stirring in between each addition until incorporated. Gently fold in chopped apples.
Evenly spread batter into the prepared pan. Bake for 20 minutes until golden brown and the top springs back when touched. Let cool.
For the Frosting:
Add butter & milk in a small pot and heat over medium heat until butter is melted. Once butter has melted, add in confectioner's sugar, vanilla & caramel sauce. Stir until fully incorporated and completely smooth. Pour frosting over cooled cake and spread evenly. Let stand until frosting has set  up & hardened. Cover and store at room temperature.
Notes:
*This cake is the kind that tastes better the longer it sets so I recommend making it ahead of when you are going to serve it.