It's officially pumpkin season!!! I couldn't let the start of October pass without posting a pumpkin recipe. You can catch more pumpkin recipes in this round up here. Pumpkin & Chocolate is one of my favorite dessert combos. Something about the two together just makes my tastebuds & heart sing. This Pumpkin Chocolate Chip Bread was absolutely amazing!! It is so moist and I could hardly stay out of it! Thankfully I made it for a bake sale for Sophie's school so I was able to send it off & wasn't tempted too much! This is definitely a keeper recipe that I know I will be making again and again.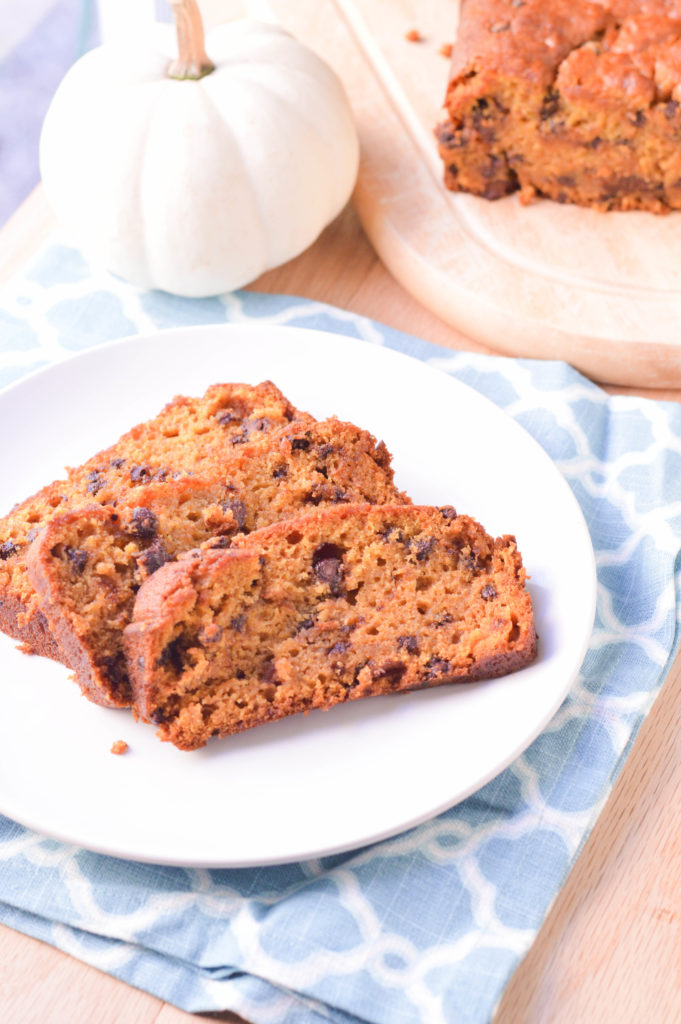 Pumpkin Chocolate Chip Bread
Source: Deliciously Sprinkled
Makes 2 loaves
Ingredients:
2 cups all purpose flour
1 tsp. baking soda
1 tsp. ground cinnamon
1/2 tsp. salt
5 large eggs
1 1/4 cups canola oil
1 can (15 oz.) pure pumpkin
2 cups granulated sugar
2 pkgs. (3 oz.) instant vanilla pudding mix
3/4 cups semi-sweet chocolate chips
1/2 cup mini chocolate chips
Directions:
Preheat oven to 375 degrees. Spray two 9 inch loaf pans with cooking spray, set aside.
In a medium sized bowl, add flour, baking soda, cinnamon & salt. Whisk together and set aside.
In a large bowl, add eggs, oil & pumpkin and stir together to incorporate. Add in sugar & pudding mix and whisk to incorporate.
Gradually add flour mixture to the pumpkin mixture and stir until just incorporated. Gently fold in chocolate chips.
Pour batter in prepared loaf pans, dividing evenly between the two and spreading batter evenly.
Bake for 15 minutes, then reduced heat to 350 degrees and bake for additional 40-45 minutes, until a toothpick inserted comes out clean.
Let cool in pans completely and then turn out and store in an airtight container.
Notes:
*Loaves freeze well. If frozen, allow to thaw overnight in refrigerator and then store at room temperature.