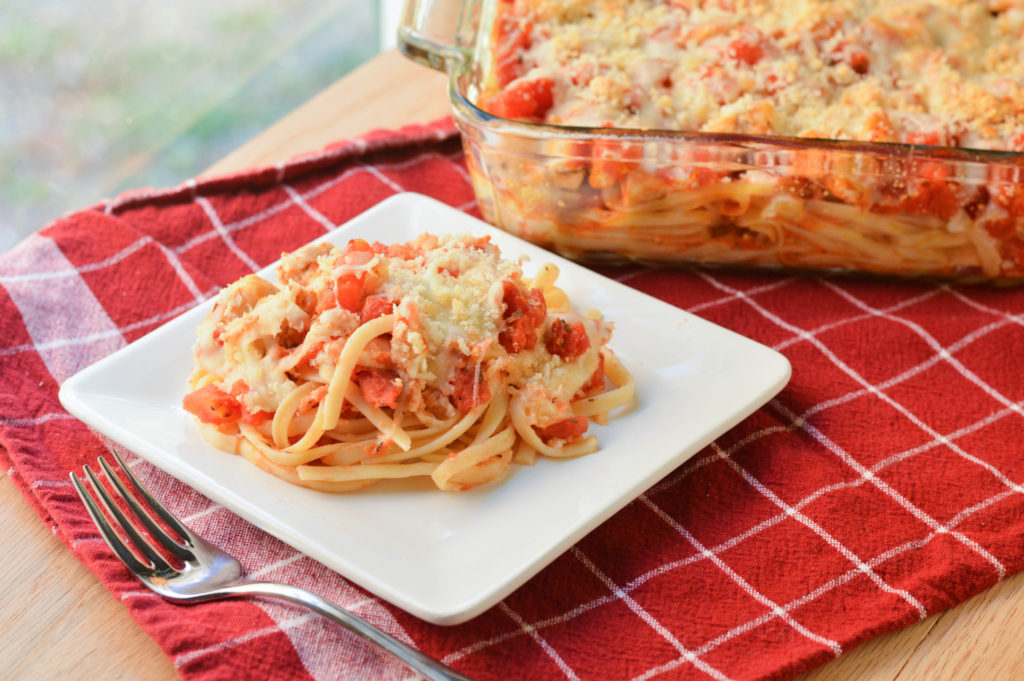 Last week my good friend's mom made this amazing pasta and I got to sample some. I immediately began searching for a similar recipe and came across this one. This Chicken Parmesan Pasta Bake was delicious! Such a great comforting savory meal that would be great for a weeknight or a special dinner! The recipe calls for using just diced tomatoes for the sauce, which was great but next time I'm going to try it with using marinara sauce, I think that would be delicious too! Either way this is a dish your family is sure to love!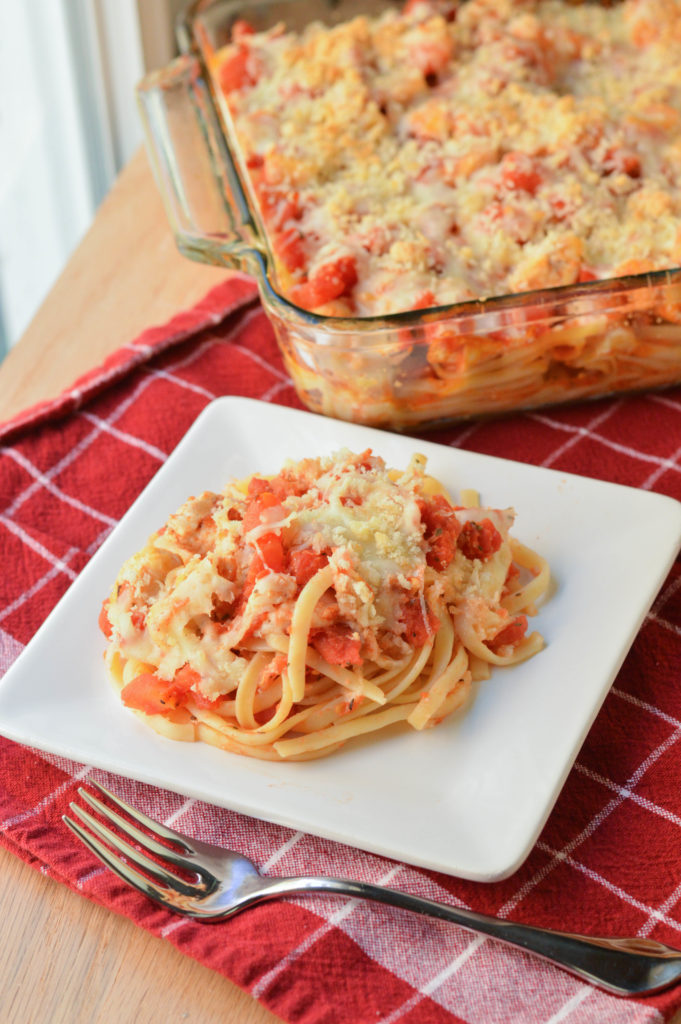 Chicken Parmesan Pasta Bake
Source: I Heart Eating
Ingredients:
1 tbsp. extra virgin olive oil
2 lbs. chicken cut into 1 inch cubes
5 cloves minced garlic
3 (14.5 oz) petite diced tomatoes, undrained
1 tbsp. plus 1 tsp. Italian Seasoning
1/2 tsp. salt
1/4 tsp. freshly ground black pepper
1 (16 oz.) box pasta of your choice (linguine, spaghetti, ziti, or rotini)
2 cups shredded mozzarella cheese
1/2 cup Italian Panko Bread Crumbs
1/4 cup grated Parmesan Cheese
Directions:
Preheat oven to 350 degrees. Spray a large/deep casserole dish (at least 2 1/2 to 3 quarts), set aside.
In a large skillet, add olive oil and head over medium low heat. Add chicken and cook until cooked through and browned on all sides. Add in garlic and cook for 1 minute more.
Add in diced tomatoes, Italian seasoning, salt & pepper. Stir to incorporate.
Cook pasta according to package directions. Drain water.
In prepared casserole dish, place 1/2 of noodles in bottom of dish. Top evenly with 1/2 of the chicken/sauce mixture. Sprinkle with 1/2 of the mozzarella cheese. Repeat layers (noodles, sauce, cheese). Top with breadcrumbs & parmesan.
Bake for approximately 15 minutes, until top is golden and mixture is bubbly.
Notes:
*I didn't have a dish that was deep enough so I just did two casserole dishes of one layer each and it turned out great that way too.
*This dish would work great with your favorite marinara sauce in place of the diced tomatoes & Italian seasoning.