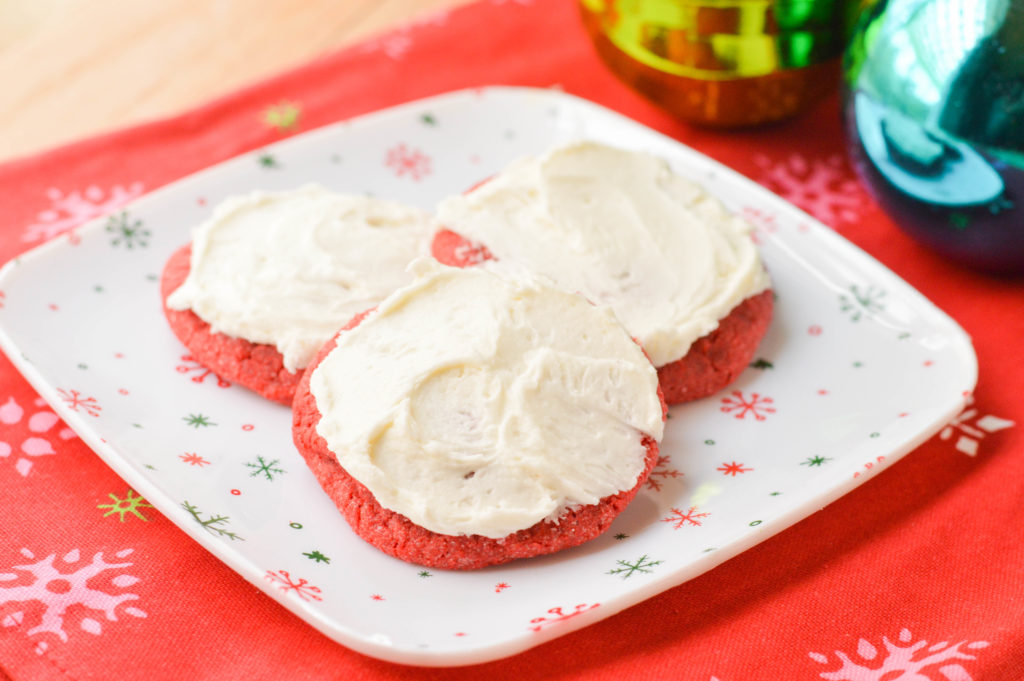 It's that time again, Christmas cookie time! For some reason, cookies just make Christmas seem so much more festive, maybe because we know Santa loves his cookies?! Santa (and all your family & friends) are going to absolutely love these Red Velvet Sugar Cookies! They are soft and chewy and the icing just makes them melt in your mouth. I think I just might have found a new favorite cookie! The perfect treat for a Christmas party or to give away as gifts, or to save for yourself, haha! 😉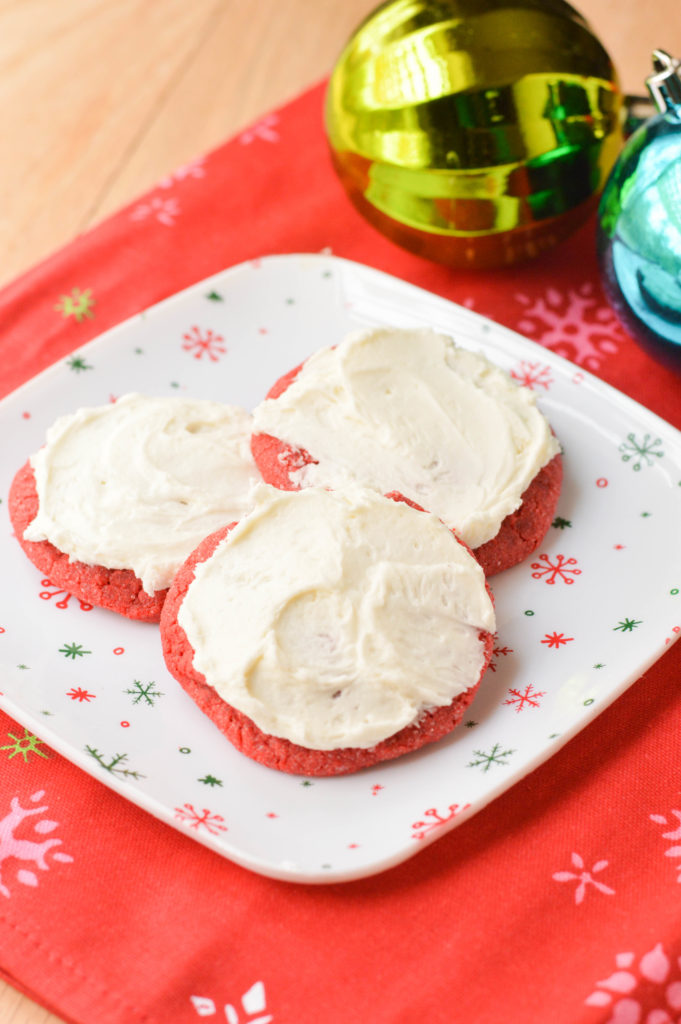 Red Velvet Sugar Cookies
Source: Cookies from Wine & Glue, Frosting from Georgetown Cupcakes
Makes Approx. 32-36 Cookies
Ingredients:
For the Cookies:
2 1/2 cups all purpose flour
2 tbsp. unsweetened cocoa
1/2 tsp. baking powder
1/2 tsp. salt
14 tbsp. unsalted butter, room temperature
1 1/2 cups granulated sugar, plus more for rolling
2 eggs
2 tsp. vanilla
1 tsp. white vinegar
1 tbsp. red food coloring
For the Frosting:
1/2 cup (1 stick) unsalted butter, room temperature
2 cups confectioner's sugar
1 tsp. milk
1 tsp. vanilla
pinch salt
Directions:
For the Cookies:
Cover two baking sheets with parchment paper, preheat oven to 350 degrees.
In a medium sized bowl, whisk together the flour, cocoa, baking powder & salt, set aside.
In the bowl of a stand mixer, add the butter & sugar and beat on medium speed for approximately 3 minutes until creamy & fluffy. Add in the eggs, one at a time, mixing in between each until incorporated. Add in vanilla, vinegar & food coloring and beat until incorporated.
Gradually add in the flour mixture until just incorporated.
Place a small amount of granulated sugar in a shallow bowl. Using a 1 inch cookie scoop, roll dough into balls and then roll in the granulated sugar. Place on prepared baking sheets approximately 2 inches apart.
Bake for 7-10 minutes until edges begin to crisp and centers are set. Remove from oven and let cool on pans for 2 minutes. Transfer cookies to cooling rack to cool completely.
For the Frosting:
In the bowl of a stand mixer cream together the butter & confectioner's sugar. Add in the milk, vanilla & salt and beat until light & fluffy.
Once cookies have cooled, spread icing on the top and store in an airtight container.