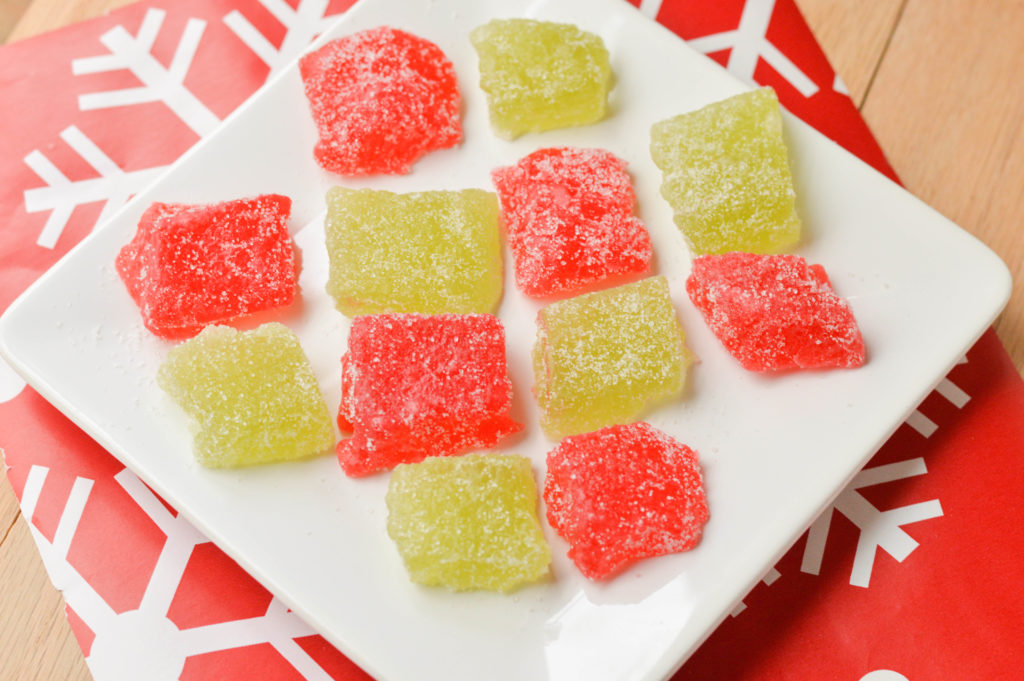 I can't believe it's almost Christmas! Are you all done with your shopping & have your menus ready? I am finished shopping and just have a couple more presents to wrap. I went to the grocery last night and got everything I needed for the holiday meals, now let's just hope I didn't forget anything, haha!
I've absolutely adore gummy candies and have been wanting to make my own gumdrops for a long time, but just haven't gotten around to it. This year, I decided it was time I tried them. These Homemade Gumdrops turned out amazing!! They have a nice crunch on the outside and a soft center with great flavor. I used strawberry jello for the red and found a melon flavor for the green, but you can use any flavor or color that you like. You can also cut them into cute shapes but I didn't have any cookie cutters small enough, so I just went with squares. Sophie also is in love with these and I can hardly get her to stay out of them! These would be great packaged up to give as gifts or stocking stuffers!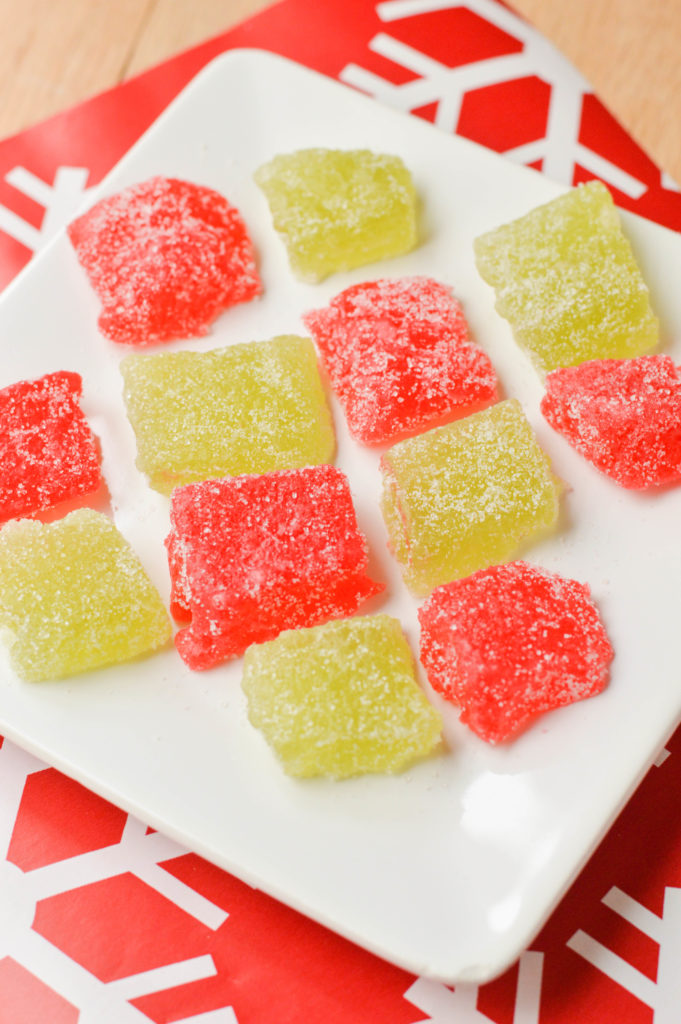 Homemade Gumdrops
Source: Taste of Home
Ingredients:
2 cups sugar, plus more for rolling
1 1/3 cups applesauce
2 (3 oz.) pkgs. jello in flavor of your choice
2 envelopes unflavored gelatin
1 tsp. lemon juice
Directions:
Line an 11 x 7 baking dish with wax paper & spray with cooking spray, set aside (or you can use 2 loaf pans)
In a large pot, add 2 cups sugar, applesauce, jello, gelatin, & lemon juice. Stir together. Let stand for 1 minute. Bring mixture to boil over medium heat, stirring continuously. Once mixture reaches a rolling boil, let boil for 1 minute.
Immediately pour mixture into prepared baking dish and refrigerate for 3 hours until firm.
Lift out of dish using the wax paper and gently peel wax paper away. Mixture will be sticky. Spread another sheet of wax paper out onto a flat surface and place gelatin square/rectangle onto the surface. Using a sharp serrated knife or cookie cutters, cut into squares or shapes.
Place onto another sheet of wax paper and let dry at room temperature for approximately 8 hours or overnight. Place approx 1/2 cup granulated sugar in a shallow bowl and roll each square/shape in the sugar coating completely. Store in an airtight container. Tastes even better after these sit for a couple days.
Notes:
*I divided this recipe in half and made 2 batches so I could have different colors/flavors, one strawberry & one melon