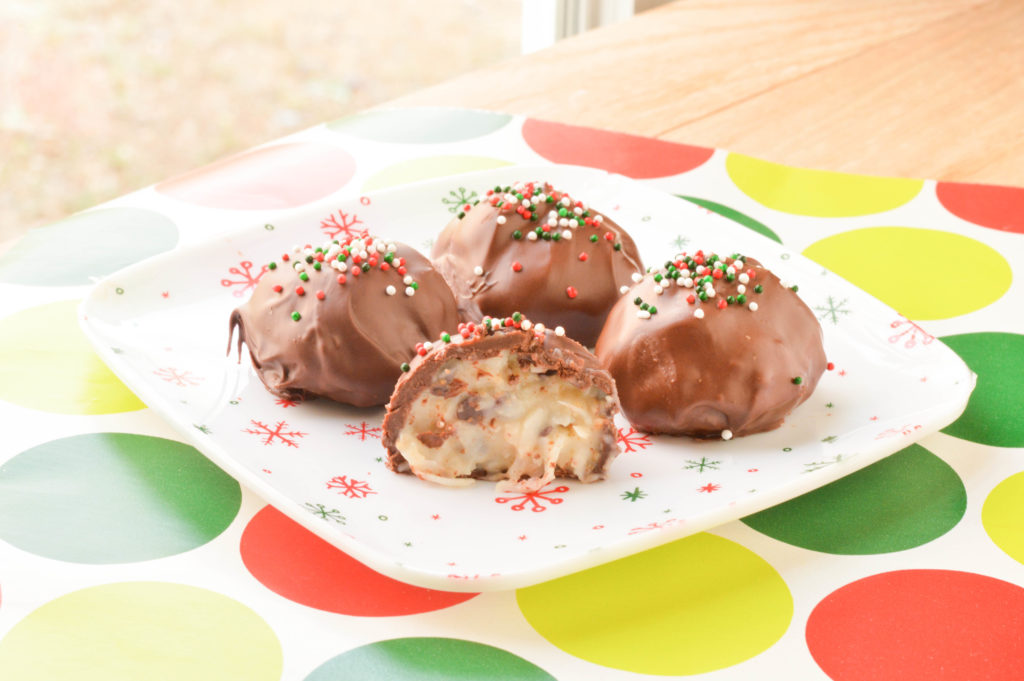 Have you ever had those magic cookie bars around the holidays? I have fond memories of my mom and I always making them growing up. I came across this recipe for Magic Cookie Bar Truffles and knew I had to try them! It's all the flavors of the traditional bars but in no bake truffles! Adam is in love with these and says they taste just like an Almond Joy or Mounds candy bar.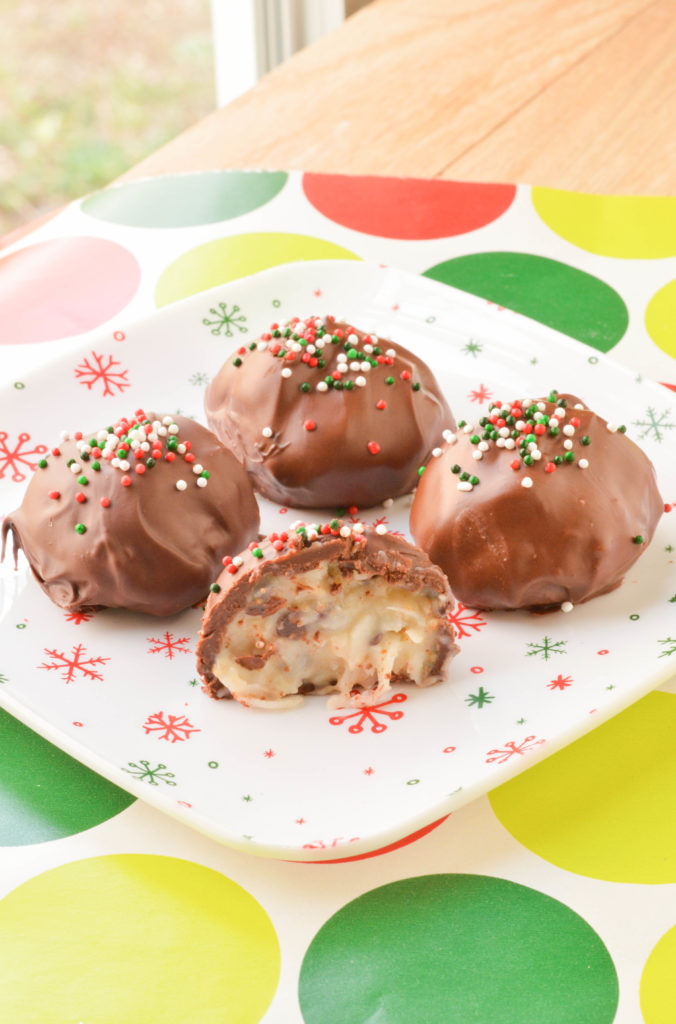 Magic Cookie Bar Truffles
Source: Diary of a Recipe Collector
Ingredients:
1 cup finely chopped pecans, toasted
1 cup confectioner's sugar
2 1/2 cups coconut
1/2 cup graham cracker crumbs
1/2 cup (1 stick) unsalted butter, melted & slightly cooled
1 (14 oz.) can sweetened condensed milk
3/4 cup mini chocolate chips
16 oz. chocolate almond bark, candy melts or semi-sweet chocolate chips, divided
2 tsp. canola oil, divided
nonpareil sprinkles (optional)
Directions:
Toast pecans in a small skillet for approx. 1 minute, until fragrant. Remove from heat and set aside.
Line one large or two small baking sheets that will fit in the freezer with wax paper, set aside.
In a large bowl, stir together the confectioner's sugar, coconut, graham cracker crumbs & toasted pecans until incorporated.
Add in melted butter & condensed milk and mix until well coated and fully incorporated. Add in chocolate chips and stir until evenly distributed.
Using a small cookie scoop, scoop out the coconut mixture. Then spray hands with cooking spray and roll into 1 to 1 1/2 inch balls. Place on prepared baking sheets. Repeat until you have used all the mixture (mixture is very sticky and you may have to wash hands and respray with cooking spray a couple times)
Place cookie balls in the freezer for approximately 2-3 hours until firm.
Once firm, cover a hard surface with a large sheet of wax paper. Place sprinkles in a small shallow bowl, set both aside.
Place 1/2 of your chocolate (8 oz.) in a microwave safe dish and add 1 tsp. canola oil and stir. Heat in 15 to 20 second increments, stirring in between each until melted and smooth.
Take only half of the cookie balls out of the freezer and using a fork, dip each in the chocolate and use a spoon to help coat. Use the fork to lift truffle out of the chocolate and scrape any excess chocolate on the side of the bowl. Use another fork to help push the truffle off onto the prepared baking sheets. Immediately top with sprinkles if using. Repeat for all other truffles.
Make the second batch of truffles by using a clean microwave safe dish and add remaining chocolate and 1 tsp. canola oil. Melt the same way as first batch and dip the truffles and top with sprinkles.
Let all truffles set. May want to place in refrigerator to help set more quickly. Store in an airtight container at room temperature or in the refrigerator to help chocolate not melt or soften.