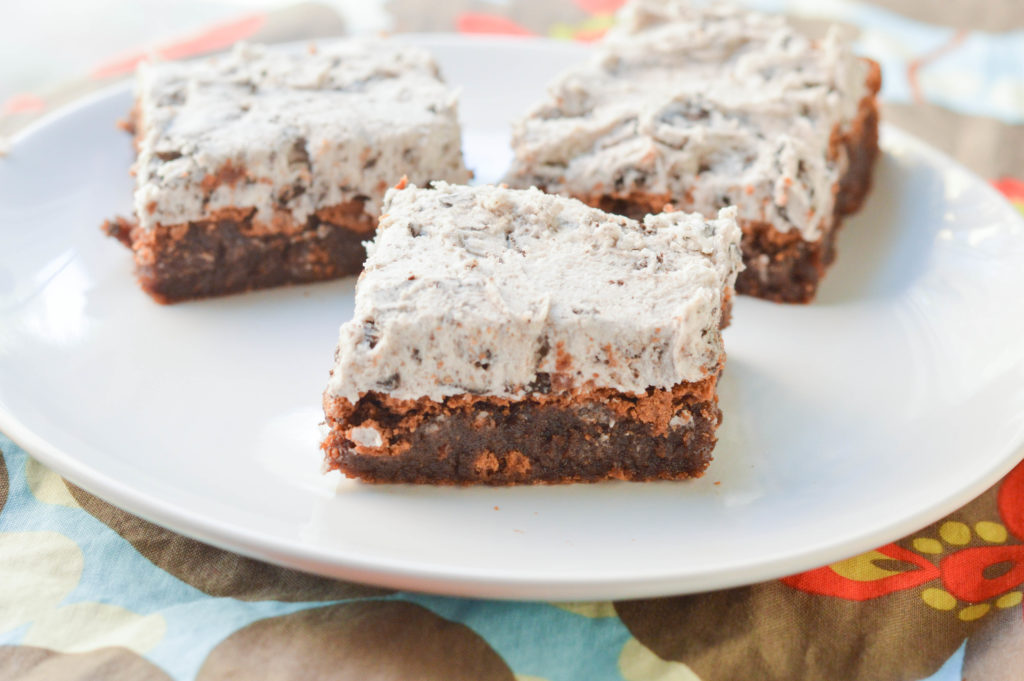 I made these Cookies & Cream Brownies quite a while ago but I had so many Christmas treats and delicious appetizers that I wanted to share with you that they got pushed aside for a bit. Well I decided it was high time I shared them! These brownies were incredible, perfectly soft and fudgy and the frosting is out of this world!! Would be such a wonderful treat for Valentine's Day too!
Cookies & Cream Brownies
Source: One Ordinary Day
Ingredients:
For the Brownies:
1 cup semi-sweet chocolate chips
3 tbsp. unsweetened cocoa powder
1 cup (2 sticks) unsalted butter
5 eggs
2 3/4 cup granulated sugar
1 tbsp. vanilla
1 1/2 cups all purpose flour
1 tsp. salt
For the Frosting:
4 cups confectioner's sugar
1 stick (1/2 cup) unsalted butter, room temperature
2-4 tbsp. milk
approx. 16 oreos, chopped
Directions:
For the Brownies:
In a small pot, add chocolate chips, cocoa powder & butter. Heat over low heat until melted and smooth.
Meanwhile, in the bowl of  a stand mixer add eggs, sugar & vanilla and beat on high speed for approximately 10 minutes.
Once chocolate has melted and egg mixture beaten, add the melted chocolate mixture to the egg mixture and beat until incorporated. Add in flour & salt and beat until just incorporated. Let batter set for approx. 10-20 minutes.
Preheat oven to 375 degrees. Line a 9 x 13 baking pan with aluminum foil and spray with cooking spray. Once batter has set, pour into prepared pan in an even layer. Hit pan on counter a couple times to remove air bubbles.
Bake for 24-28 minutes until a toothpick inserted comes out with moist crumbs attached. Place pan on cooling rack to cool completely.
For the Frosting:
In the bowl of a stand mixer add confectioner's sugar & butter and beat until incorporated and light & fluffy. Add in milk a little at a time until a smooth spreadable consistency. Remove bowl form stand and stir in chopped oreos.
To Assemble:
Spread frosting on top of cooled brownies, cut into squares and serve.