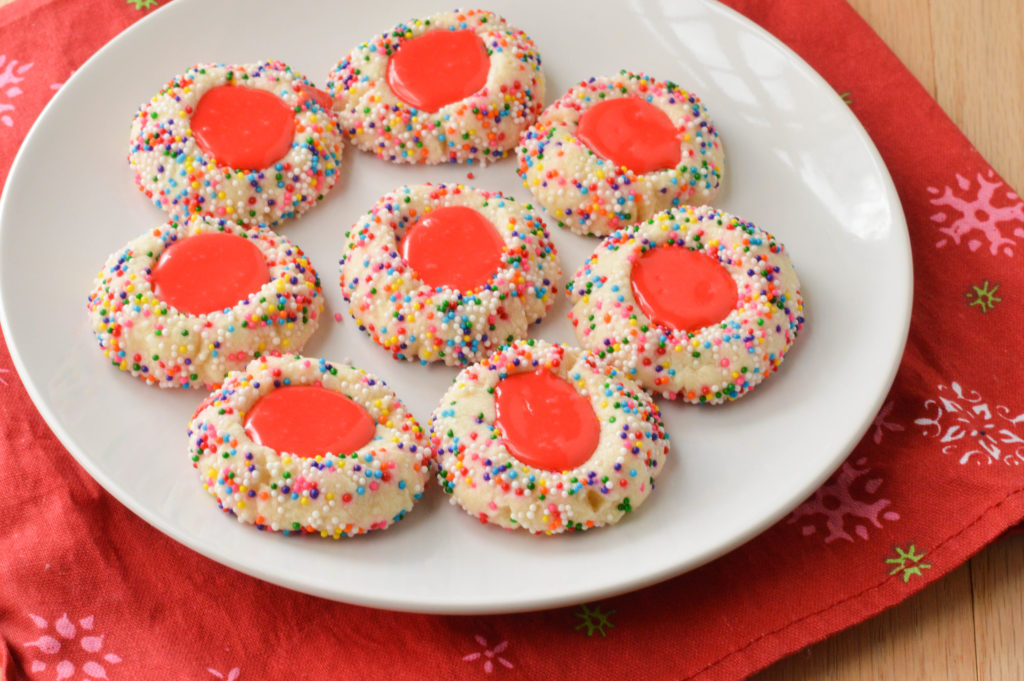 Adam & Sophie both absolutely love these thumbprint cookies with icing from a local bakery where we live. I thought I would try and make an at home version. These Easy Thumbprint Cookies turned out great!! I also took them to a meeting  and got rave reviews as well! They really are super easy and you can customize them with different sprinkles & icing for different holidays or wedding or baby showers. They are so festive and fun and a real crowd pleaser!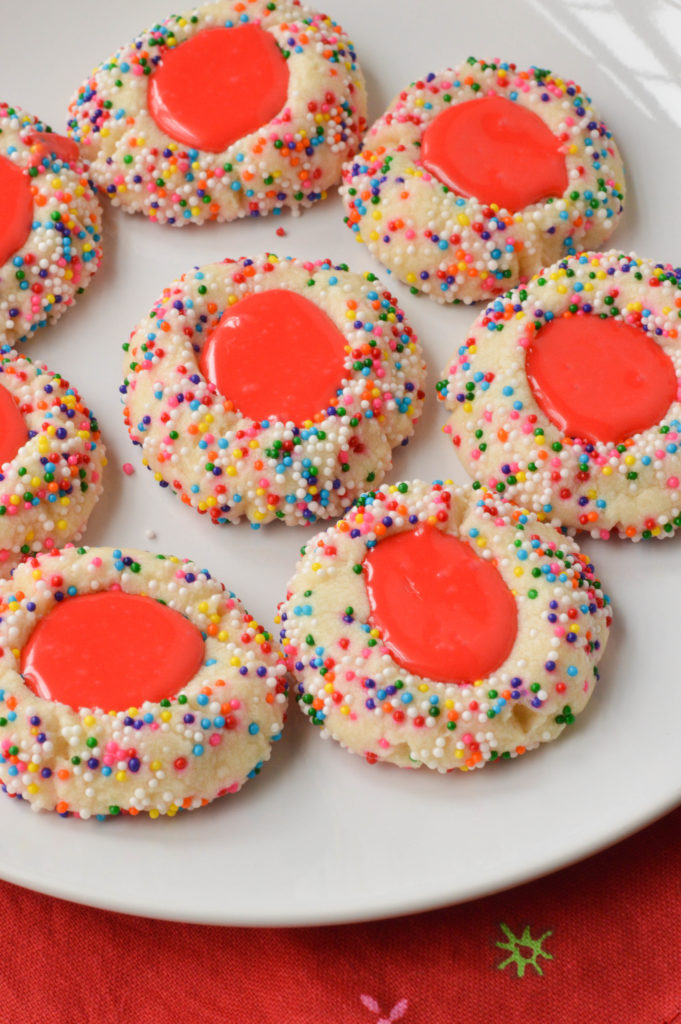 Easy Thumbprint Cookies
Source: Moms Need to Know
Makes approximately 16-20 cookies, depending on size
Ingredients:
For the Cookies:
1/2 cup (1 stick) unsalted butter, room temperature
1/2 cup confectioner's sugar
1 tsp. vanilla
1 1/4 cups all purpose flour
Non-pariel sprinkles
For the Icing:
1 cup confectioner's sugar
1 tbsp. light corn syrup
1/4 tsp. vanilla
1 1/2 tbsp. milk
Food Coloring of your choice
Directions:
For the Cookies: 
Line a cookie sheet with parchment paper, set aside.
In the bowl of a stand mixer, add butter, confectioner's sugar & vanilla and beat until fully incorporated and light & fluffy in consistency.
Gradually add in the flour until fully incorporated and a soft dough forms and holds together. Place in refrigerator to chill while you pre-heat your oven.
Preheat oven to 350 degrees. Once preheated, remove dough from refrigerator. Place sprinkles in a shallow bowl.
Roll cookie dough into 1 inch balls and then roll in the sprinkles. Place each cookie dough ball on prepared baking sheet 2 inches apart. Press your thumb in the center of each dough ball and press down gently.
Bake for approximately 10 minutes, until pale golden and set. Remove from oven and immediately use the back of a wooden spoon or your thumb and press down on each cookie to make the indention deeper.
Allow cookies to cool completely on the cookie sheets.
For the Icing: 
In a small bowl, whisk together the confectioner's sugar, corn syrup, vanilla & milk until fully incorporated. If too thin, add a little more confectioner's sugar (start with 1/4 cup & add more if needed) and stir to incorporate. Add in food coloring.
Once cookies have cooled, spoon icing into each indention in the cookies. Allow to set then store in an airtight container.
Notes:
*Can easily double the recipe
*Customize with different colored sprinkles & food coloring
*May need to add additional confectioner's sugar to the icing if too thin (you want it to be a spreadable/pourable consistency but not runny)