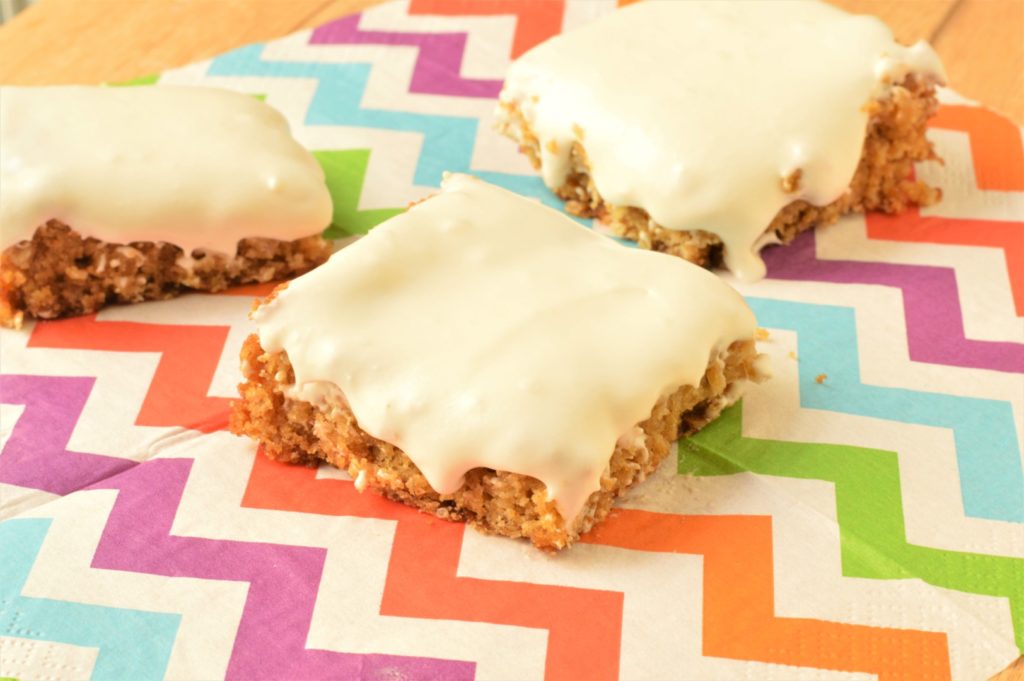 Oatmeal Cream Pies were some of my favorite treats growing up and the Homemade Oatmeal Cream Pies are one of the most popular recipes on my site so when I came across these bars I knew I had to try them! These Oatmeal Cream Pie Bars are fabulous and taste just like the original treats, if not better. The cookie layer is soft and chewy and the frosting has the creamy sweetness and the combination is just magic!
Oatmeal Cream Pie Bars
Source: Confessions of a Cookbook Queen
Makes 12-16 bars depending on how large you cut them
Ingredients:
For the Bars:
3/4 cup all purpose flour
1/2 tsp. baking soda
pinch cinnamon
pinch salt
1/2 cup (1 stick) unsalted butter, room temperature
1/4 cup plus 1/8 cup light brown sugar
1/4 cup granulated sugar
1/2 tsp. vanilla
1 egg
3/4 cup quick cooking oats
For the Frosting:
1/2 stick unsalted butter
1/8 cup heavy whipping cream*
1/2 tsp. vanilla
3 1/2 oz. marshmallow creme (1/2 a jar)
1 1/2 cups confectioner's sugar
Directions:
For the Bars:
Preheat oven to 350 degrees. Line an 8×8 baking pan with aluminum foil and spray with cooking spray, set aside.
In a medium sized bowl, whisk together the flour, baking soda, cinnamon & salt, set aside.
In the bowl of a stand mixer, cream together the butter, brown sugar & granulated sugar until light and fluffy. Add in vanilla & egg and beat until incorporated.
Gradually add in flour mixture and mix until just incorporated. Add in oats and beat until fully incorporated.
Press mixture into prepared baking pan and spread evenly. Bake for approximately 15-20 minutes until edges are lightly golden and center is set. Remove from oven and place pan on cooling rack to cool completely.
For the Frosting:
In the bowl of a stand mixer, add in butter & vanilla & whipping cream and beat on medium speed until creamy. Gradually add in confectioner's sugar and beat until just incorporated. Increase mixer speed to high and beat until light and fluffy.
Once bars cool, Remove bars from pan and peel off the foil. Spread frosting evenly over top, cut into bars and serve. Store in airtight container.
Notes:
*I was out of heavy whipping cream so I used milk and it worked great.
*For a firmer icing, after you spread the frosting over top chill bars in the refrigerator before cutting into squares.
*Can double the recipe and bake in a 9×13 baking pan