We went blueberry picking on my birthday and had tons of blueberries to use up. I came across this Best Ever Blueberry Buckle and thought it would be a great one to highlight the fresh blueberries. This was wonderful! It's like a coffee cake and is super moist and the streusel topping gives it a nice crunch.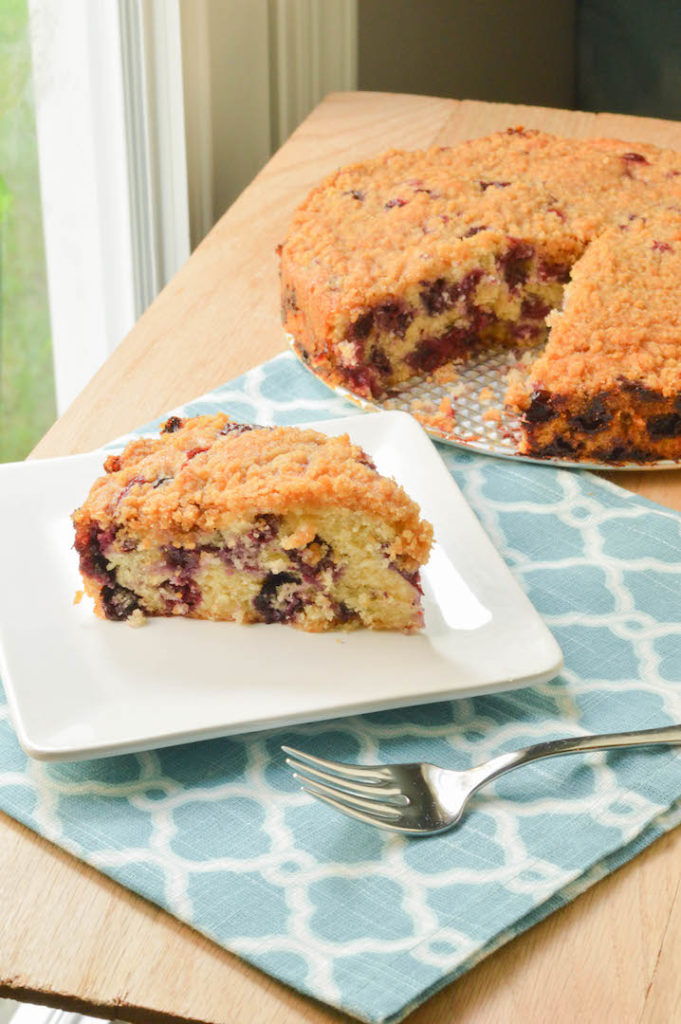 Best Ever Blueberry Buckle
Source: Food.com
Ingredients:
For the Cake:
1 1/2 cups all purpose flour
1 1/2 tsp. baking powder
10 tbsp. unsalted butter, room temperature
2/3 cup granulated sugar
1/2 tsp. salt
1 1/2 tsp. vanilla
2 eggs
3 cups fresh blueberries (plus pinch flour)
For the topping:
1/2 cup all purpose flour
1/2 cup light brown sugar, packed
2 tbsp. granulated sugar
1/4 tsp. cinnamon
pinch salt
4 tbsp. unsalted butter, cut into cubes & room temperature
Directions:
Preheat oven to 350 degrees, spray a 9 inch springform pan or 9 inch deep dish pie pan with cooking spray, set aside.
In a small bowl whisk together the flour & baking powder, set aside.
In the bowl of a stand mixer, beat together the butter, sugar & salt on medium speed until fluffy and creamy (approx. 3 minutes). Add in vanilla and beat until incorporated. Add in eggs one at a time and beat until incorporated (mixture will appear curdled).
Reduce mixer speed to low, gradually add in flour mixture and beat until just incorporated. Remove bowl from stand and set aside.
In a small bowl, add blueberries and a pinch of all purpose flour and stir to coat.
Gently stir blueberries in to cake batter until evenly distributed.
For the streusel topping:
In a medium sized bowl, add flour, sugar, cinnamon & salt. Whisk together to incorporate. Add butter and cut it into the mixture using a pastry cutter or two forks until it resembles coarse sand.
To Assemble:
Pour cake batter into prepared baking pan and spread the batter evenly. Top evenly with streusel mixture.
Bake for approximately 50-55 minutes until dark golden brown and toothpick inserted comes out clean.
Cool in pan on a wire rack for at least 20 minutes. Release from springform pan and serve. Store in an airtight container.