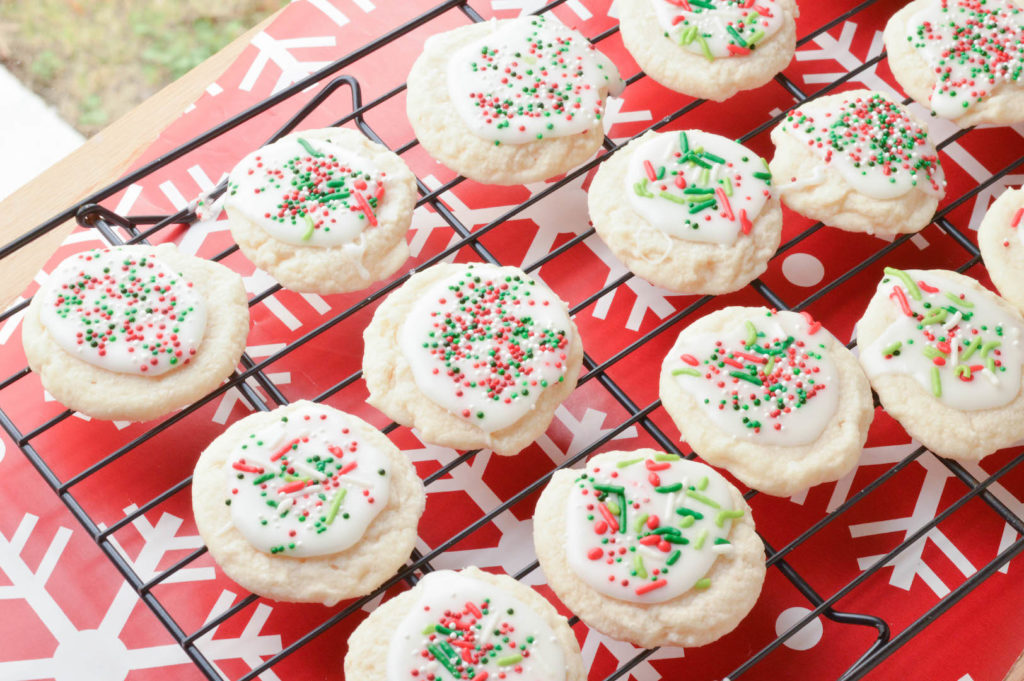 These Festive Meltaway Cookies are light and fluffy and just literally melt in your mouth! It's hard to eat just one! These are great if you want a festive cookie but don't have time to roll out dough and cut them into shapes. Also, there is no chilling of the dough required so you can make these fairly quickly. Change up the sprinkle colors and they are great for any holiday or celebration.
Festive Meltaway Cookies
Source: Dessert Now Dinner Later
Ingredients:
For the Cookies:
1 1/2 sticks unsalted butter, room temperature
1/2 cup confectioner's sugar
1/2 cup cornstarch
1 tsp. vanilla
1/4 tsp. salt
1 cup all purpose flour
For the Glaze:
1 1/2 cups confectioner's sugar
3 to 4 tbsp. milk
1/4 tsp. vanilla
Sprinkles or NonPareils
Directions:
Preheat oven to 350 degrees. Cover cookie sheet with parchment paper, set aside.
In the bowl of a stand mixer, add the butter, sugar & cornstarch and beat until fully incorporated and creamy. Add in vanilla and beat until incorporated.
In a small bowl, whisk together the flour & salt. Gradually add to the butter mixture until fully incorporated and a dough forms together.
Using a small cookie dough scoop, scoop balls of dough out onto cookie sheet, 2 inches apart. Dip the bottom of a measuring cup in confectioner's sugar and use it to flatten each cookie dough ball.
Bake for 8 to 10 minutes until just set and pale color. Remove from oven and let cool on cookie sheet for a couple minutes. Transfer to cooling rack to cool completely.
For the Glaze:
Add confectioner's sugar to a medium sided bowl, add milk 1 tbsp. at a time until a spreadable but thick consistency. Spread glaze on top of cookies and immediately top with desired sprinkles while glaze is still wet.
Allow glaze to set. Store in an airtight container.