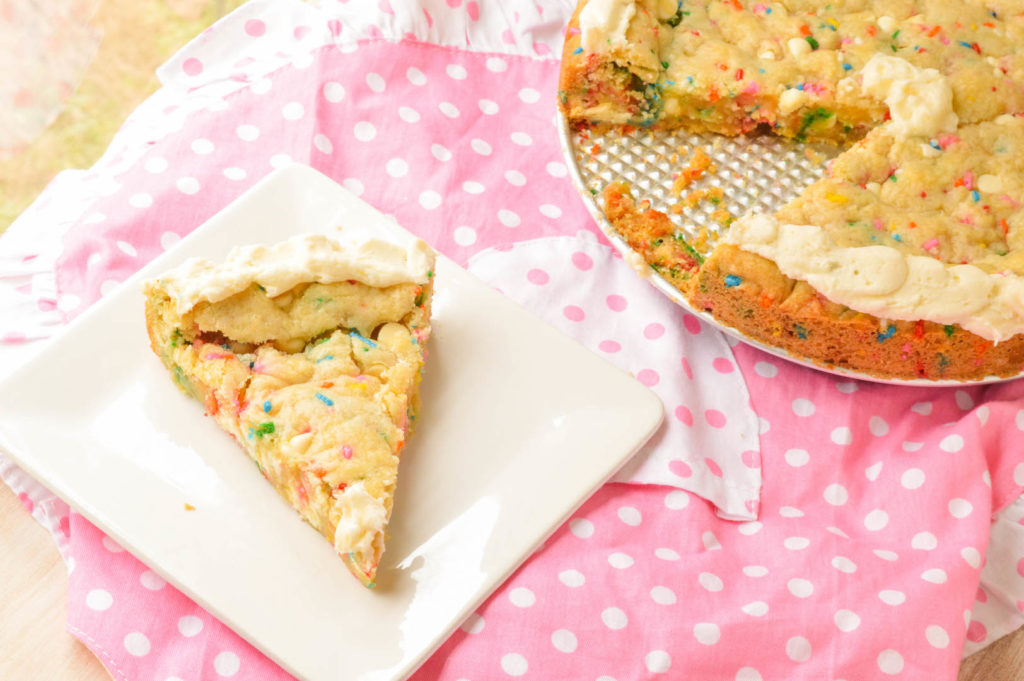 My best friend's birthday is today and I wanted to make her a treat to celebrate. This Deep Dish Sugar Cookie Cake was so amazing!! They had the perfect mix of chewy and soft. The white chocolate chips and sprinkles added great texture and flavor as well. This is a definite must make and would be great as a treat for your special Valentine. Sophie loved helping make this also, so it's a great one to make with kids.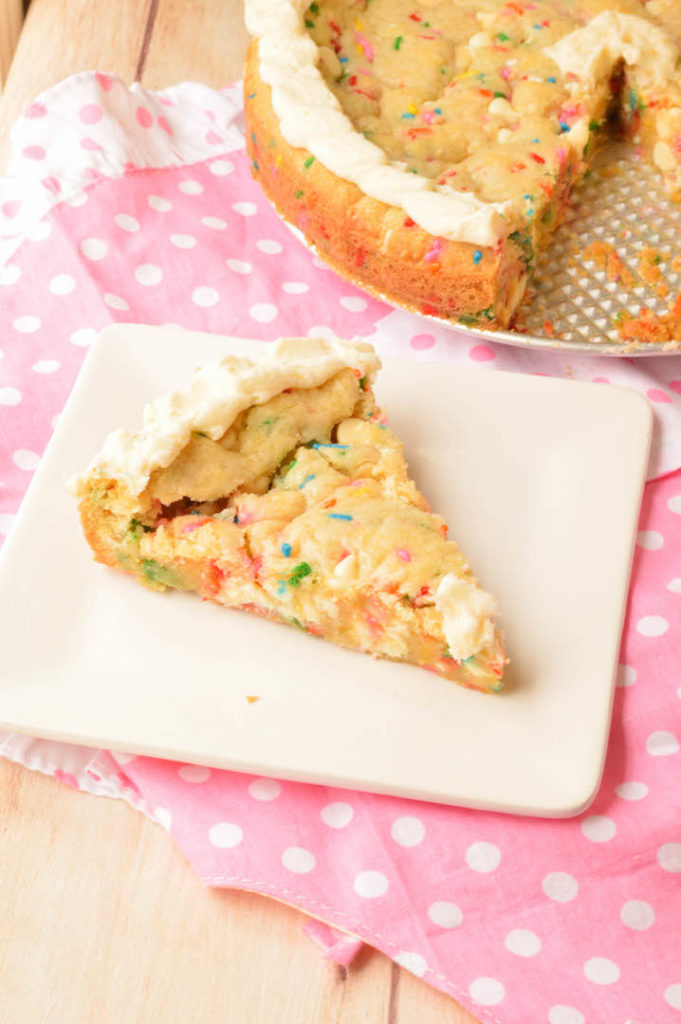 Deep Dish Sugar Cookie Cake
Source: Cake from Fresh April Flours, Frosting from Georgetown Cupcake
Ingredients:
For the Cookie Cake:
2 1/4 cups all purpose flour
2 tsp. cornstarch
1 tsp. baking soda
3/4 tsp. salt
1 1/2 sticks unsalted butter, melted
1 1/4 cups granulated sugar
1 large egg plus 1 large egg yolk
2 tsp. vanilla
1 cup white chocolate chips
1/3 cup sprinkles (no nonpareils)
For the Frosting:
1/2 stick unsalted butter, room temperature
1 cup confectioner's sugar
1/4 tsp. milk
1/4 tsp. vanilla
pinch salt
Directions:
For the Cookie Cake:
Preheat oven to 350 degrees. Spray a 9 inch springform pan with cooking spray (can also use 9 inch pie pan) set aside.
In a large bowl, add flour, cornstarch, baking soda & salt. Whisk together to incorporate. Set aside.
In a medium sized bowl, add the melted butter & sugar and mix until incorporated. Add in egg, egg yolk & vanilla. Mix until fully incorporated.
Pour wet ingredients into the dry and stir until fully incorporated and smooth.
Add in white chocolate chips and sprinkles and stir to evenly distribute.
Press the cookie dough into your prepared pan and spread in an even layer.
Bake for 23-25 minutes until edges just begin to brown and center is set. Remove from oven and place baking pan on cooling rack to cool completely. Once cool, release from springform pan.
For Frosting:
While the cookie cake cools, in the bowl of a stand mixer add the butter & confrectioner's sugar and beat on low until it starts to combine. Add in milk, vanilla & salt. And beat until fully incorporated and icing is fluffy.
Once cookie cake has cooled, place frosting in piping bag and pipe onto cookie cake. (Alternatively you can put in ziplock bag and cut the tip off to use as an icing bag).