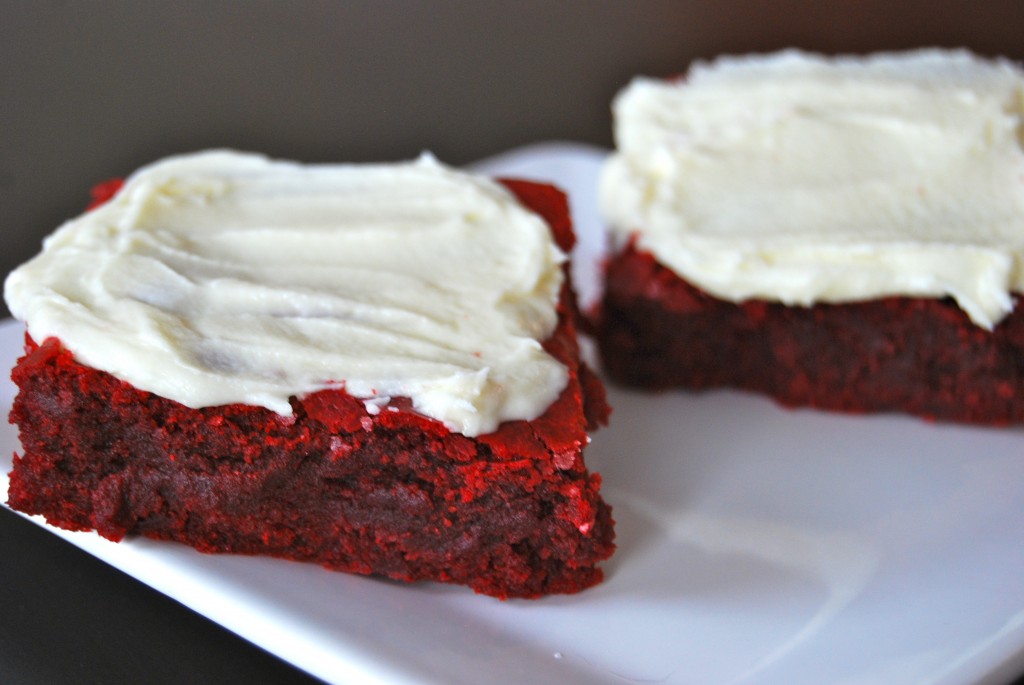 My birthday is Thursday, the big 2-9. Yep, about to enter the last year of my twenties! Where has the time gone?!? My mom is out of town this week and wanted to celebrate with me before she left so they came over this weekend. She wanted to make something special for me and so I told her I had found these red velvet brownies and if it wouldn't be too much trouble could she make them for my bday dinner? She happily agreed and I am SO glad. These babies are a little piece of heaven here on earth . I really really love red velvet, it is in a tie with smore's flavored desserts as my all time favorite dessert flavor. This might possible be the best red velvet dessert I've had, maybe in a tie with the red velvet whoopie pies. These are seriously good…so fudgy and the white chocolate buttercream just sends them over the top. I could've eaten the entire batch, I kid you not. Make these soon! They would be great for the 4th of July (or Valentine's) too because of the red & white, but you certainly don't need a special occasion to make these!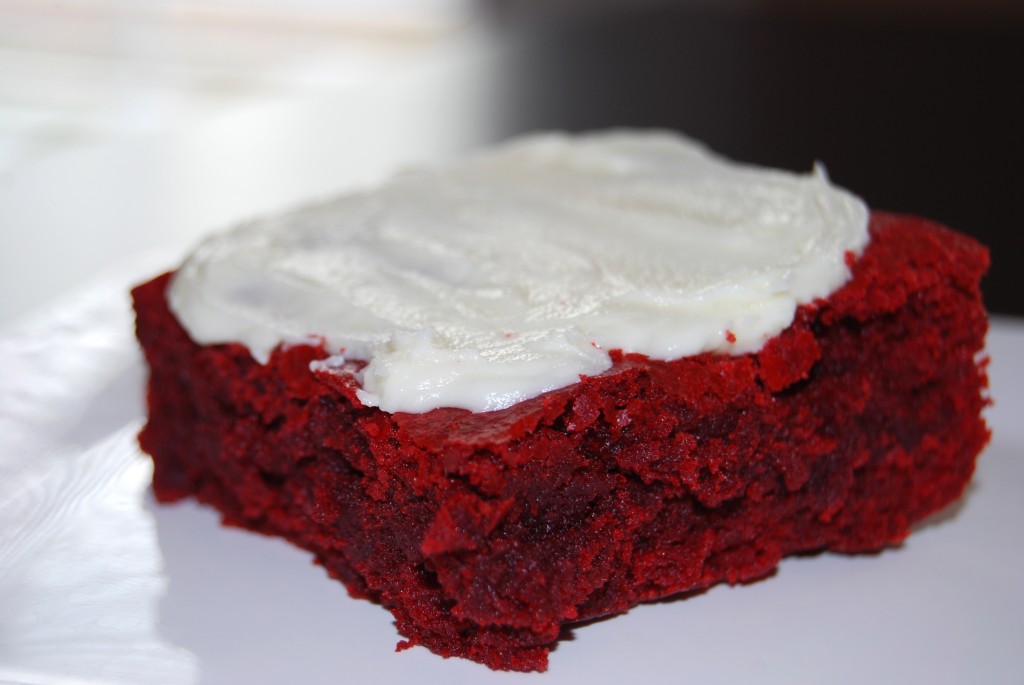 Red Velvet Brownies
Source: Smells Like Home, originally from How Sweet it Is
Ingredients:
3 tbsp unsweetened cocoa powder
One small bottle red food coloring (recommend Wilton's no-taste red)
2 tsp pure vanilla extract, divided
1/2 cup (8 tbsp) unsalted butter, at room temperature
1 1/2 cups granulated sugar
2 large eggs, at room temperature
1 1/4 cups all-purpose flour
1/4 tsp salt
1 tbsp. heavy cream
Directions:
Preheat oven to 350 degrees. Spray or grease an 8 x 8 in. baking pan.
In a small bowl combine the cocoa powder, food coloring, heavy cream & 1 tsp. vanilla into a thick paste until no lumps remain. Set aside.
In the bowl of a stand mixer, add the butter & sugar and beat on medium speed until light & fluffy, approximately 2 minutes. Mix in the eggs, one at a time, beating well after each addition. Mix in the remaining tsp. vanilla. Turn mixer off and add in the cocoa mixture. Beat the two mixtures together on medium speed until they are fully incorporated and one uniform color. Turn mixer to low and slowly add in flour & salt, beat until just combined, taking care not to over mix.
Using a spatula stir batter once or twice, ensuring everything is fully incorporated. Pour batter into prepared pan and smooth with the back of the spatula. Bake for 25-30 minutes, or until a toothpick comes out clean. (It may take more like 35-45 minutes, continue to check every few minutes after 30 minutes if not baked through). Allow brownies to cool completely in the pan. Flip brownies onto a cutting board and cut into 12 bars, then top with White Chocolate Buttercream (recipe follows) and serve.
White Chocolate Buttercream
Ingredients:
1/2 cup (8 tbsp) unsalted butter, room temperature
2 1/2 cups powdered sugar
1 tsp pure vanilla extract
4 oz white chocolate (not chips)
2 tbsp heavy cream
Directions:
Place a small pot of water on the stove and bring to a simmer. In a small heat safe bowl or a double boiler, add the white chocolate chips. Place bowl over the pot of simmering water (making sure the water does not touch the bottom of your bowl) and stir chips until fully melted and glossy. (Alternatively you can heat in the microwave starting with 30 seconds, then for 15 second intervals until fully melted)
In the bowl of a stand mixer, cream butter until light and fluffly, approximately 3 minutes. Add in vanilla. Reduce mixer to low and slowly add in powdered sugar 1/2 cup at a time, mixing well between each addition. Once all sugar has been added, increase speed to medium and beat for 30 seconds. Scrape down the sides of the bowl. Add in the melted white chocolate and beat until fully incorporated. Reduced speed to low and add in heavy cream, 1 tbsp. at a time. Beat on medium speed until frosting reaches spreadable but thick & fluffy consistency. Refrigerate until ready to use. When ready to use, remove from the refrigerator and allow to come to room temperature. Stir well and frost.
*Recommend making frosting at least one day ahead of time to allow sweetness to mellow and flavors to marry.