Soup is one of my favorite things to eat on a chilly  fall evening! Not only is it warm and comforting but most are pretty easy to throw together.  This soup is no different.  I had seen this on Pinterest (of course!) and immediately printed out the recipe.  It really does taste like lasagna but you don't have to go to all the trouble of layering it! This soup was super easy and SO delicious!! I topped them with homemade croutons, but you can certainly use store bought or just get a hunk of bread and dip it in! I also added in some italian seasoning because it felt like something was missing and that gave it just the punch of flavor it needed.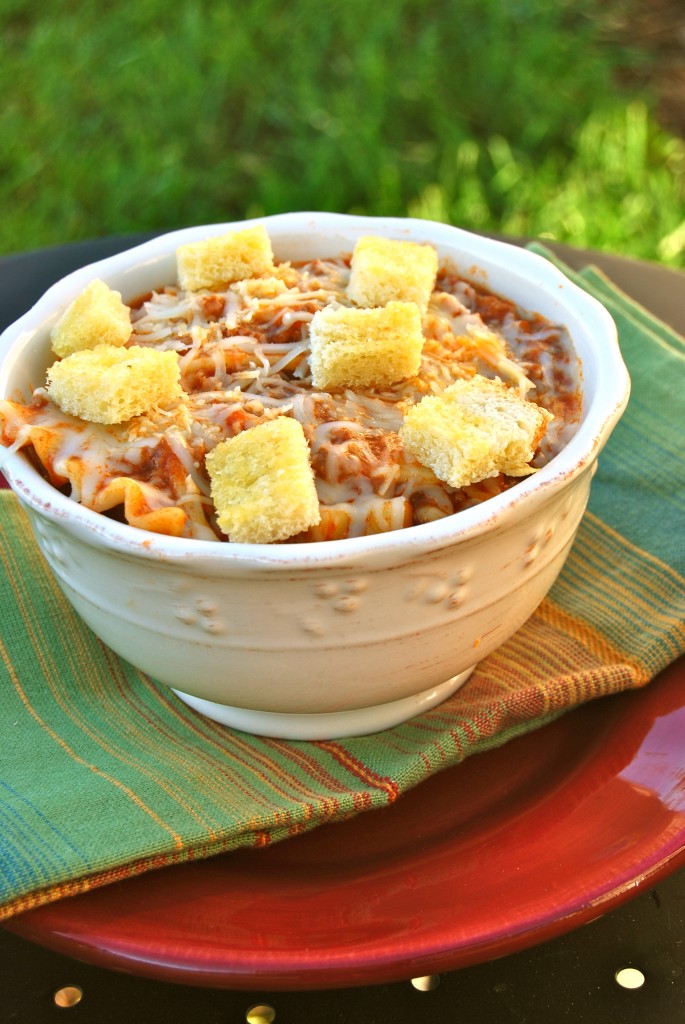 Lasagna Soup
Source: Bobby Deen 
Ingredients:
2 tsp. extra virgin olive oil
1 lb. ground beef
1 onion, chopped
3 cloves garlic, minced
1 32 oz. container chicken broth
1 15 oz. can tomato sauce
1 14.5 oz. can petite diced tomatoes (undrained)
1/2 tsp. salt
1/4 tsp. ground cayenne pepper
6 lasagna noodles, broken into pieces
*Optional: 1 tbsp. corn starch mixed with 1 tbsp. water
For topping:
3 tbsp. grated parmesan cheese
1/2 mozzarella cheese (can use reduced fat)
Croutons
Directions:
In a medium to large saucepan, heat the olive oil over medium high heat.  Add the onions and garlic and cook until onions are slightly translucent (2-3 minutes). Add in ground beef and cook until meat is browned.
Once meat has browned, pour in broth, tomato sauce, petite diced tomatoes (if using regular diced tomatoes, pour into a bowl and slightly smash the tomatoes with the back of a spoon before adding to the soup), salt & cayenne pepper. Bring mixture to a boil.  Once mixture is boiling, reduce heat and simmer for approximately 20 minutes.  Add in the broken lasagna noodles and bring soup back up to a boil.  Reduce heat and simmer, stirring occasionally until soup thickens and noodles are soft, approximately 10-15 minutes.  If sauce is not thick enough, mix together 1 tbsp. corn starch with 1 tbsp. water in a small bowl and add into the soup.  Stir until thickened.
Spoon soup into bowls and top with mozzarella, parmesan and croutons.
For homemade croutons, I just cut up french bread that was a couple days old and baked it at 350 degrees for approximately 8 to 10 minutes, until crisp.