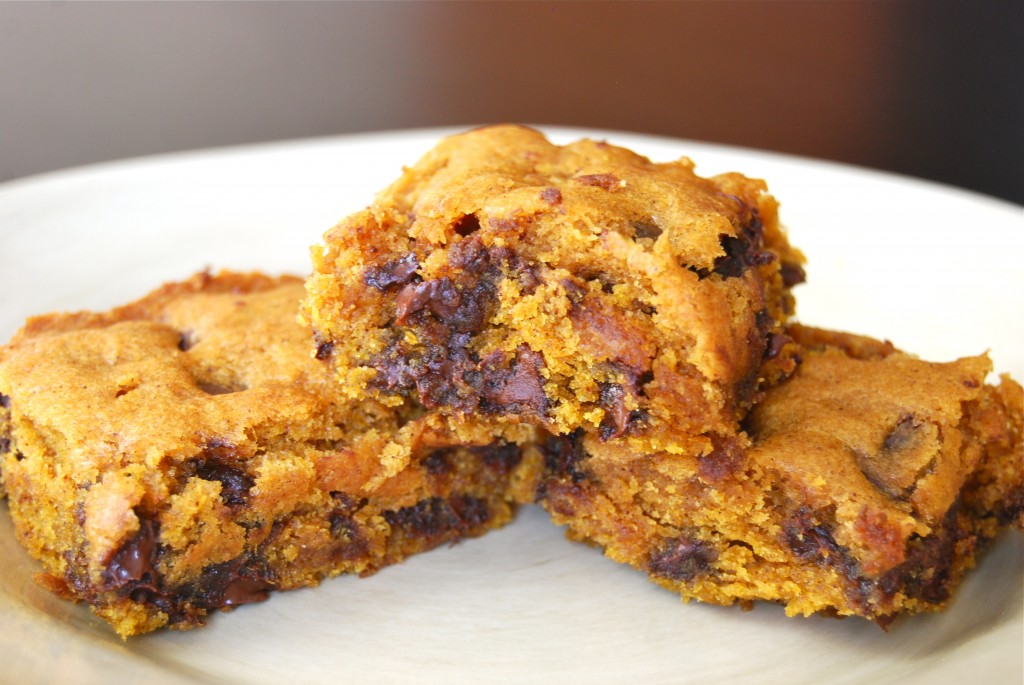 I was thinking of making something for my bible study ladies and since Adam doesn't like pumpkin very much, I thought it would be a great opportunity to make a pumpkin treat.  I was so inspired by all of your comments on the giveaway of your favorite pumpkin treats! I love pumpkin & chocolate together and I love blondies, so why not combine them all into one delicious treat!! When I went googling, I found that pretty much every site I found had used the Martha Stewart recipe.  I thought that was a good sign, so I decided to try it myself.  These were amazing! I subbed some of the regular sugar for brown sugar to get more depth of flavor.  My bible study went crazy over them as did Adam's co-workers, who I sent the leftovers to the next day.  I couldn't keep these around me for long!! They are the kind of treat you keep going back to for one more nibble and before you know it you've eaten way too many bars!! I'm also submitting this to Baking Bad's Virtual Fall Feast.  Head over there to see everyone's delicious dishes!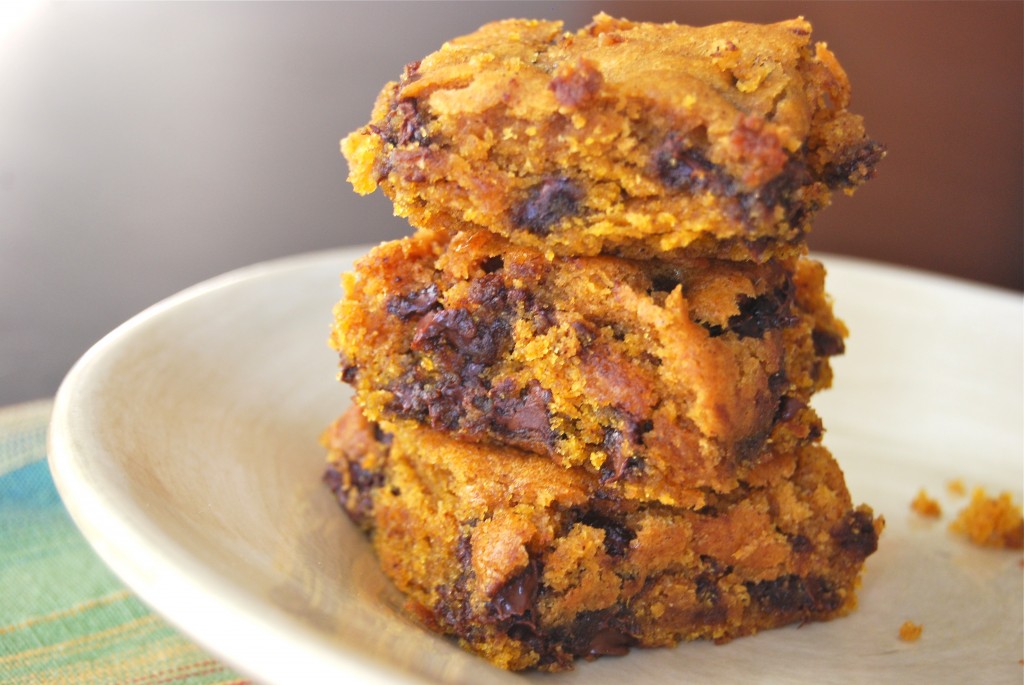 Pumpkin Chocolate Chip Blondies
Source: Martha Stewart 
Ingredients:
2 cups all purpose flour (spooned into the measuring cup & leveled)
1 tbsp. pumpkin pie spice
1 tsp. baking soda
3/4 tsp. salt
1 cup (2 sticks) unsalted butter, room temperature
3/4 cup sugar
1/2 cup light brown sugar, packed
1 large egg
2 tsp. vanilla extract
1 cup canned pure pumpkin (not pumpkin pie filling)
1 1/2 cups semi-sweet chocolate chips
Directions:
Preheat oven to 350 degrees.  Line a 9 x 13 baking pan with foil, letting it overhang on all sides.  Set aside.
In a medium size bowl, whisk together the flour, pumpkin pie spice, baking soda & salt.
In the bowl of a stand mixer, cream together the butter, sugar & brown sugar until light & fluffy.  Scrape down the sides of the bowl & add in egg & vanilla and mix until fully incorporated. Beat in pumpkin (mixture will look curdled). With the mixer on low speed, gradually add in the flour mixture and mix just until combined.  Remove bowl from mixer and fold in chocolate chips.
Pour batter into the baking pan & spread evenly.  Bake for approximately 35-40 minutes, until edges pull away from the sides of the pan & a toothpick inserted comes out with just a few crumbs attached. Cool blondies completely in the pan.  Using the foil hangover, lift the blondies out of the pan.  Carefully remove the foil and place blondies onto a cutting board and cut into squares.  Store in an airtight container.