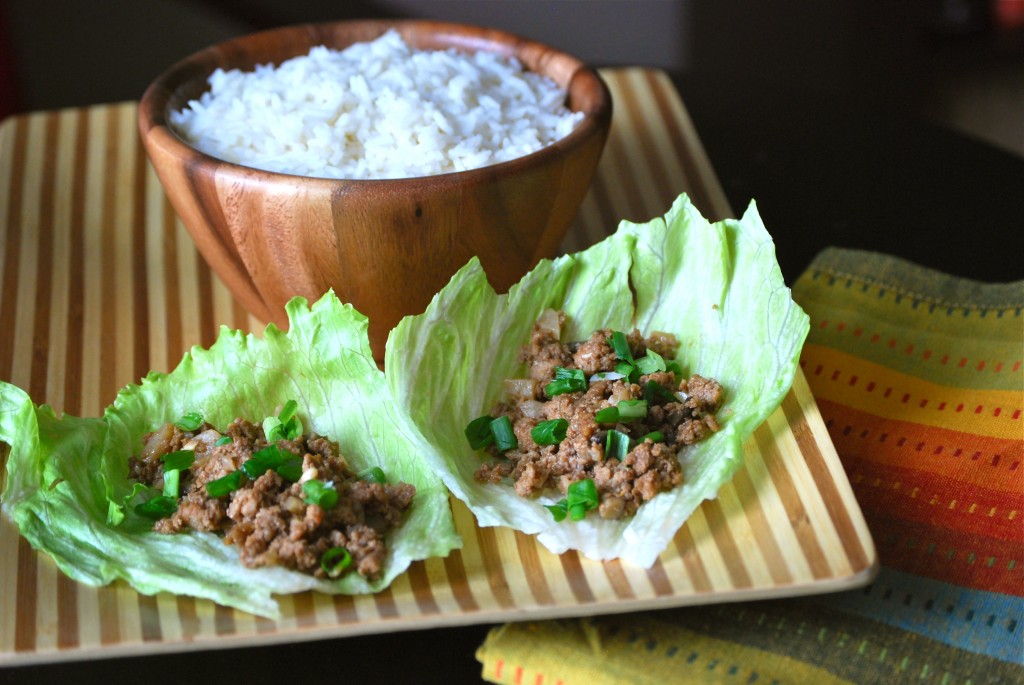 I don't know about you but I love the lettuce wraps at P.F. Chang's. I always get them as my meal and eat them with a side of rice.  I got to thinking the other day and wanted to try my hand and recreating them at home.  I found two different recipes that both looked great so I took some things from both of them and combined them.  While this didn't taste exactly like P.F. Chang's I still think they turned out really delicious.  The meat stir fry itself was good, but when you added the dipping sauce and soy sauce it really tasted great! Adam kept going back for more.  Also, I should note that I used ground turkey because its easier to find in my grocery store, but you could definitely use chicken or ground beef. I served these along with rice, which I'll be sharing with you later this week.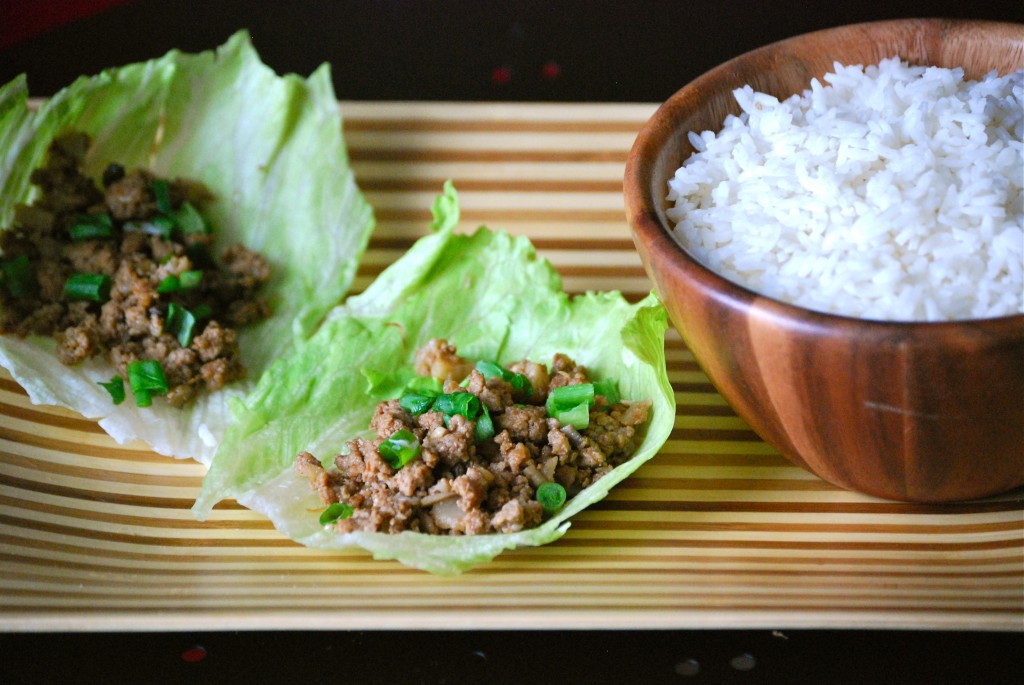 P.F. Chang's Lettuce Wraps
Source: Iowa Girl Eats & The Culinary Life
Ingredients:
Dipping/Pouring Sauce:
4 tbsp. sugar
1/2 cup hot water
3 tbsp. reduced sodium soy sauce
2 to 3 tbsp. rice wine vinegar
2 tbsp. ketchup
1 tbsp. lemon juice (I used lime juice)
1/4 tsp. dark sesame oil
For Stir Fry Sauce:
1 tbsp. dark sesame oil
4 1/2 tbsp. reduced sodium soy sauce
1/2 tbsp. water
1 tbsp. peanut butter
1/2 tbsp. honey
1 tbsp. plus 1 tsp. rice wine vinegar
3 tsp. chili sauce*
dash of freshly ground black pepper
dash of cayenne pepper

For the Filling:
1 tbsp. extra virgin olive oil
1 lb. ground chicken or ground turkey
1/2 medium onion, minced
1/4 tsp. kosher salt
1/4 tsp. freshly ground black pepper
2 cloves garlic, minced
1/4 tsp. ground ginger
1- 8 oz. can water chestnuts, chopped
1/2 cup mushrooms, minced

For Assembly:
Iceberg Lettuce leaves
3 Green onions, chopped
Dipping/Pouring Sauce
Soy Sauce
Directions:
For the Dipping/Pouring Sauce:
In a smal bowl, add sugar and hot water. Whisk together to dissolve sugar.  Add in soy sauce, rice vinegar, ketchup, lemon or lime juice and sesame oil.  Whisk together until combined. Taste and add more rice vinegar if necessary.  Place in refrigerator for flavors to marry.
For Stir Fry Sauce:
In a microwave safe bowl, add sesame oil, soy sauce, water, peanut butter, honey, vinegar, chili sauce, black pepper and cayenne pepper.  Microwave for 20 seconds and stir together until all ingredients are combined.
For the Filling:
In a large skillet, add 1 tbsp. olive oil and heat over medium heat.  Add in onions and cook 1-2 minutes until they begin to soften slightly.  Add in chicken or turkey and cook until meat has browned. Add in garlic, ginger, mushrooms & water chestnuts. Stir together and cook 1-2 minutes until mushrooms & water chestnuts have softened slightly. Add in stir fry sauce. Stir together and simmer for approximately 5 minutes to allow sauce to reduce and flavors to marry.
For Assembly:
Fill Lettuce cups with chicken or turkey mixture.  Top with dipping/pouring sauce and additional soy sauce if desired. Roll up and enjoy!
*For the chili sauce, if you don't have any on hand, try subbing ketchup and adding more cayenne pepper for the added kick.