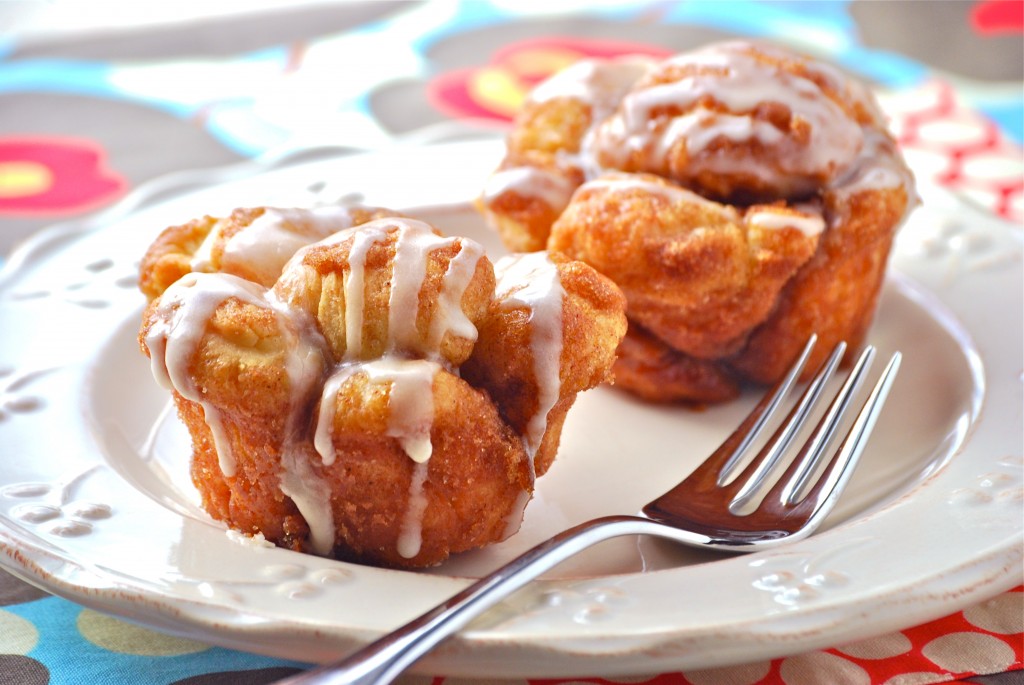 I love making treats for Adam's coworkers. They are always so gracious, and it lets me bake lots of treats without having to keep them around to tempt me!:) This weekend I went in search of a fun breakfast item for him to take to his weekly Monday meeting. I was originally going to make brioche, but it took too long to rise, so I had the idea to try to find a recipe for monkey bread muffins.These are so fun to make and are perfect for a brunch or breakfast because you can make them a day ahead of time. And they would also make great dessert! Just call them cupcakes instead!:)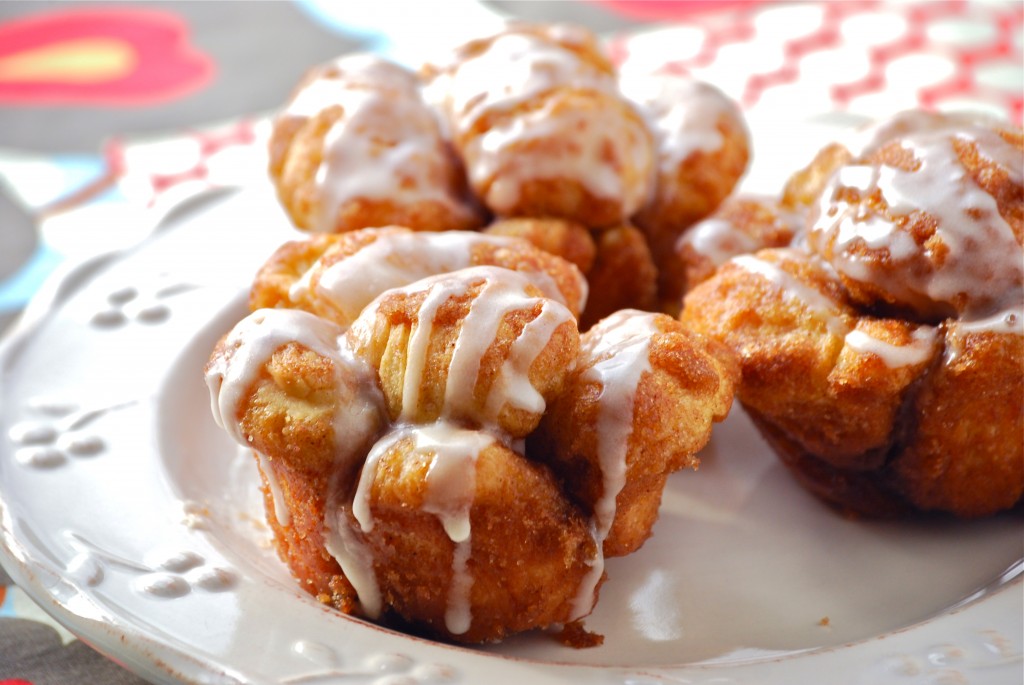 These were soft and pillowy and sweet, but not super rich and I love that they are topped with icing like a cinnamon roll! I ended up having to double the amount of sugar coating in the recipe, I guess I just love lots of sugary goodness. I definitely recommend doubling it so you have a nice coating on the muffins, I made those changes in the recipe below. This would also be great to bake with kids as they can help with rolling the dough into balls and dipping and coating them.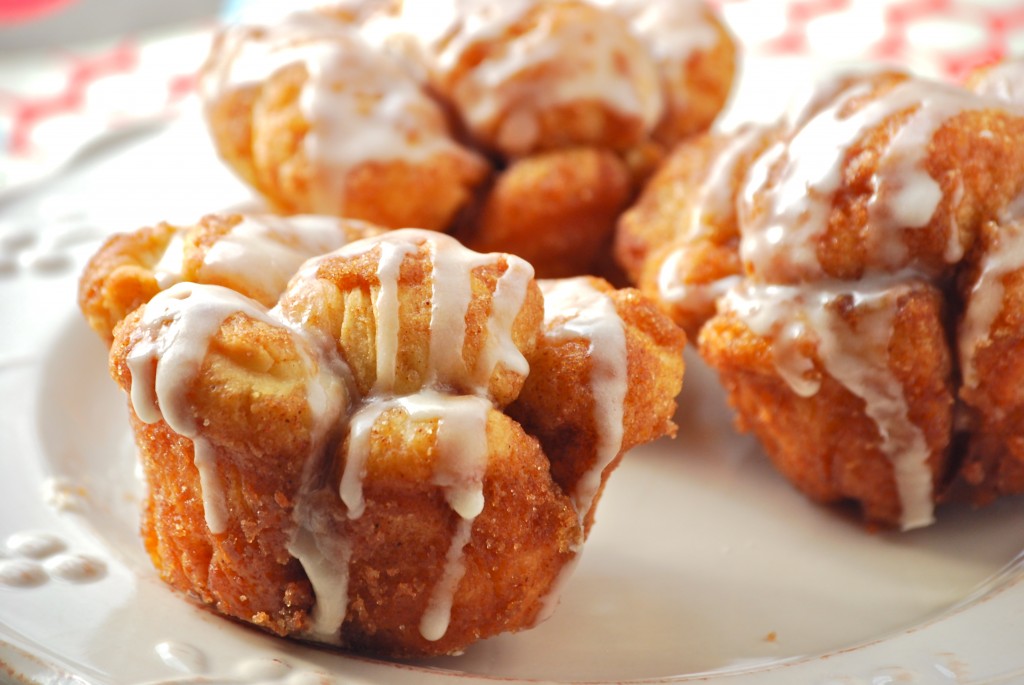 Monkey Bread Muffins
Source: Sprinkled with Flour, originally in Family Fun Magazine, April 2011
Makes 12 Muffins
Ingredients:
For the Dough:
1 packet active dry yeast (2 1/4 tsp)
1/4 cup warm water
3 tbsp. unsalted butter, melted
2/3 cup sour cream
3 tbsp. sugar
1 large egg
1 tsp. vanilla
2 1/2 cups all purpose flour
1/2 tsp. salt
1/4 tsp. baking soda
For the Coating:
1 1/3 cups light brown sugar, packed
4 tsp. cinnamon
9 tbsp. unsalted butter, melted
For the Icing:
1 1/4 cups powdered sugar
1 tbsp. unsalted butter, melted
1 tbsp. milk
1 tsp. vanilla
1-3 tsp. water
Directions:
In the bowl of a stand mixer add water. Sprinkle yeast over the top and let stand for 5 to 10 minutes, until cloudy and bubbly.
Meanwhile, in a medium sized bowl whisk together 2 cups of the flour with the baking soda and salt, set aside.
Once yeast mixture is ready, add in butter, sour cream, sugar, egg and vanilla to the stand mixer. Beat with the paddle attachment until fully incorporated. With the mixer on low, gradually add in the flour mixture until incorporated. Add in the remaining 1/2 cup flour and mix until a soft dough forms.
*Switch from the paddle attachment to the hook attachment and knead dough in mixer on medium speed until it sticks to the bottom but clears the sides (this only takes a couple minutes). Remove bowl from stand and lightly sprinkle dough with flour and form into a ball (helps it not to be so sticky, only add 1 or 2 tsp. flour).  Place back into the bowl, cover with plastic wrap and let stand for approximately 1 hour, until doubled in size.
Meanwhile, mix together the brown sugar and cinnamon in a medium sized bowl.  (You may wish to start with 2/3 brown sugar and 2 tsp. cinnamon and then once you run out, mix together the additional cinnamon and sugar).
Spray a muffin tin with cooking spray, lightly flour and tap to remove excess, set aside.
Melt butter in a small dish and set aside to cool.
Once dough has doubled in size, lightly punch down to deflate the dough.  Remove from bowl and turn it out onto a clean surface.  Roll into a 12 inch log and divide dough into 12 equal pieces.  Cut each of the twelve pieces into 6 smaller pieces and roll those into small balls.
For one muffin, take 6 balls. Dip each ball in the butter, coating well.  Then roll in the cinnamon sugar mixture, coating liberally.  Place 5 of the balls into the bottom of the muffin tin, then press down in the center of those balls, creating a small well, and place the 6th ball in the middle.  Repeat for remaining muffins. Cover loosely with plastic wrap and let rise for approximately 30 minutes, until doubled in size.
Meanwhile, make the icing. In a medium sized bowl, whisk together the powdered sugar, butter, milk, and vanilla.  Icing will be very stiff. Add water one tsp. at a time until icing is still thick, but a pourable consistency (it should be reminiscent of the icing that comes in the cinnamon roll can;)).
Move your oven rack to the center rack and preheat oven to 350 degrees.  Once the muffins have doubled in size, bake for approximately 20 minutes.
Remove from oven and place pan on a cooling rack.  Let muffins cool in pan for 5 minutes. Very carefully, run a knife around the outside edge of each muffin and pop muffin out of the tin and place on the cooling rack. Let cool for a couple of minutes, then drizzle the icing over top.  Serve slightly warm or at room temperature.  Store in an airtight container at room temperature.
*Alternatively, you can knead dough by hand on a floured surface.