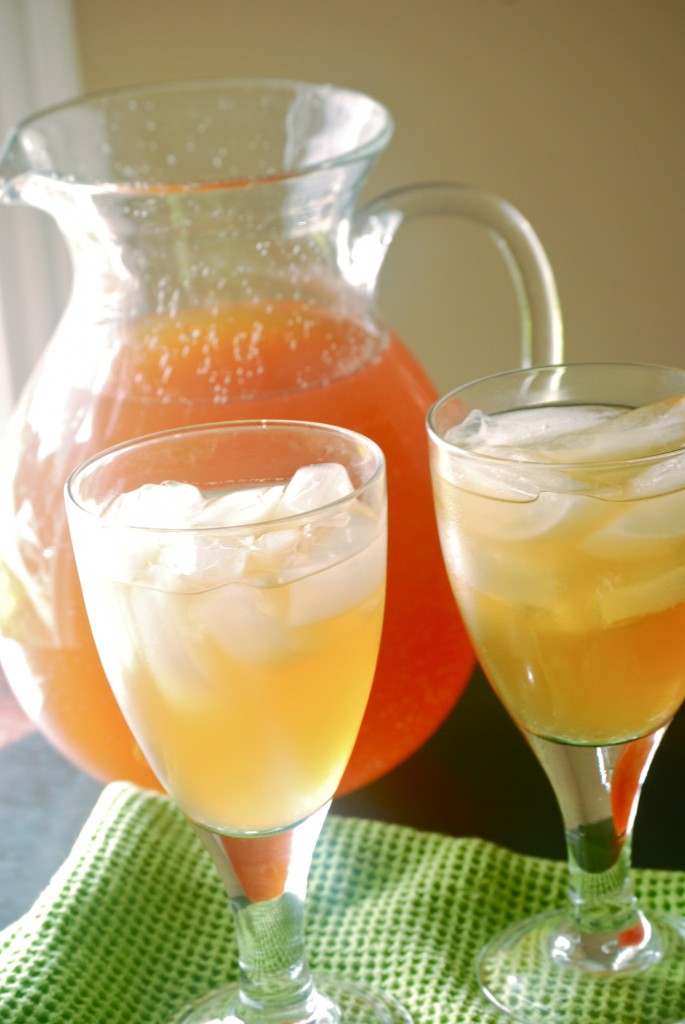 So this may surprise you, but I had never made sweet tea before today.  I know, I know how can I be a Southerner and not have made a batch of freshly brewed iced tea? Honestly, I like my tea dripping with sweetness….like it's from the deep South, ya'll (said with lots of twang and drawl;)) I don't like to think about how much sugar that must go into the tea to make it that sweet, so I just truck myself over to the Chick-Fil-A and buy a gallon of their AMAZINGLY delicious sweet tea and go on about my merry way.
This starts with traditional southern iced tea and then you add some flavorings to it making a fun spring/summer treat! My friend Gwen served this to our bible study last summer and I immediately asked her for the recipe.  It's so refreshing and has such a unique flavor about it.  This is perfect for a brunch or to serve at a shower, or just with your dinner.
Vanilla Almond Iced Tea
Source: Friends
Ingredients:
4 Tea Bags
16 cups water, divided
1 cup sugar
1 12 oz. container frozen lemonade concentrate
2 tbsp. almond extract
1 tbsp. vanilla extract
Directions:
In a large pot, bring 8 cups of water to boil.  Place tea bags in a large pitcher or container, large enough to hold a little over 1 gallon, with the tags hanging over the side. Once water is boiling, very carefully pour the water into the pitcher over the tea bags. Let steep for 3 to 5 minutes.  Remove tea bags.  Pour in the 1 cup sugar and stir to dissolve (or more to taste). Add 8 cups cold water and stir.  Add in lemonade concentrate and stir to dissolve. (I had to remove a couple cups of the tea because my container was going to spill over, so you may have to do this if you don't have a large enough container, or make the tea in two containers and split the lemonade & extracts). Add in vanilla & almond and stir to combine. Place in refrigerator to chill for approximately 1 hour or until cold.
*Alternatively you could buy a gallon of sweet tea and then add the lemonade & extracts if you're in a hurry!:)