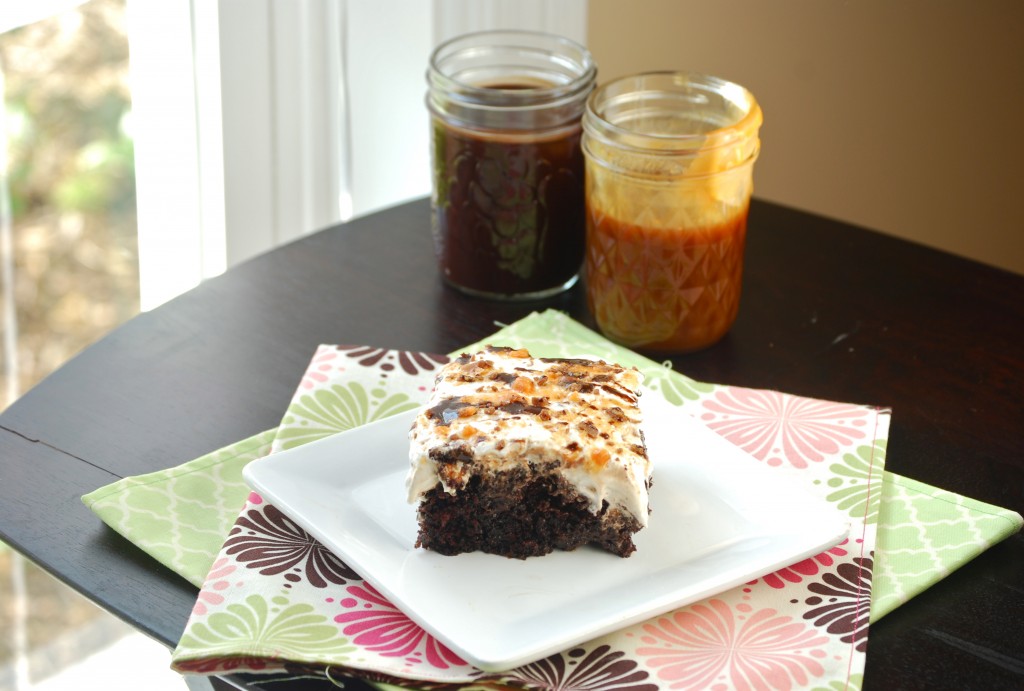 I put one bite of this cake in my mouth and I was instantly transported to somewhere amazing.  It's other worldly I tell you! The cake is so moist and the sweetness from the chocolate and caramel and the creaminess of the whipped topping is just heavenly.  I amped it up another notch and made my own caramel sauce & chocolate syrup which I really feel added to the depth of flavors (I'll be sharing those recipes soon), but feel free to use store bought.  Ever since my mother-in-law made this cake for me six years ago when we were first married, I've requested it on my birthday ever since.  I know what you're thinking, you can't believe it's been six years and I'm just now making it for myself! I can't believe it either, but rest assured I'll be making it for years to come!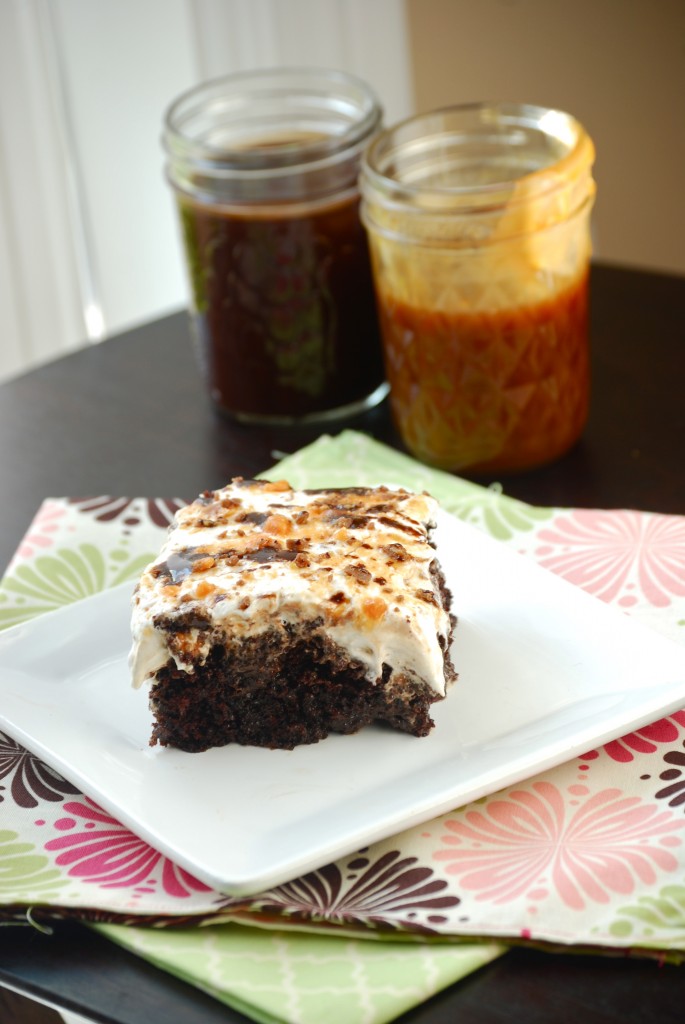 I made this cake for our Sunday School social and I went back to check and it was DEVOURED! I mean like only crumbs left.  Who am I kidding, I could've devoured it myself! I mean it was SO HARD not to just take a big spoon and tackle it before we even made it to the social! But I restrained myself and just had one little small bite to make sure it was edible, of course! If I were you, I'd make this cake when there are lots of people around, because I am powerless against it.  On the other hand maybe don't so you can have it all to yourself!;) Also, I made the chocolate cake from scratch using the Perfectly Chocolate Cake recipe from Hershey's and it was fabulous and is now my go-to chocolate cake recipe.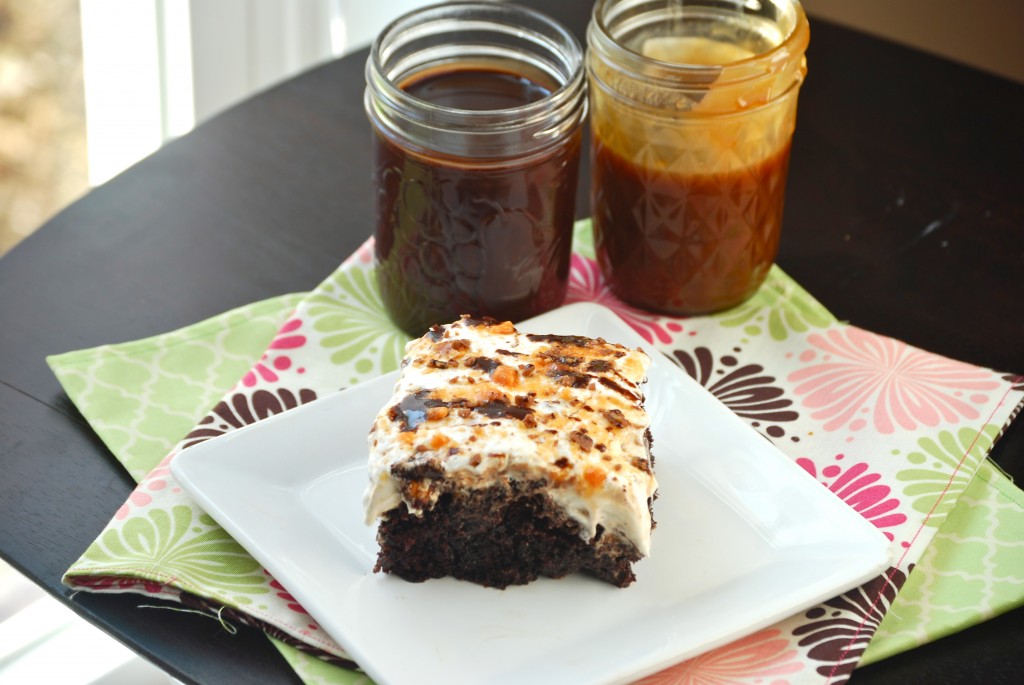 Chocolate Butterfinger Cake
Source: Chocolate Cake Recipe from Hershey's, Butterfinger Cake from my mother-in-law
Ingredients: 
For the Chocolate Cake:
2 cups sugar
1 3/4 cups all purpose flour
3/4 cup cocoa
1 1/2 tsp. baking powder
1 1/2 tsp. baking soda
1 tsp. salt
2 eggs
1 cup milk
1/2 cup vegetable oil
2 tsp. vanilla
1 cup boiling water
For Assembly:
Prepared chocolate cake*
1 can sweetened condensed milk
Approximately 1/2 cup caramel sauce
Approximately 1/2 cup chocolate syrup
1 12 ounce container whipped topping (cool whip)
3 Butterfinger candy bars, crushed
Directions:
For the Chocolate Cake:
Preheat oven to 350 degrees.  Spray a 9 x 13 baking dish with cooking spray, set aside.
In the bowl of a stand mixer, add sugar, flour, cocoa, baking powder, baking soda and salt.  Stir together to combine.  Add in eggs, milk, oil, and vanilla.  Mix on low speed and once lightly mixed, increase speed to medium and mix for approximately 2 minutes.  Reduce speed to low and carefully pour in boiling water (mixture will be very thin and runny).
Pour batter into prepared pan and bake for 35 to 40 minutes until a toothpick comes out clean.  Let cake cool for a couple of minutes.
For assembly:
While cake is still hot, poke approximately 20 to 24 holes in the cake about 1/4 inch in diameter (you can use the back of a wooden spoon or a skewer).  Pour condensed milk over top of cake, allowing it to seep down into the holes.  Squirt a little bit of the caramel and chocolate syrup down into each hole, then drizzle the caramel & chocolate syrup over top of the cake. Allow cake to cool completely.
Meanwhile, crush two of the butterfingers (this takes a bit of muscle).  Add the two crushed butterfingers to the whipped topping and stir to combine.  Spread over top of cooled cake. Crush remaining butterfinger bar and sprinkle over top of the cake, distributing evenly.  Drizzle more chocolate syrup over top. Cover and refrigerate overnight.  Store in refrigerator in an airtight container.
*Can use a box mix instead of the chocolate cake recipe listed here