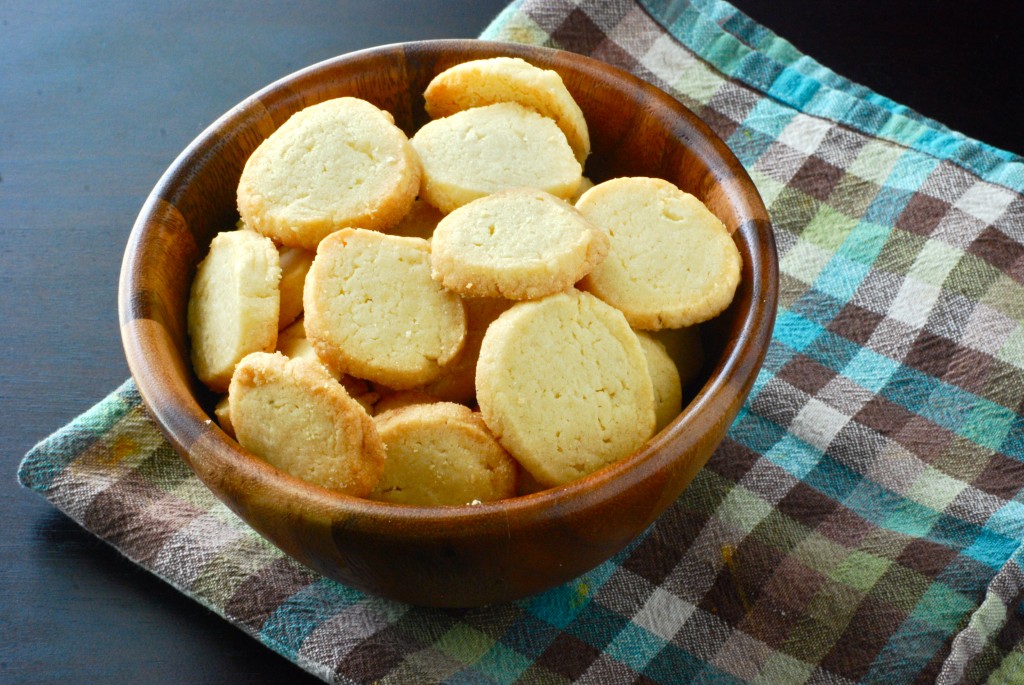 I came across this recipe a couple of years ago and hung onto it for a special occasion where I would make banana pudding from scratch. I kind of forgot about it until recently when I was thinking of some recipes that would be great for the Fourth of July.  I immediately thought of my mother-in-law's banana pudding, which I'll be sharing with you later this week.  I then, remembered this recipe and thought, why not make my own vanilla wafers? These, my friends, are not your ordinary grocery store wafers.  They are buttery and crisp and slightly crumbly, very reminiscent of a shortbread cookie.  And they really were very easy to pull together.  You just mix the dough, then roll it into four individual logs, refrigerate a couple hours, then slice & bake.  These were amazing on their own and Adam said it's one of the best cookies I've ever made. He keeps trying to get me to make chocolate ganache to go between, which I'm sure would be amazing.  I used almost all of this batch for the banana pudding, but I'm sure he'll bribe me into making these again soon.  And he won't have to try too hard because they are wonderful!
Homemade Vanilla Wafers
Source: Williams-Sonoma
Makes approximately 65-75 cookies
Ingredients:
16 tbs. (2 sticks) unsalted butter, room temperature
1/2 cup sugar
1/4 tsp. salt
2 egg yolks
1 tbsp. vanilla
2 cups all purpose flour
Directions:
In the bowl of a stand mixer, cream together the butter, sugar & salt on medium speed until combined.  Reduce the speed to low and add in the egg yolks and vanilla and mix until fully incorporated.  Add in the flour a little at a time and mix until combined and a dough forms.
Remove the bowl from it's stand and turn the dough out onto a clean surface.  Separate the dough into four equal portions and roll each portion into a 7 inch log that is approximately 1 1/2 inches in diameter.  Wrap each log in plastic wrap and refrigerate for at least 2 hours. (This is so dough will firm up and slice easily).
Once ready to bake, preheat oven to 350 degrees.  Line a baking sheet with parchment paper.  Remove two of the logs from the refrigerator and take them out of their plastic wrap. Slice the dough into cookies crosswise that are approximately 1/4 inch thick.  Place each cookie on the baking sheet, one inch apart (these do not rise or spread hardly at all).
Bake the cookies for approximately 12 to 15 minutes until edges are lightly golden.  Allow cookies to cool on the baking sheet for five minutes. Transfer to a cooling rack to cool completely.  Repeat process for the additional two logs (slice, space 1 inch apart on the baking sheet, bake & cool).  Store cookies in an airtight container.
*Bake only one baking sheet at a time.