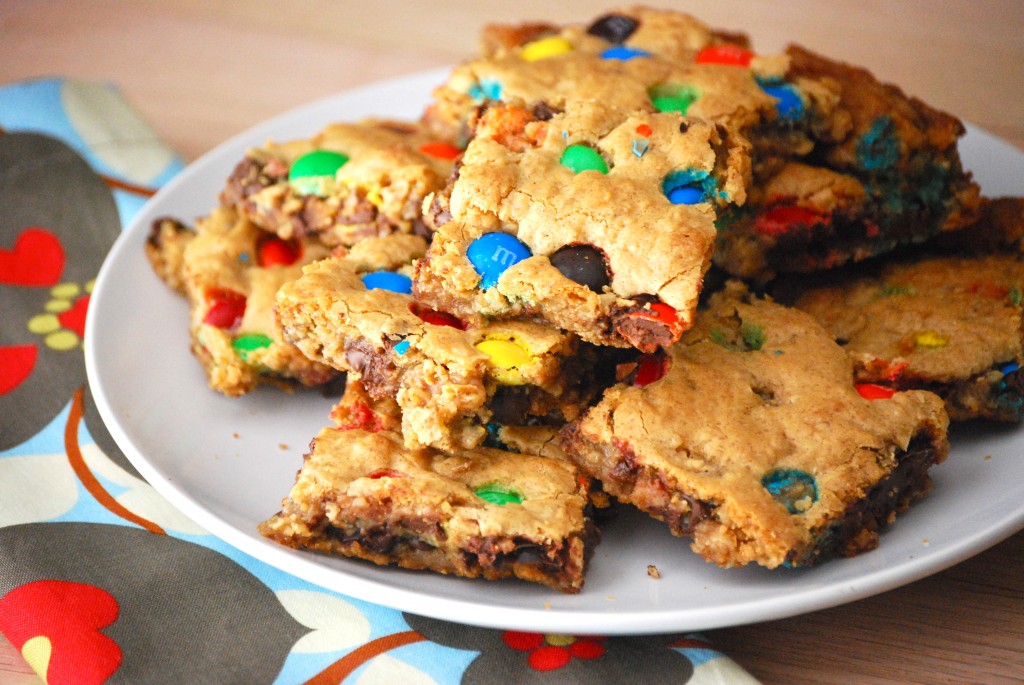 I made these for a fun girl's night recently and they were SO good! One of the best parts is that there's no egg in them, so I could help myself to the cookie dough with no worries, not that I really ever worry about that!;) These were much easier than scooping out individual cookies and were chewy and soft and full of chocolatey cookie goodness.  I will be making these again and again, I'm sure! I made Adam take the leftovers to work with him because I could not be trusted around these bad boys!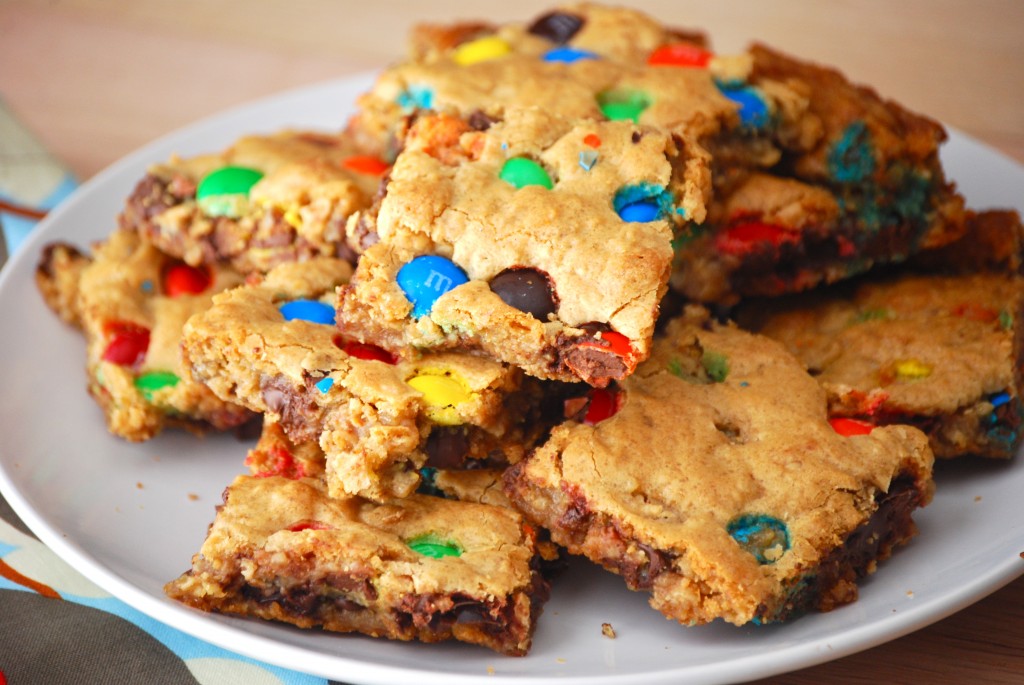 Monster Cookie Bars
Source: Feisty Eats, originally on 1 Cup Awesome
Ingredients:
3/4 cup butter, room temperature (1 1/2 sticks)
1 cup light brown sugar, packed
14 oz. can sweetened condensed milk
1/2 cup creamy peanut butter
1 cup flour
1/2 tsp. baking soda
1/2 tsp. salt
2 cups quick cooking oats
1/2 cup mini chocolate chips
1/2 cup regular sized chocolate chips
1/2 to 3/4 cup m&m's (approximately 2 1/2  1.69 oz. bags)
Directions:
Preheat oven to 350 degrees.  Spray a bar pan (10 x 15) liberally with cooking spray.*
In the bowl of a stand mixer fitted with the paddle attachment, cream together the butter and brown sugar until fully incorporated and creamy.  Add in sweetened condensed milk & peanut butter. Mix together until fully incorporated.  With the mixer on low, add in flour, baking soda & salt until combined.  Add in oats and mix until combined.  Add in chocolate chips and stir until evenly distributed.
Pour batter into prepared pan (if using 9 x 13 pan reserve 1 cup of the dough for cookies).  Spread dough evenly.  Bake for approximately 30 minutes until lightly golden brown and set in the middle.  Remove pan from oven and place pan on a cooling rack. Let cool completely in the pan, then cut into bars and store in an airtight container.
* You can use a 9 x 13 pan but you will need to remove about one cup of the dough and set it aside so that the bars cook more evenly-I did this and my bars were still a little underdone in the center but done on the edges.  I made some individual cookies with the extra dough and baked them for 8 to 10 minutes. Even though my bars were a tad underdone they set up as they cooled and made the bars have a great texture and since there's no egg there is no worries about them possibly being underdone.