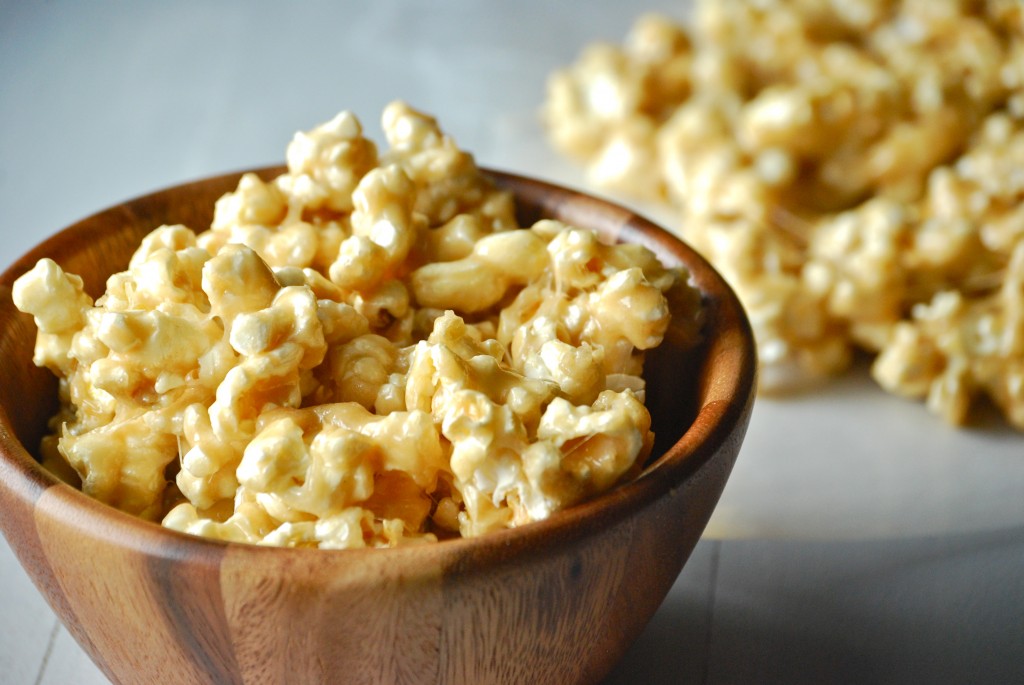 Since it's back to school time, I asked yesterday on my facebook page what your favorite after school snack was as a kid growing up. Mine was either cinnamon sugar toast or tortilla chips with cheese melted over top. Oh and I wouldn't turn down a chocolate chip cookie either, but those were more for special occasions.  What's your favorite after school snack?
I was scouring the internet yesterday for some inspiration for some snacks, even though I don't go back to school 🙂 and I found this popcorn and thought it sounded amazing.  I was not disappointed! This was a great sweet/savory snack and it had a creaminess to it from the marshmallow.  The popcorn isn't super hard and crunchy, but sort of soft, which is a bit easier to eat.  I think this would be a great coating for rice krispy treats too! Caramel rice krispy treats…I could get on board with that for sure! And the best part about this was that it really didn't take long to throw together.  I bet it would be great for parties too, or you could even form it into balls and wrap it in wax paper and send guests home with popcorn party favors.
Caramel Marshmallow Popcorn
Source: Chef in Training originally from The Cupcake Theory
Ingredients:
1 bag microwave popcorn, popped
1/2 cup (1 stick) butter
1 cup brown sugar
2 tbsp. light corn syrup or honey
1/2 tsp. vanilla
12 large marshmallows
Directions:
Pop popcorn. Place in large bowl, removing any unpopped kernels.
In a small saucepan, melt butter over low heat.  Once melted, add in brown sugar, corn syrup, vanilla and marshmallows.
Increase heat to medium and stir until all ingredients, including marshmallows, are melted and fully incorporated.
Pour mixture over popcorn and stir to coat thoroughly.  Turn popcorn out onto a baking sheet covered with wax paper.  Spread popcorn out evenly and allow to cool before storing.  Popcorn will still stick together but should easily pull away in handfuls. Store in airtight container.