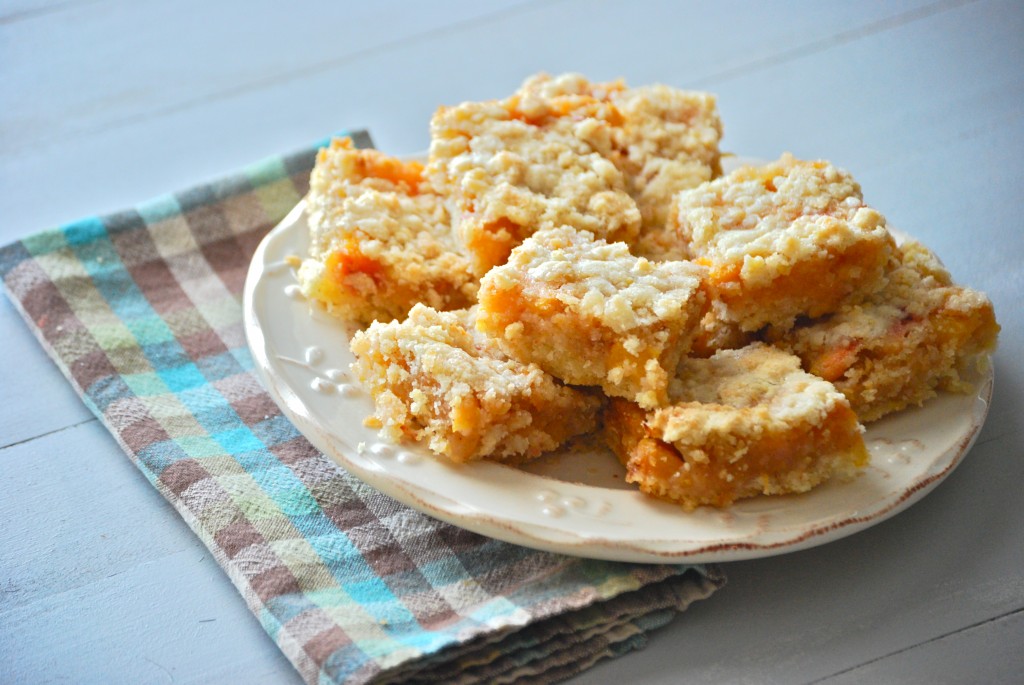 I had some peaches left over from my last peach run to the local market for the summer. They stopped selling them as they are on their way out of peak season. I was trying to think of a way to use them up before they went bad and I remembered these crumb bars that I've been meaning to make for literally 4 years.  The original ones were blueberry but they are easily customized to your favorite fruit.  You could use strawberries, blackberries, or even apples maybe.
So I'm full of kitchen mistakes this week (I'll share another one later this week). I layered this all up and put it into the oven and I was so excited.  Then I looked and saw the cornstarch on the counter and realized I hadn't used it. Oops! So I tried my best to scrape the crumb layer off of the top, then put the peach layer back in the bowl and added in the cornstarch and sugar-left it out too! And then I re-layered.  Thank the Lord, they still turned out great! These were so sweet and buttery and tasted like a cross between peach pie & peach cobbler.  They are a bit sturdier though and don't require a fork! Though, you could warm these up a tad and top them with ice cream.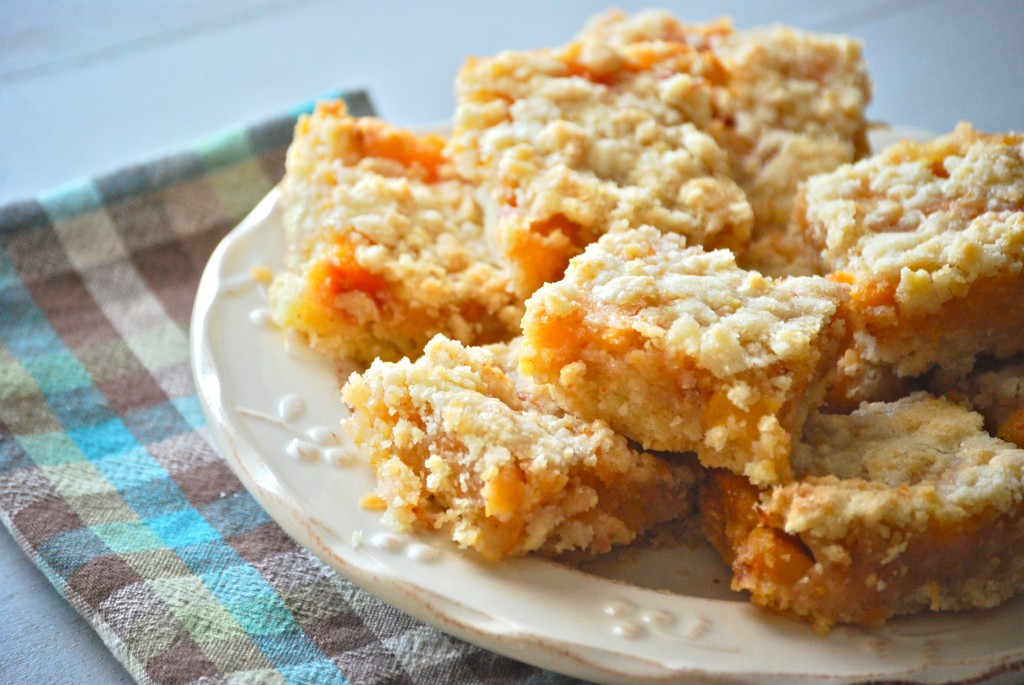 Peach Pie Crumb Bars
Source: Smitten Kitchen originally from allrecipes.com
Ingredients:
For the Crust & Crumb Mixture:
1 cup sugar
1 tsp. baking powder
3 cups all purpose flour
1 cup cold butter
1 egg
1/4 tsp. salt
For the Filling:
3 to 3 1/2 cups fresh peaches, peeled & diced (approximately 4 large peaches)
1/4 tsp. apple pie seasoning (or pinch cinnamon, nutmeg & allspice)
1/2 tsp. vanilla
1/2 cup sugar
4 tsp. corn starch
Directions:
Preheat oven to 375 degrees.  Spray a 9 x 13 baking pan with cooking spray, set aside.
For the Crumb/Crust Mixture:
In a large bowl whisk together 1 cup sugar, flour, baking powder and salt.  Using a pastry cutter, cut butter and egg into the flour mixture until the mixture forms into crumbs that are the size of peas. Mixture will still be quite crumbly.
Press half of the crumb/crust mixture into the baking pan.
For the Filling:
In a small bowl, stir together the sugar, corn starch, vanilla & apple pie spice.  Add in the diced peaches and stir to combine.  Spoon mixture over the crust in the baking pan and spread in an even layer.
Crumble the remaining  crumb/crust mixture over top of the peach layer.
Bake for 45 to 50 minutes until top is lightly golden brown and is set in the middle.
Cool completely and cut into squares. Can serve warmed with ice cream, or room temperature.
*Tip: Chill briefly before cutting into squares and they will cut easier.