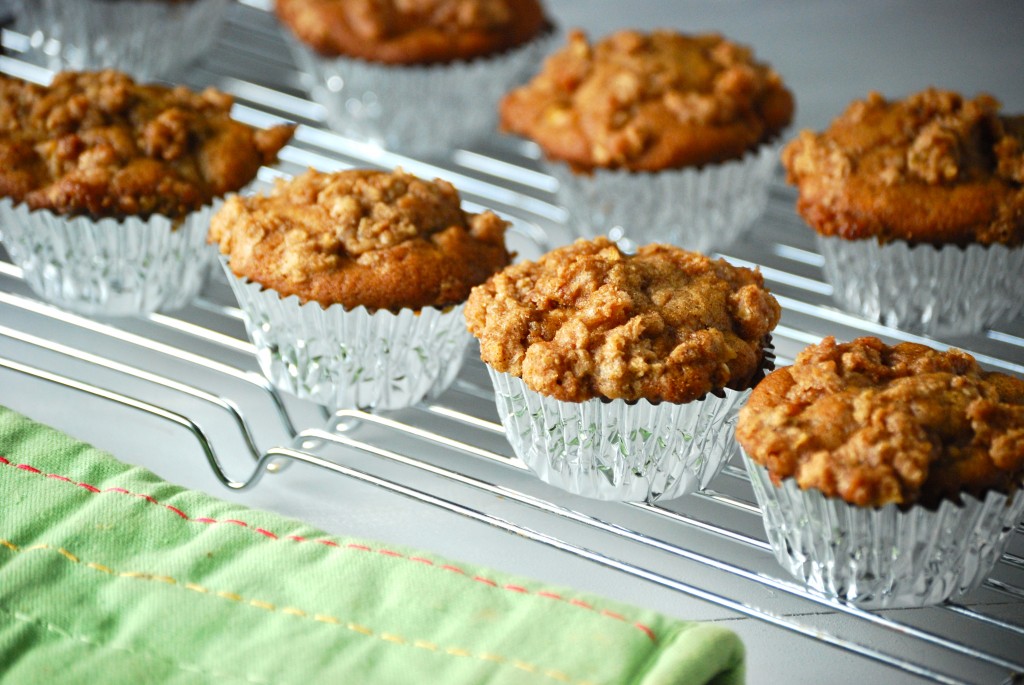 Adam was out of town this past weekend so I wanted to take the opportunity to do some baking.  I knew I wanted to do something with apples and so I went through all the recipes I had saved and came back across this one.  I wasn't originally planning to do muffins, but I thought it would be good to have for breakfast and for Adam to take to his Monday meeting at work. Plus the name intrigued me, I was dying to know if these did indeed taste like apple pie.  So I set out making these, and I was not disappointed.  These tasted very similar to apple pie! These could actually be dessert if you wanted! The apples get soft and the muffin is so moist and the streusel on top gives it a nice crunch.  I will definitely be making these again and again.  These are great warm or room temperature, which ever you prefer.  I think these might even be some of the best muffins I've ever had.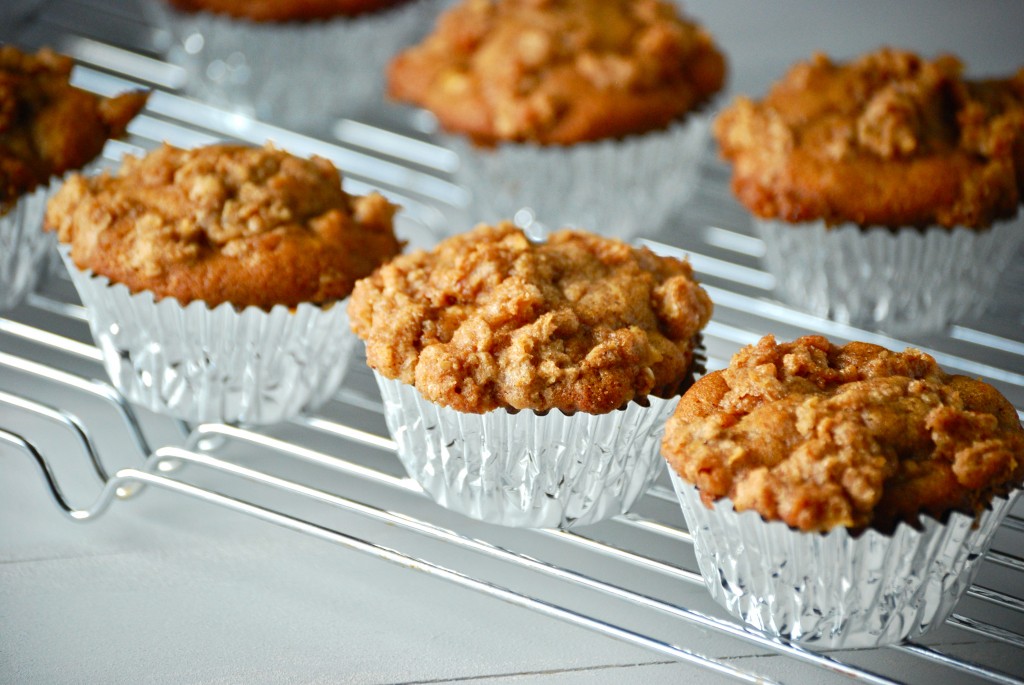 Apple Pie Muffins
Source: My Baking Addiction
Makes 12 to 15 muffins
Ingredients:
For the Muffin:
2 1/4 cups all purpose flour
2 tsp. apple pie spice
1 tsp. baking soda
1/2 tsp. salt
1 egg
1 cup buttermilk*
1/2 cup butter, melted
1 tsp. vanilla
1 1/2 cups brown sugar, packed
2 cups peeled, chopped apples (approximately 2 medium apples)
For the Topping:
1/2 cup brown sugar, packed
1/3 cup all purpose flour
1/4 cup rolled oats (quick cooking works too)
1 tsp. ground cinnamon
3 tbsp. butter, melted
Directions:
Preheat oven to 375 degrees. Line muffin tin with muffin liners, set aside.
In a large bowl, add 2 1/4 cups flour, apple pie spice, baking soda, and salt. Whisk together, set aside.
In a medium sized bowl, add melted butter, buttermilk, egg, vanilla and 1 1/2 cups brown sugar.  Stir together until sugar has dissolved and fully combined.
Add butter mixture to the flour mixture and stir until just incorporated.  Add apples and gently stir in to evenly distribute.
Using a large cookie scoop, scoop batter into prepared muffin tin, filling each tin to the top.
In a small bowl, add 1/2 cup brown sugar, 1/3 cup flour, oats, and cinnamon.  Stir to combine.  Stir in the 3 tbsp. melted butter until fully incorporated.  Sprinkle mixture on top of each muffin, distributing evenly.
Bake for 20 to 25 minutes, until a toothpick inserted comes out clean and the tops spring back when lightly touched.
Let cool slightly in the tin, then carefully remove muffins from the tin and cool on a cooling rack. Store in an airtight container.
*For Buttermilk Substitution: In a 1 cup liquid measurement, add 1 tbsp. vinegar and then fill the rest of the way up to 1 cup with milk. Let set for 10 minutes.