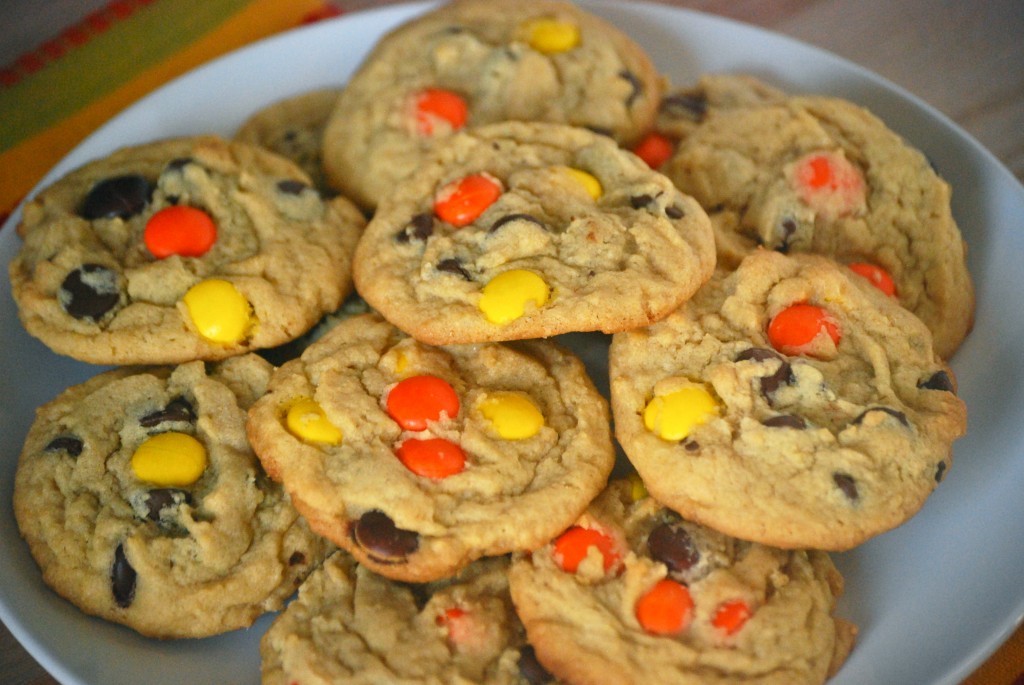 Oh. My. Word. These might be some of the best cookies that I've EVER made. I know. That is a huge statement to make, but it's true. My favorite cookies growing up were always the soft batch chips ahoy and these are so way better than those! They are soft and full of peanut butter and chocolatey goodness. Make these soon, you won't be sorry! This makes 4 dozen cookies and usually I would say to half it, but don't because you'll be wishing you had more dough balls to put in the freezer so you could eat more of these cookies! These are one cookie that I don't know if I can part with to send with Adam to work, haha! And these are perfect for fall since Reese's are already fall colors! I loved heating them up in the microwave for 10 to 15 seconds so they are warm and the chocolate is all melty.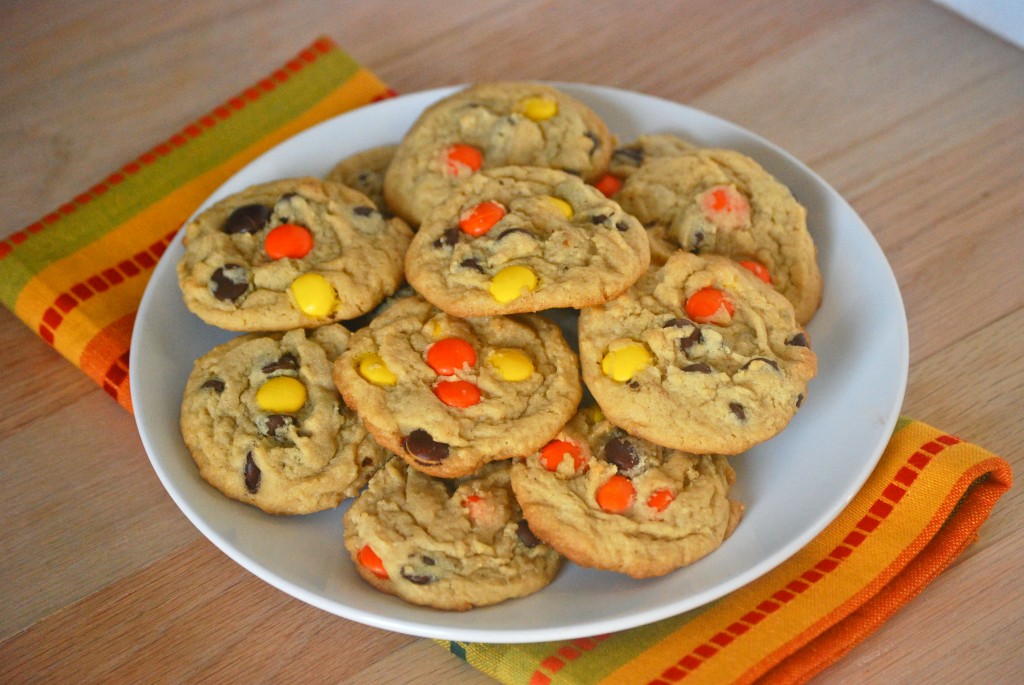 Peanut Butter Chocolate Chip Pudding Cookies
Source: Inside BruCrew Life
Makes Approximately 48 small cookies
Ingredients:
2 1/4 cups all purpose flour
1 tsp. baking soda
1/2 tsp. salt
1 small box vanilla pudding mix
3/4 cup (1 1/2 sticks) unsalted butter, room temperature
1/2 cup creamy peanut butter
1/2 cups sugar
1/2 cup light brown sugar
2 eggs
1 tbsp. honey
1 tsp. vanilla
1 cup semi-sweet chocolate chips
1 cup Reese Pieces (approximately 2 (4 0z.) movie snack size boxes
Directions:
Preheat oven to 350 degrees. Cover baking sheets with parchment paper, set aside.
In a medium sized bowl whisk together the flour, baking soda, salt & pudding mix, set aside.
In the bowl of a stand mixer, cream together butter, peanut butter, brown sugar and sugar on medium speed until creamy. Add in the eggs, one at a time, beating well after each addition. Add in vanilla and honey and mix to combine. Reduce speed to low and add in flour mixture a little at a time until just incorporated.
Remove bowl from stand and stir in chocolate chips and reese pieces until evenly distributed throughout the dough.
Using a small cookie scoop (approx. 1 tbsp.) scoop dough out onto the prepared baking sheets, placing them 2 inches apart. Bake for 10 minutes. Cookies won't look done, but they will set up more as they cool. Let cool on baking sheets for a couple minutes, then transfer to cooling racks to cool completely. Store in an airtight container. In between batches, place dough in the refrigerator.