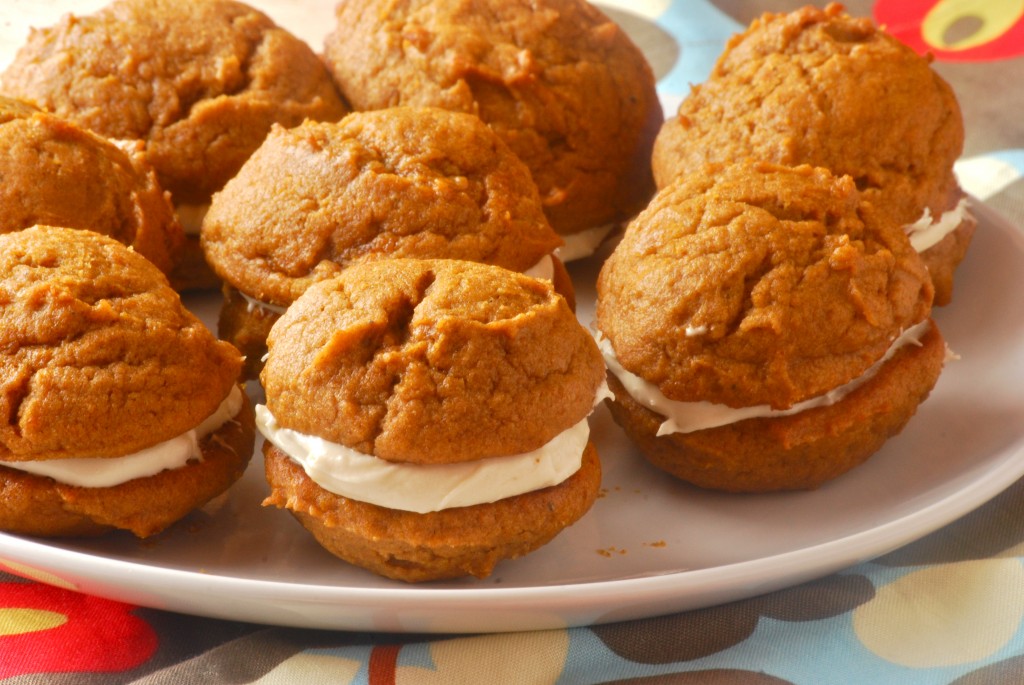 Recently Tate's Bake Shop contacted me to see if I would like to review their newest cookbook.  I took one look at their website and quickly replied with yes! Tate's Bake Shop is a bakery in Southampton owned  and created by Kathleen King.  I was so excited when I received the cookbook and read the entire thing cover to cover in one sitting! The recipes are well organized by type (pies, cookies, cakes, etc) and at the beginning of each section Kathleen gives tips on the best methods on how to best prepare and bake each respective category.  The recipes are clear and concise and all sound so delicious! The only thing I would change is to add more pictures because the recipes sound so delectable I would love to see them all! I had such a hard time figuring out what to bake first to share with you all, but I settled on her Pumpkin Whoopie Pies because I just couldn't help myself with it being Pumpkin season and all, plus I had pumpkin to use up in my pantry.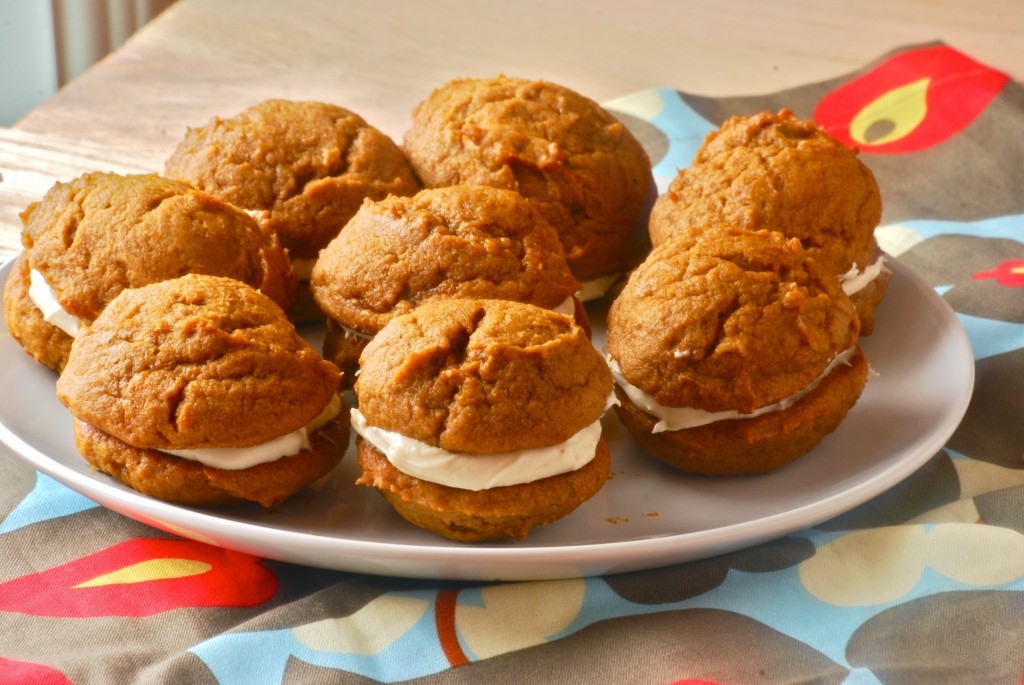 These whoopie pies were perfectly cakey and the icing perfectly smooth and paired so well with the pumpkin cookies.  They were moist and rich and reminded me of a pumpkin roll! I added a little more sugar to the icing because it was a bit to tangy for me, but other than that it was wonderful! I will definitely be baking from this cookbook very often and can't wait to try more of her delicious recipes!! Oh and I should mention that after Adam tried these, he said that Pumpkin is growing on him! Progress! He may turn out to love pumpkin yet!!:)
And not to leave you dear readers out, if you go to their website at TatesBakeShop.com and enter in discount code: BAKEOFF you can save $5 off of an autographed copy of Kathleen's Baking for Friends Cookbook!
Disclaimer: I was provided with a copy of the cookbook to review. I was not compensated in any other way and all opinions are my own.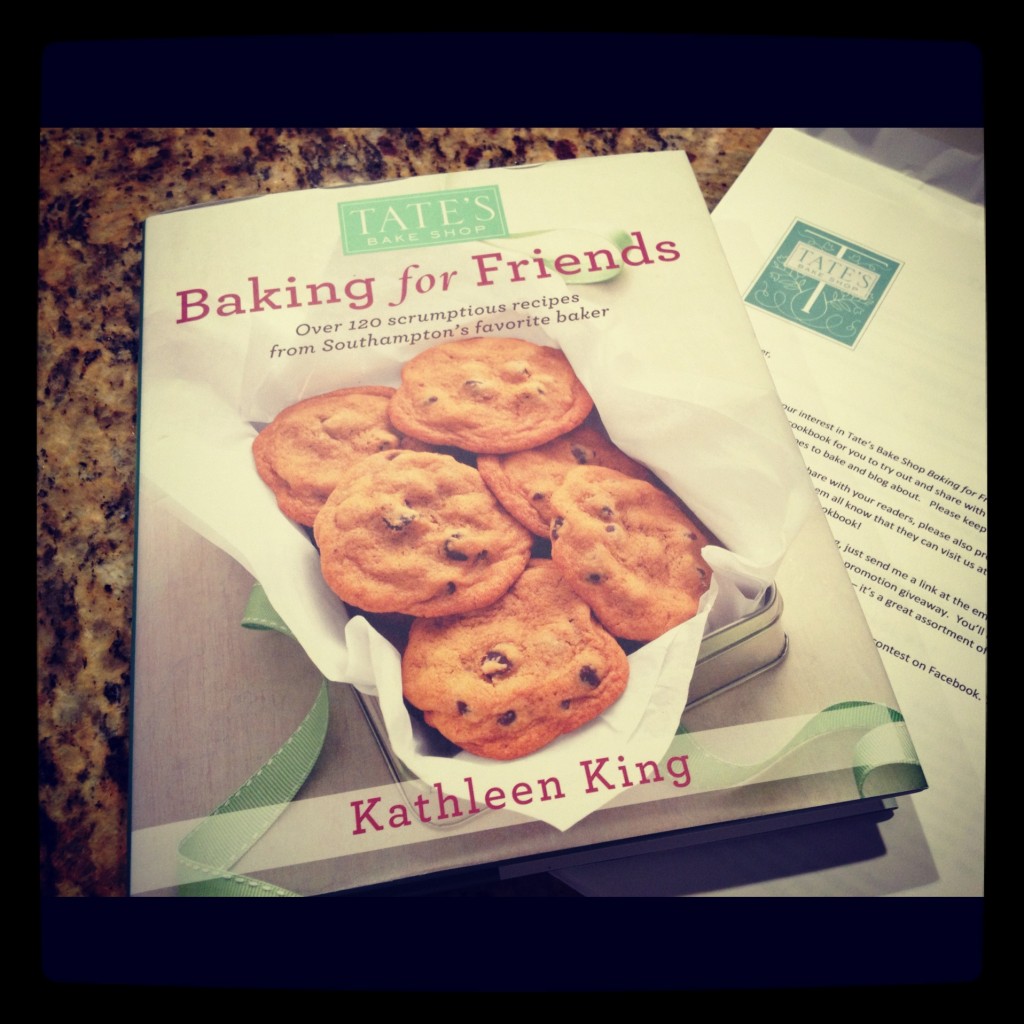 Pumpkin Whoopie Pies
Source: Baking for Friends by Kathleen King
Makes 24 Small Whoopie Pies
Ingredients:
For the Cookies:
2 1/2 cups unbleached all purpose flour
1 tbsp. ground cinnamon
1 tsp. baking powder
1 tsp. ground ginger
1/2 tsp. baking soda
1/2 tsp. nutmeg
1/2 tsp. salt
1/4 tsp. all spice
1 3/4 cups dark brown sugar, firmly packed
12 tbsp. (1 1/2 sticks) unsalted butter*, room temperature
1/4 cup vegetable oil
2 tbsp. molasses (or honey)
2 large eggs, room temperature
1 tsp. pure vanilla
1 (15 oz.) can pure pumpkin
For the Filling:
1 lb. (Two 8 oz. packages) cream cheese
8 tbsp. (1 stick) unsalted butter*
2 to 3 cups confectioner's sugar
2 tsp. pure vanilla
1/2 tsp. maple extract (optional)
Directions:
For the Cookies:
Position oven racks in top third and center of oven. Preheat oven to 375 degrees. Line cookie sheets with parchment paper, set aside.
In a large bowl, whisk together the flour, cinnamon, baking powder, ginger, baking soda, nutmeg, salt & all spice until combined.
In the bowl of a stand mixer, add brown sugar, butter, oil & molasses (or honey) and beat on high until fully incorporated. Reduce speed to low, and add in the eggs, scraping the bowl after each addition.  Add in the vanilla and pumpkin and beat on medium speed until incorporated.  Reduce the speed to low, add in the flour mixture a little at a time until just incorporated.
Using a small cookie scoop (2 tbsp. size) scoop out dough onto the cookie sheets, placing them 2 inches apart.  Place remaining dough in refrigerator while this batch bakes.
Bake for approximately 12 to 15 minutes, until cookies spring back lightly when touched.  Let cookies cool on the baking sheet for 5 minutes and then transfer to a cooling rack to cool completely.  Repeat with remaining cookie dough.
For the Filling:
In the bowl of a stand mixer, add cream cheese and butter and beat on high until creamy.   Reduce speed to low and gradually add in confectioner's sugar (starting with 2 cups and then adding in more as needed 1/4 cup at a time until desired sweetness is reached).  Add vanilla and maple extract and beat to combine.
For Assembly:
Take one cookie, bottom side up and top with a generous dollop of the filling (approx. 2 tbsp) and then top with another cookie, bottom side down.  Store in the refrigerator in an airtight container.
*Kathleen uses salted butter, but I always keep unsalted on hand so I just used that and didn't add any additional salt other than what was called for and it turned out great.  I also subbed honey for molasses and it worked fabulously.