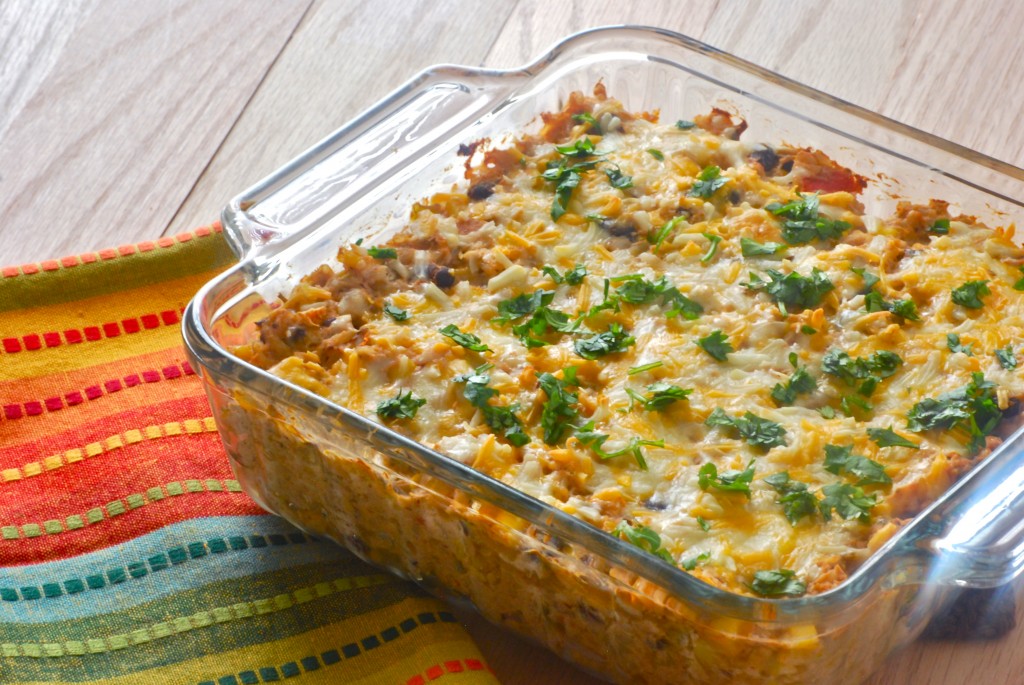 I've been looking for some new ways to eat chicken and came across this gem! This was so easy to throw together and it had my favorite southwest flavors.  I'm calling it a Burrito bake because it has all the elements of a burrito, just without the tortilla! I shredded my chicken a little too much I think, so make sure you leave your chicken in bigger pieces.  This was a quick, easy and delicious dinner! All it took was stirring all the ingredients together in a bowl and baking! I served it alongside chips & salsa and it was good with the chips dipped in. I think the leftovers would be great in a quesadilla too.   I love that this is healthier too with brown rice and either light sour cream or greek yogurt!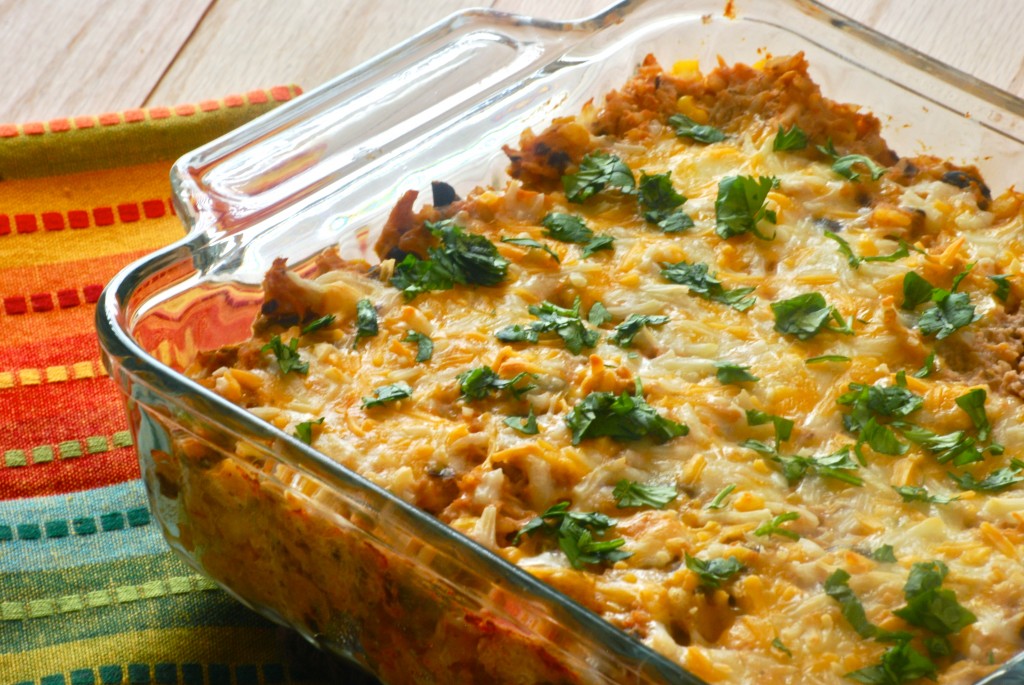 Southwest Chicken Burrito Bake
Source: How Sweet It Is
Ingredients:
2 large chicken breasts, cooked and shredded
4 cups cooked brown rice*
3/4 cup corn (can use frozen or canned, drained)
1 (15 oz.) can black beans, drained & rinsed
1 cup light sour cream (or plain greek yogurt)
3/4 cup salsa
1 (4 oz.) can green chiles
1 cup shredded cheddar & monterey jack cheese (or cheese of your choice), plus more for topping
1/4 tsp. salt
1/8 tsp. freshly ground black pepper to taste
Pinch ground cayenne pepper
taco sauce, cilantro & additional sour cream for topping
Directions:
Preheat oven to 350 degrees.
In a large bowl add chicken, rice, corn, black beans, sour cream, salsa, green chiles, cheese, pinch of cayenne, then salt & pepper.  Stir gently until all ingredients are fully incorporated. Add more salt & pepper to taste, if necessary.  Pour into baking dish (either 9×13 or two 8×8 dishes) and spread mixture evenly.  Top with additional cheese and bake for 20 minutes, until cheese has melted and mixture is heated through.
Top with taco sauce, sour cream and cilantro for serving.
*For a really quick meal, pick up a rotisserie chicken from your local grocer and shred the breasts.  Then for the rice, pick up 2 packages of Uncle Ben's Ready Brown Rice, microwave or cook on the stovetop and it will come together in no time!
*Edited 1.16.13: My friend made this for me after surgery this fall and I just tried her version.  She added 1/2 onion chopped and used only 2 cups of brown rice. I made it this way last week and it turned out creamier and even better than the first version, so I will be making it this way from now on.