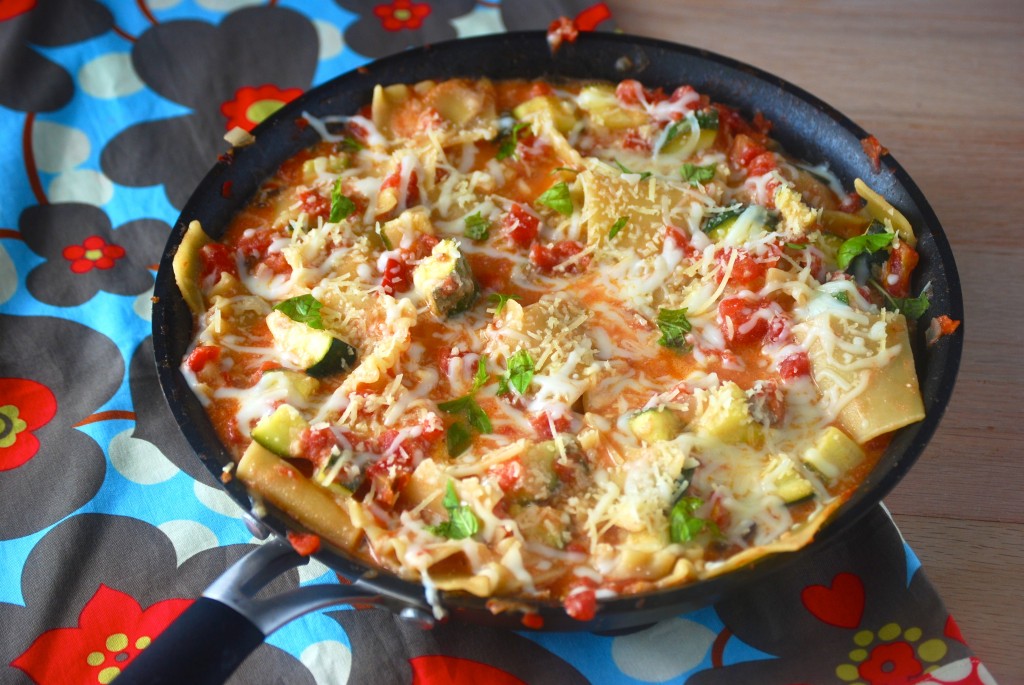 This was another fabulous quick and easy weeknight dinner.  It took much less time than making the sauce and layering everything together like traditional lasagna.  I love that you can adapt this to use your favorite veggies or add in meat if you like.  This might be one of my favorite new meals!!  I just love how comforting it is, yet it's light at the same time and not overly heavy.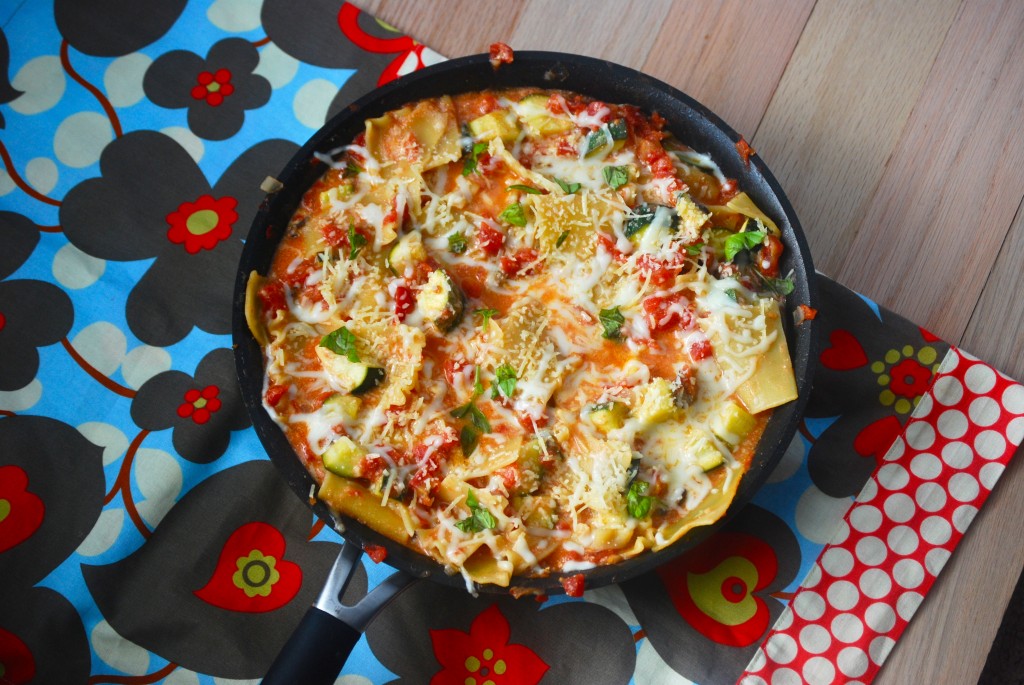 Veggie Skillet Lasagna
Source: Slightly adapted from Christine's Cuisine originally found on America's Test Kitchen
Ingredients:
2 tbsp. extra virgin olive oil
1/2 onion, finely chopped
4 cloves garlic, minced
1/2 small package baby bella mushrooms, roughly chopped (approx. 1 cup)
6-8 lasagna noodles, broken into 2 inch pieces
1 (28 oz.) can petite diced tomatoes
Salt & Pepper to taste
2 small zucchini, diced
1/4 cup part skim ricotta cheese
1/4 cup shredded mozzarella, plus more for topping
1/4 cup Parmesan Cheese, plus more for topping
Shredded Fresh Basil
Directions:
In a large skillet, add olive oil and heat over medium heat.  Add onions and mushrooms and cook, stirring frequently, until onions are translucent and mushrooms have shrunken and darkened in color. Stir in minced garlic and cook for 30 seconds or so until fragrant.  Remove from heat.
Drain the tomatoes, reserving the liquid into a liquid measuring cup.  Add water until it reaches the two cup mark.
Add the tomato water to the onions and mushroom mixture in the skillet.  Add in 1 tsp. salt and stir to combine. Layer the broken lasagna noodles over top.  Top with the drained tomatoes and spread evenly.  Cover and cook over medium heat for 10 minutes, stirring every so often so the noodles don't stick, always ensuring the noodles stay submerged int the tomato mixture.
After 10 minutes, uncover and stir in chopped zucchini.  Cook for 8 minutes more until noodles and squash are tender and cooked through. (I found my largest skillet was a bit too small for all the liquid, so I removed about 1/2 cup of the liquid at this point so it didn't boil over and it worked fine).  Taste and season with more salt & pepper if necessary.
Remove from heat and stir in 1/4 cup parmesan, 1/4 cup ricotta and 1/4 cup mozzarella.  Stir together until melted and sauce becomes creamy.  Top with additional parmesan and mozzarella, if desired. If cheese needs help melting, just place it back over medium low heat for a couple minutes, watching closely, until cheese has melted.  Top with shredded basil and serve.