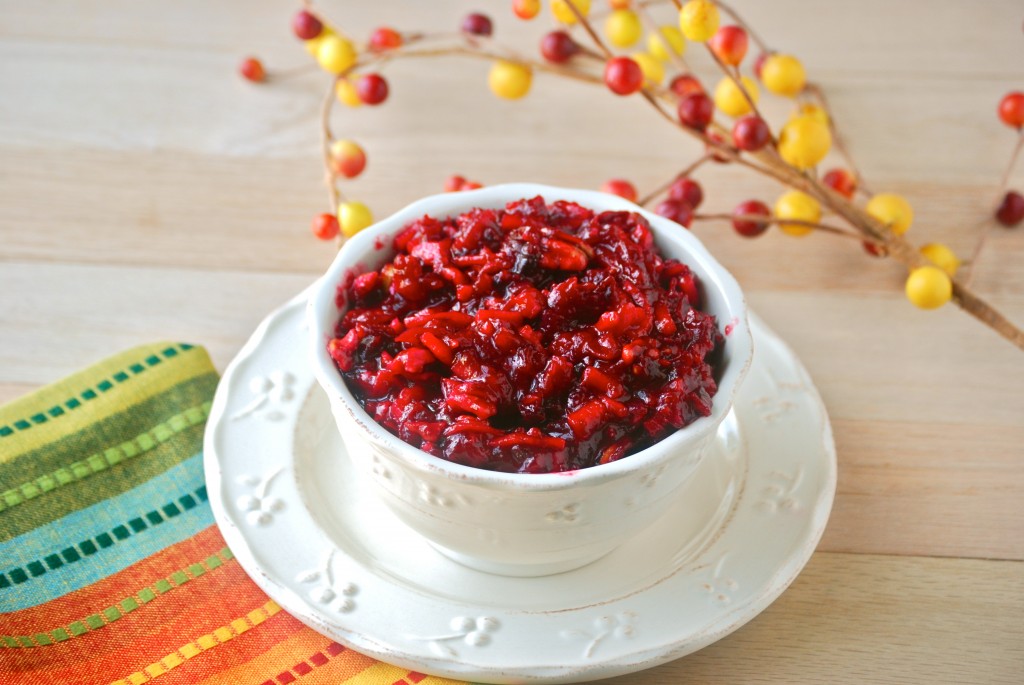 Need a last minute addition to your Thanksgiving table? This is a great addition and so much better than the cranberry sauce out of a can.  Which if you can believe it, my husband is absolutely in love with the canned, he says it's his favorite part of Thanksgiving! I've tried and tried to break him of it but he just loves it, so I get it for him and make this fresh kind for myself and everyone else.   I loved the combination of flavors and textures in this relish.  It has pecans, pears, onion and of course cranberries.  It tastes great by itself or on top of turkey or dressing, plus it adds such a pretty color to the table! Hope you all have a fantastic Thanksgiving! What's your favorite Thanksgiving dish?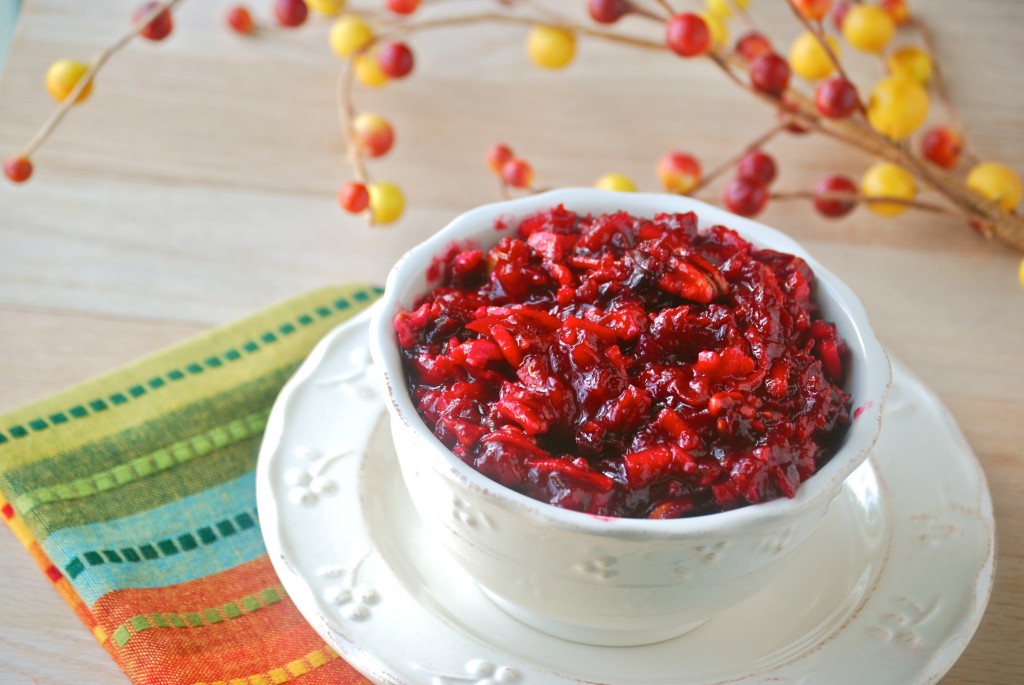 Cranberry & Pear Relish
Source: Cooking Channel
Ingredients:
1 tbsp. unsalted butter
1/8 tsp. ground ginger
1/4 of a medium sweet onion, cut in a 1/4 inch dice (can use shallots)
2 tbsp. apple juice
1 tbsp. balsamic vinegar
3/4 cups sugar
1 tsp. lemon zest
1 (12 ounce) package fresh cranberries
1/2 cup pecans, roughly chopped and toasted
2 green onions, sliced
1 pear, peeled, cored and cut into 3/4 inch matchsticks
1/2 tsp. salt
1/4 tsp. freshly ground black pepper
dash of lemon juice
Directions:
In a large skillet, melt butter over medium heat.  Add in onions and cook  until soft and translucent, approximately 2 minutes.  Sprinkle in ginger and stir to combine.  Add in apple juice and vinegar and simmer until liquid is almost absorbed, approximately 3 minutes.  Add in the sugar, lemon zest, cranberries & 1/2 cup water.  Heat over medium heat and bring to a simmer.  Cook for approximately 20 minutes, until cranberries start to burst and liquid becomes syrupy and thick.  Transfer mixture to a medium sized bowl and allow to cool slightly.
Meanwhile, add pecans to a small skillet and heat over medium low heat, stirring occasionally until they become fragrant. This just takes a few minutes.
Once mixture has cooled slightly, stir in the pecans, green onions, pears, salt & pepper.  Add a dash of lemon juice, if desired.  Store in an airtight container in the refrigerator and allow to chill at least 30 minutes prior to serving.