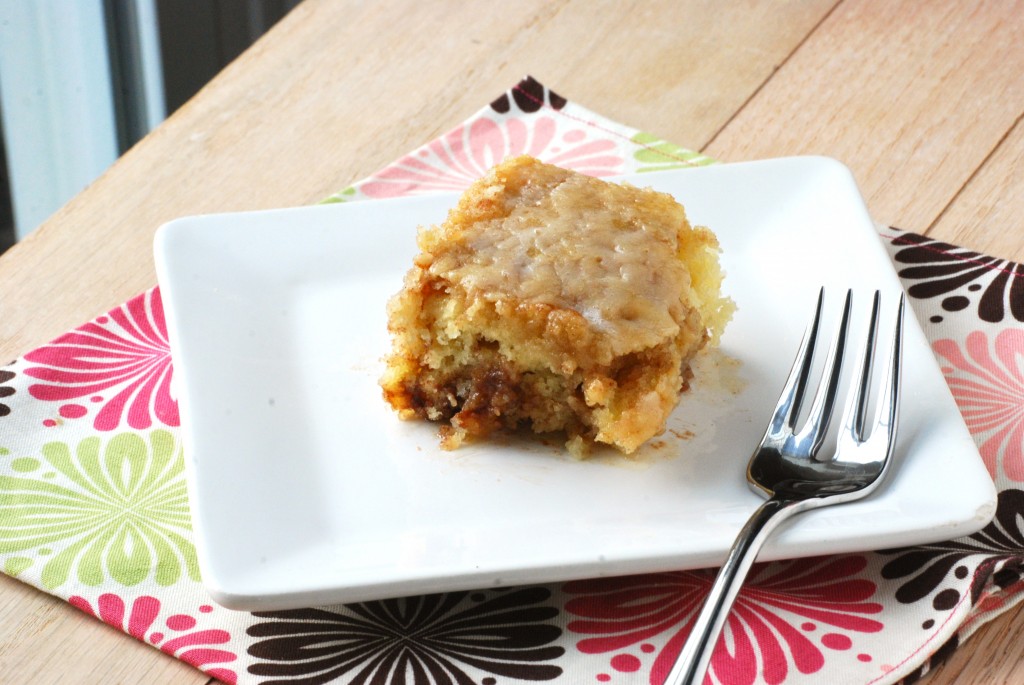 I had a breakfast meeting recently for a youth retreat that I'm working this weekend and I was supposed to bring a delicious breakfast item.  I was planning to make homemade cinnamon rolls, but I didn't have enough time and I wanted something a bit easier to put together.  My friend Courtney posted a picture of the cinnamon roll cake she had just made on Instagram and I knew that I wanted to make it right away for the meeting the next morning.  This was really not to hard to put together and it tasted wonderful! Sweet but not overly rich and super moist.  Adam said it tasted better each day!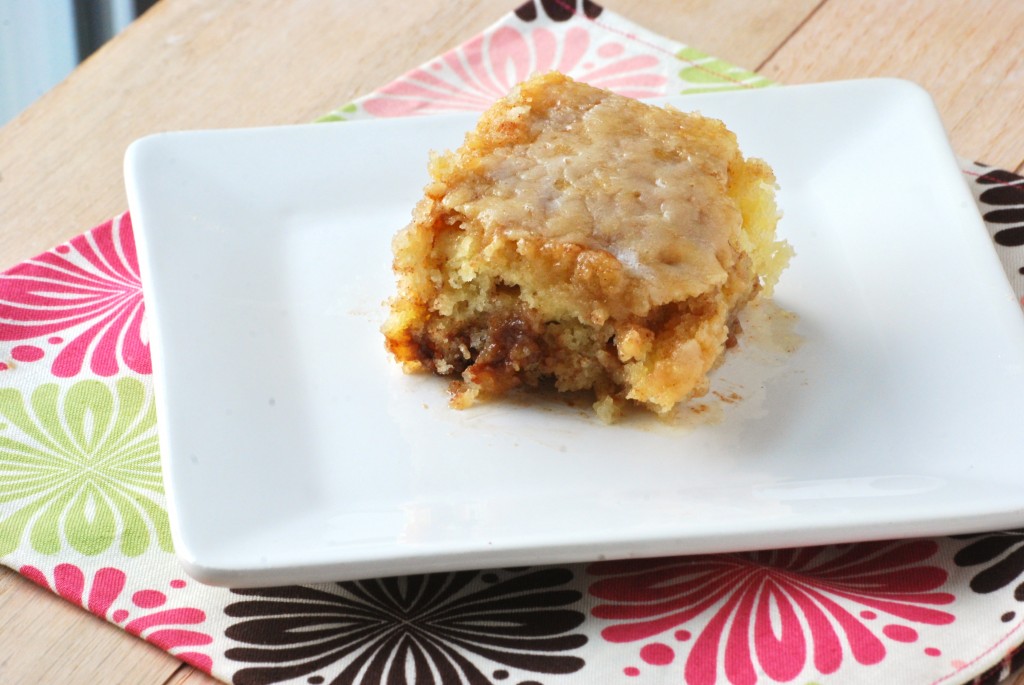 Cinnamon Roll Cake
Source: Six Sister's Stuff
Ingredients:
3 cups flour
1/4 tsp. salt
1 cup sugar
4 tsp. baking powder
1 1/2 cups milk
2 eggs
2 tsp. vanilla
4 tbsp. butter, melted
2 sticks (1 cup) butter, softened
1 cup brown sugar, packed
2 tbsp. flour
1 tbsp. cinnamon
Glaze:
2 cups confectioner's sugar
5 tbsp. milk
1 tsp. vanilla
Directions:
Preheat oven to 350 degrees.  Spray a 9 x 13 baking pan with cooking spray, set aside.
In the bowl of a stand mixer, add 3 cups flour, sugar, salt, baking powder, milk, eggs, & vanilla.  Mix until fully incorporated.  Reduce speed to low and slowly pour in the 4 tbsp. melted butter. Pour batter into prepared pan and spread evenly.
Clean your stand mixer bowl and once clean, add in the 2 sticks softened butter, brown sugar, 2 tbsp. flour, and cinnamon.  Beat until fully incorporated.  Mixture will be thick.  Spoon dollops of the cinnamon butter mixture on top of the cake batter.  Use a knife to swirl the cinnamon butter mixture into the cake.
Bake for approximately 25 to 30 minutes, until a toothpick inserted comes out clean. Remove cake from oven and place in pan on a cooling rack.
Meanwhile mix together your glaze.  In medium sized bowl, whisk together the confectioner's sugar, milk and vanilla. Pour over cake while it is still warm and carefully swirl the pan around or spread the glaze around so that it is evenly distributed over the cake.  Serve cake warm or at room temperature.  Store leftovers in airtight container.