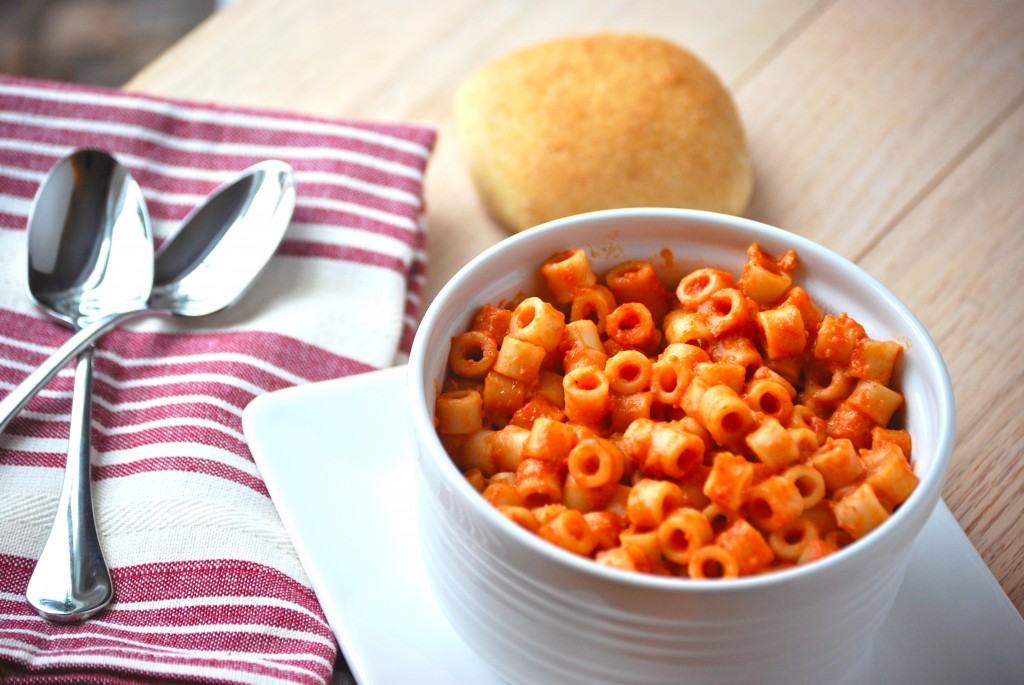 I've had this recipe on my radar for several months and have been dying to try it.  When I heard that my friend Nikki at Pennies on a Platter was re-branding her site last week and is now blogging at Seeded at the Table, I thought it was a great time to highlight one of her fantastic recipes.  Her blog is one of my favorites, you definitely have to go check it out! These spaghettios were so good! We actually had it for dinner and it was quite filling.  The flavors marry perfectly and it's so comforting and about 10,000 times better than the canned version! Next time I might scale back the garlic just a tad, but we thought it was fantastic and will definitely be making again.  And bonus, it's super easy and quick to make so it would make for a great lunch or dinner, and it's easily doubled.  Also, I should add that I took these photos with leftovers the morning after I made this, and it's actually quite a bit soupier than the photos depict, which we loved.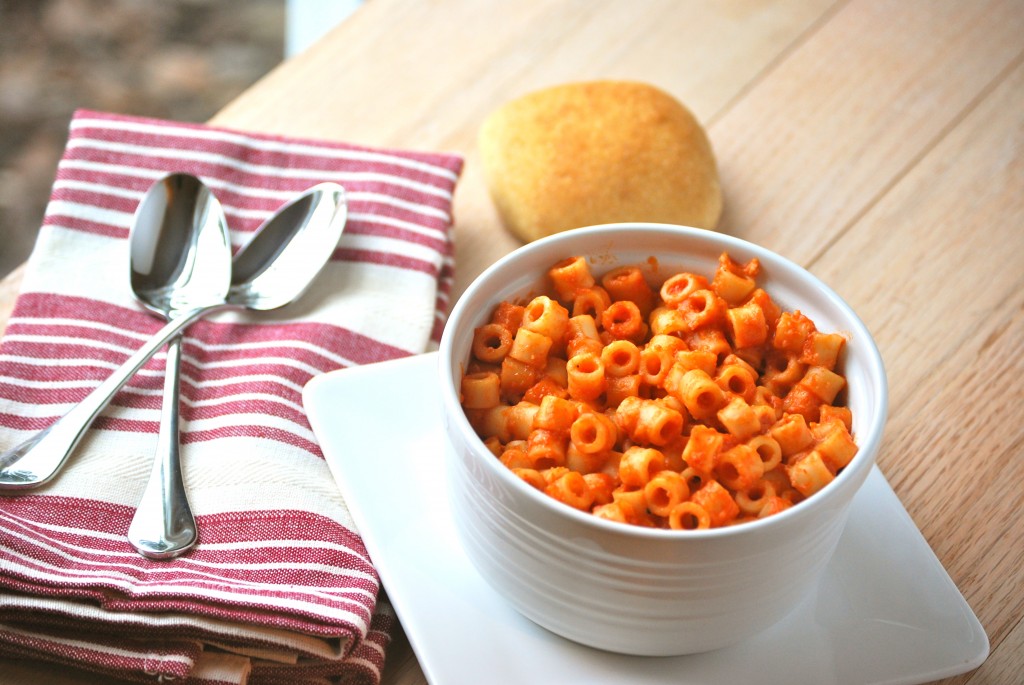 Homemade Spaghettios
Source: Seeded at the Table
Serves 4
Ingredients:
8 oz. ditalini pasta
2 tbsp. extra virgin olive oil
2 cloves garlic, minced
pinch crushed red pepper
15 oz. can tomato sauce
1 cup water
1 tbsp. tomato paste
1/2 tsp. salt
1/4 tsp. freshly ground black pepper
1/2 tsp. sugar
2 tbsp. unsalted butter, cut into pieces
1/4 cup milk
1 cup shredded cheddar cheese (or cheese of your choice), plus more for topping
Directions:
Bring a large pot of salted water to boil.  Add in ditalini pasta and cook according to package directions.  Once cooked, drain and place in large bowl, set aside.
In the mean time, in a large skillet add the olive oil and heat over medium heat.  Add garlic and red pepper and cook approximately 30 seconds, until fragrant.  Pour in the tomato sauce, water, tomato paste, salt, pepper, sugar and butter. Heat and stir continually until the butter has completely melted.  Continuing to stir, slowly pour in the milk.  Reduce heat to low and simmer for approximately 10 minutes, stirring occasionally.
Remove tomato mixture from heat and add in the cheese.  Stir together until cheese has completely melted.  Pour the tomato mixture over the bowl of noodles and stir together.  Mixture will be soupy.  If you don't want yours to be quite as soupy, don't add quite as much of the tomato mixture. Divide soup into individual bowls and top with additional cheese if desired.